printer friendly version
On-the-ground sales support for South African Farnell customers
26 February 2021
News
Farnell, an Avnet company and global distributor of electronic components, products and solutions, has enhanced its service to customers in South Africa through a new partnership with sister company EBV, which is also an Avnet company. Embedded system designers and engineers in South Africa can now access Farnell's global online catalogue of more than 950 000 products direct from their local EBV sales contact. Local sales and technical support is offered by a team of representatives from both companies to simplify product selection and ordering processes.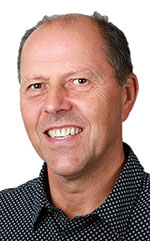 Rob Rospedzihowski.
Farnell's product offering spans more than 2000 leading suppliers and manufacturers including Micron, Panasonic, Raspberry Pi, TE Connectivity, Schneider Electric and Tektronix, with over 900 new products brought to market each week. Since July 2019, Farnell has added over 30 new suppliers, increased inventory by 25 percent and added $150 million worth of stock. Global logistics operations have also been enhanced with investment in a new distribution centre in the United Kingdom which enables shipping to South Africa in three days.
Rob Rospedzihowski, president of sales for EMEA at Farnell, says: "This new partnership with EBV enables more customers than ever to access our market leading product offering, from semiconductors to single board computing, and test and measurement. We are already receiving very positive feedback from customers in South Africa on how the greatly increased product range available to them is better supporting their business needs."
Farnell has also enhanced its website to offer customers multicurrency options. Customers can access Farnell's entire global range online, including:
• A market-leading portfolio of over 120 000 semiconductor lines from top suppliers such as Xilinx, Micron, STMicroelectronics and Microchip.
• Significantly enhanced range of interconnect, passives and electromechanical products to support industrial automation and Industrial IoT projects alongside the addition of new suppliers such as Yageo and KOA.
• Single board computers for industrial, hobbyist and educational use from over 100 brands including Raspberry Pi, Arduino, Beagleboard and BBC micro:bit.
• Farnell has also invested $4 million in test and measurement with more than 4000 products added.
Fast quotes for customised or not-in-stock products are now also available for South African customers. The content-rich website features a suite of industry-first online tools including Connector e-Guide and Soldering Tip Selector to help design engineers identify critical components much faster. Farnell's IoT Hub and Embedded Hub also host an extensive range of free online resources, data sheets, application notes, videos, webinars and technical articles on artificial intelligence and the Internet of Things.
Farnell's full global online catalogue is available from export.farnell.com. Customers can also contact their local Farnell or EBV representative for support.
---
Q&A; with Rob Rospedzihowski, Farnell's president of sales for EMEA
Is this an exclusive partnership?
The delivery of the Farnell offering in South Africa is done through the Farnell-EBV partnership exclusively. Since Farnell joined the Avnet ecosystem in 2016, our focus has been on supporting our customers directly. There are no existing distribution agreements in place in South Africa, meaning our customers can work with us – and are supported by us – directly.
Has extra staff been added to deal with the extra workload?
We are delivering this enhanced service to customers in South Africa through a greater collaboration between Farnell and EBV as part of the Avnet ecosystem. Farnell has technical teams able to deliver bespoke support as and when customers require it – if a customer has a query, this is dealt with by Farnell teams directly, which are available 24 hours a day, 5 days a week.
How did this come about?
We started working together in a limited capacity a few years ago, as part of Avnet's acquisition of Farnell. As Farnell moved into the broader Avnet ecosystem we also began participating in TechTrend events alongside our EBV sister company. These events enabled us to get closer to customers in South Africa and introduce the Farnell proposition and our extensive range to a new group of customers.
This new partnership with EBV and direct delivery proposition for Farnell in South Africa offers local customers access to a near-1 million product portfolio and delivery in 3-4 days, providing enhanced access to key technologies for customers and exciting potential for Farnell and the Avnet group.
How will things work for SA customers who order through the Farnell website?
Customers who have previously ordered from the Farnell website or through a local sales contact will see no change. In fact, customers will very likely see an improved online experience as we continue to invest heavily in our web offering and enhanced global logistics operations following investment in a new distribution centre in the United Kingdom which enables shipping to South Africa in three days.
Customers ordering through the South Africa website will receive access to the same comprehensive range that we offer throughout Europe, spanning more than 2000 leading suppliers and manufacturers including Maxim Integrated Products, Panasonic, STMicroelectronics, TE Connectivity, Molex, Schneider Electric and Tektronix, and benefit from new multicurrency options. Fast quotes for customised or not-in-stock products are now also available for South African customers.
What benefits will customers enjoy?
EBV will leverage and promote Farnell's global portfolio of over 950 000 products from more than 2000 suppliers. Customers in South Africa benefit from a complete solution; Farnell and EBV direct sales teams are fully integrated to offer customers seeking low-volume, high-mix support from Farnell, while higher-volume customers benefit from the expertise of EBV in this area. Farnell personnel can provide assistance to EBV customers and vice versa wherever required; customers will find that this new partnership really enhances their experience and the support they receive.
Is there an option for pricing in Rands?
Customers in South Africa will soon have an option to purchase in Rands – we are working to introduce this in early 2021 as part of our broader, and ongoing, investment in improving our web offering.
Credit(s)
Further reading:
From the editor's desk: Digital migration is finally happening – does anyone care?
31 March 2021, Technews Publishing , News
For those who have followed the saga of South Africa's (non) migration to digital terrestrial television (DTT), many phrases might come to mind. Shambles. Disaster. Corruption. Government ineptitude. 
...
Read more...
---
Electronics news digest
31 March 2021 , News
South Africa
South Africa's photonics industry is set to benefit from the state-of-the-art Photonics Prototyping Facility (PPF) that was unveiled at the Council for Scientific and Industrial Research 
...
Read more...
---
Component shortages and how to mitigate them
31 March 2021, RS Components (SA), Projects Concern Manufacturing, Production Logix, Altron Arrow , News
To find out just how severe the problem is right now, and the impact it is having, we consulted two South African CEMs and two component distributors for their insights and advice.
Read more...
---
RAD gateways deployed in local security solution
31 March 2021, Otto Wireless , News
RAD, an industry pioneer in Industrial IoT (IIoT) and edge computing solutions which appointed Otto Wireless Solutions as its South African distributor last year, has announced that an unnamed South African 
...
Read more...
---
Intelsat, XinaBox partner up for STEM advancement
31 March 2021 , News
Intelsat, operator of the world's largest integrated satellite and terrestrial network, is partnering with XinaBox (pronounced 'X in a Box') to deliver space-focused STEM (science, technology, engineering 
...
Read more...
---
Electrocomponents plc joins the ECIA
31 March 2021, RS Components (SA) , News
The Electronic Components Industry Association (ECIA) has welcomed Electrocomponents plc, a global omni-channel solutions partner for electronics, industrial and automation customers and suppliers, which 
...
Read more...
---
Court rules against Telkom in latest dispute with ICASA
26 February 2021 , News
The Independent Communications Authority of South Africa (ICASA) has issued a statement welcoming the ruling by the Supreme Court of Appeal (SCA) against Telkom on a matter relating to the leasing of 
...
Read more...
---
Comtest to represent Netscout
26 February 2021, Comtest , News
Comtest is pleased to announce that it now represents Netscout Systems, protecting digital business services against disruptions in availability, performance and security. Netscout's market and technology 
...
Read more...
---
Synaptics signs distribution deal with EBV
26 February 2021, EBV Electrolink , News
EBV Elektronik has secured a supply chain agreement with Synaptics. Synaptics was founded with the primary objective of enhancing the way in which technology and the real world interrelate, to enable 
...
Read more...
---
BLDC motor control demonstrator and evaluation board
26 February 2021, EBV Electrolink , Power Electronics / Power Management
EBV Elektronik is demonstrating the simplicity of designing with Power Integrations' BridgeSwitch devices with the introduction of the EBV BridgeSwitch MB high-voltage, single-phase brushless DC (BLDC) 
...
Read more...
---