printer friendly version
Microwave CW synthesiser module
26 February 2021
Telecoms, Datacoms, Wireless, IoT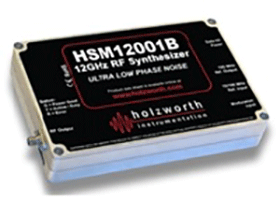 The HSM12001B from Holzworth Instrumentation is an RF synthesiser module that operates from 10 MHz to 12,5 GHz. This microwave CW source is architected on a non-PLL based platform. The digital-analog hybrid design provides excellent phase noise performance and spurious response, which complement the phase coherent nature of these digital-analog hybrid signal sources.
The module can be controlled directly via the SPI bus, the Holzworth GUI, a preloaded lookup table, LabVIEW, MATLAB, C++, C#, etc. It has a switching speed of less than 300 µs and an onboard, precision 100 MHz OCXO. The HSM12001B is ideal for electronics design, manufacturing test and OEM systems integration applications.
For more information contact Andrew Hutton, RF Design, +27 21 555 8400, andrew@rfdesign.co.za, www.rfdesign.co.za
Credit(s)
Further reading:
High-frequency 100 nF single layer capacitor
28 April 2021, RF Design , Passive Components
Knowles Precision Devices recently announced the release of a new 100 nF capacitor within its V-Series of single layer capacitors. The part is a high-frequency, wire-bondable single layer capacitor, making 
...
Read more...
---
LoRa transceiver modules for ranging applications
28 April 2021, Avnet Silica , Telecoms, Datacoms, Wireless, IoT
Avnet Silica announced the availability of Miromico's FMLR-8x-x-STLx LoRa and LoRaWAN IoT modules. Based on Semtech's LoRa 2,4 GHz technology, Miromico partnered with danalto to enable location services. 
...
Read more...
---
AI platform for mass-market embedded/edge deployments
31 March 2021, RF Design , Computer/Embedded Technology
NVIDIA's Jetson TX2 NX delivers the next step in AI performance for entry-level embedded and edge products. It provides up to 2,5 times the performance of Jetson Nano and shares form factor and pin compatibility 
...
Read more...
---
Dual-band GNSS RTK module
28 April 2021, Electrocomp , Telecoms, Datacoms, Wireless, IoT
The RTK-1010 is a high-performance dual-band GNSS RTK module that is designed for applications requiring centimetre-level positioning accuracy. It adopts a 12 nm manufacturing process and integrates an 
...
Read more...
---
Compact bias tees with up to 35 GHz bandwidth
31 March 2021, RF Design , Analogue, Mixed Signal, LSI
Designers can save design time and time-to-market by using a proven bias solution from the high-frequency specialist company, Marki Microwave. Its new line of surface mount bias tees, featuring up to 
...
Read more...
---
Electronic warfare: Vying for control of the electromagnetic spectrum
28 April 2021, Concilium Technologies , Telecoms, Datacoms, Wireless, IoT
Future systems will move from being adaptive to using new AI and machine learning capabilities to decipher constant changes in spectrum use.
Read more...
---
Development kit supporting Espressif's Alexa Connect Kit
31 March 2021, iCorp Technologies , Telecoms, Datacoms, Wireless, IoT
Espressif Systems announced the launch of its new development kit, the ESP32-PICO-V3-ZERO-DevKit, which uses the Alexa Connect Kit (ACK) module announced by Espressif in July 2020. Both this module and 
...
Read more...
---
Multi-constellation GNSS module
31 March 2021, Altron Arrow , Telecoms, Datacoms, Wireless, IoT
Telit's high-precision GNSS SE868SY-D is a new multi-frequency, multi-constellation positioning receiver capable of combining GPS/QZSS and Galileo in the L1/E1 and L5/E5 bands, GLONASS in the L1, BeiDou 
...
Read more...
---
S-band low-noise amplifier
31 March 2021, RFiber Solutions , Telecoms, Datacoms, Wireless, IoT
The MAAL-011138 from MACOM Technology Solutions is a high dynamic range, single-stage MMIC LNA (low-noise amplifier) designed to operate from 2,5 GHz to 3,5 GHz, and is assembled in a lead-free, 2 mm 
...
Read more...
---
Wireless module for integrating BLE sensors
31 March 2021, Phoenix Contact , Telecoms, Datacoms, Wireless, IoT
The compact FL BLE 1300 wireless module with integrated antenna from Phoenix Contact connects up to eight industrial Bluetooth Low Energy (BLE) sensors to industrial controllers and IoT systems. This 
...
Read more...
---