printer friendly version
PoE to USB-C power and data adaptor
26 February 2021
Power Electronics / Power Management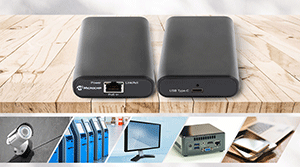 There are many consumer, enterprise and industrial devices today that have a USB Type-C port as the only input power option. While USB-C technology can offer high power and high data rate, it limits the range of the installation to a maximum of 3 metres from an AC outlet. As Power over Ethernet (PoE) becomes more prevalent and a more convenient solution to provide power over a standard Ethernet cable, it is the most practical solution to provide both power and data connections up to 100 metres long.
While most adaptors on the market provide only power, they provide only limited power up to 25 W. Microchip Technology has announced a PoE to USB-C adaptor with the highest power capability that converts both power and data while offering up to 60 W USB output power via an Ethernet cable supported by PoE infrastructure.
The adaptor (part number PD-USB-DP60) can accept up to 90 W of PoE and convert it to 60 W output over USB-C that will power most cameras, laptops, tablets and other devices using USB-C for input power. This adaptor simplifies installation by reducing dependence on AC infrastructure. Without the dependence on an AC outlet, there is no longer a range limitation of 3 metres and power can be delivered over 100 metres.
This adaptor also enhances the remote power management capabilities of the USB-C power device. The remote power reset capability, provided by the PoE source, allows power cycling via web interface or Simple Network Management Protocol (SNMP) to reset the device, rather than having to manually unplug and restart at the location of the equipment.
Microchip's PoE to USB-C adaptor can connect to a variety of PoE sources with various standards deployed. It supports newer IEEE 802.3af/at/bt standards as well as legacy PoE standards. Having a versatile adaptor is crucial due to the many different implementations of PoE already installed.
For more information contact Andrew Athanasiou, Altron Arrow, +27 21 555 1884, aathanasiou@arrow.altech.co.za, www.altronarrow.com
Credit(s)
Further reading:
Component shortages and how to mitigate them
31 March 2021, RS Components (SA), Projects Concern Manufacturing, Production Logix, Altron Arrow , News
To find out just how severe the problem is right now, and the impact it is having, we consulted two South African CEMs and two component distributors for their insights and advice.
Read more...
---
Bidirectional logic-level voltage translators
31 March 2021, Altron Arrow , Analogue, Mixed Signal, LSI
The 74LVC2T45 and 74LVCH2T45 from Diodes Incorporated provide logic-level voltage translation between devices that operate from different supply rails. The devices have dual power supplies and support 
...
Read more...
---
Multi-constellation GNSS module
31 March 2021, Altron Arrow , Telecoms, Datacoms, Wireless, IoT
Telit's high-precision GNSS SE868SY-D is a new multi-frequency, multi-constellation positioning receiver capable of combining GPS/QZSS and Galileo in the L1/E1 and L5/E5 bands, GLONASS in the L1, BeiDou 
...
Read more...
---
Quad-output power management IC
31 March 2021, CST Electronics , Power Electronics / Power Management
The MAX77655 single-inductor multiple-output (SIMO) power management IC (PMIC) from Maxim Integrated Products provides the highest-density power solution for extremely compact next-generation devices. 
...
Read more...
---
Evaluate 3D magnetic sensors in under ten minutes
31 March 2021, Altron Arrow , Analogue, Mixed Signal, LSI
You probably think that it's not possible to evaluate a 3D magnetic sensor in less than ten minutes? Think again! Anything is possible with Infineon's 2GO kits. Its 3D magnetic sensor 2GO kit is a budget-priced 
...
Read more...
---
Ultrafast avalanche SMD rectifier diode
31 March 2021, Hi-Q Electronics , Power Electronics / Power Management
Diotec's new BYG20 Series is an ultrafast avalanche SMD rectifier diode in an SMA package, with repetitive reverse voltage of 200 V to 600 V and average forward current rating of 1,5 A. Having non-repetitive 
...
Read more...
---
Industrial AC to DC power supplies
26 February 2021, Conical Technologies , Power Electronics / Power Management
Mornsun-Power offers a wide range of industrial AC to DC power supplies including the LM series of switched mode supplies that offer a wide input range of 85-305 V a.c. and 100 to 430 V d.c. The LM series 
...
Read more...
---
BLDC motor control demonstrator and evaluation board
26 February 2021, EBV Electrolink , Power Electronics / Power Management
EBV Elektronik is demonstrating the simplicity of designing with Power Integrations' BridgeSwitch devices with the introduction of the EBV BridgeSwitch MB high-voltage, single-phase brushless DC (BLDC) 
...
Read more...
---
ebm-papst's automation solutions on display
26 February 2021, Ebmpapst South Africa , Power Electronics / Power Management
Automation solutions in the context of Industry 4.0 were presented late last year at the regional trade fair 'all about automation' in Essen and Chemnitz, Germany. ebm-papst presented its latest products 
...
Read more...
---
Enclosed AC-DC power supplies
26 February 2021, Vepac Electronics , Power Electronics / Power Management
XP Power has introduced the LCS series of regulated output, convection cooled AC-DC power supplies that are well suited to budget-conscious applications. The four new series (LCS35, LCS50, LCS75 and LCS100) 
...
Read more...
---