printer friendly version
NXP unveils advanced i.MX applications processors
26 February 2021
DSP, Micros & Memory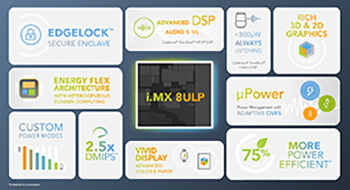 NXP Semiconductors announced the expansion of its EdgeVerse portfolio with its crossover applications processors, including i.MX 8ULP and i.MX 8ULP-CS (cloud secured) Microsoft Azure Sphere-certified families, as well as next-generation i.MX 9 series of high-performance, intelligent applications processors. The expansion includes new innovations with EdgeLock secure enclave to enhance edge security and Energy Flex architecture to maximise energy efficiency.
Self-managed, autonomous on-die security subsystem
Building on its strong history of providing turnkey security solutions, NXP introduced the EdgeLock secure enclave, a pre-configured security subsystem that simplifies implementation of complex security technologies and helps designers avoid costly errors. It enhances protection to the edge device by autonomous management of critical security functions, such as root of trust, run-time attestation, trust provisioning, secure boot, key management, and cryptographic services, while also simplifying the path to industry-standard security certifications.
The EdgeLock secure enclave intelligently tracks power transitions when end-user applications are running to help prevent new attack surfaces from emerging. The secure enclave will be a standard integrated feature across the i.MX 8ULP, i.MX 8ULP-CS with Azure Sphere, and i.MX 9 applications processors, providing developers with a wide range of compute scalability options to easily deploy security on thousands of edge applications.
Security peace of mind with Azure Sphere
Keeping an edge device secure long after initial deployment is a challenge that requires nonstop trusted management services. NXP partnered with Microsoft to bring this capability to its customers with Azure Sphere chip-to-cloud security in the i.MX 8ULP-CS (cloud secured) applications processor family.
The i.MX 8ULP-CS with Azure Sphere incorporates Microsoft Pluton enabled on EdgeLock secure enclave as the secured root of trust built into the silicon itself, and as a key step toward enabling highly secured devices for a vast range of IoT and industrial applications. In addition to the secured hardware, Azure Sphere includes the secured Azure Sphere OS, the cloud-based Azure Sphere Security Service, and ongoing OS updates and security improvements for over ten years. Azure Sphere chip-to-cloud security will be enabled on specific products within the i.MX 9 series, giving developers an even broader set of processor options to implement managed device security across more of their products.
Energy Flex architecture for tailored power-performance profiles
Optimising energy use at the chip level is becoming an increasingly crucial part of designing energy-efficient edge systems. NXP's implementation of innovative Energy Flex architecture is designed to extend battery life and reduce energy wastage in portable or plugged-in devices.
In the i.MX 8ULP and i.MX 8ULP-CS families, the Energy Flex architecture delivers as much as 75% improved energy efficiency over its predecessor by uniquely combining heterogeneous domain processing, design techniques and 28 nm FD-SOI process technology.
Embedded in these processors is a programmable power management subsystem that can govern more than twenty different power mode configurations to deliver exceptional energy efficiency – from full power to as low as 30 microwatts. Using this range of flexible configurations, OEMs and developers can customise application-specific power profiles to maximise energy efficiency.
Advanced intelligent applications processors for multi-sensory data
Building on the market-proven i.MX 6 and i.MX 8 series of applications processors, NXP's i.MX 9 series deèbuts a new generation of scalable, high-performance processors. Scalable i.MX 9 families bring together higher-performance applications cores, an independent MCU-like real-time domain, Energy Flex architecture, state-of-the art security with EdgeLock secure enclave, and dedicated multi-sensory data processing engines (graphics, image, display, audio and voice).
The i.MX 9 series integrates hardware neural processing units across the entire series for acceleration of machine learning applications. It also marks NXP's first implementation of the Arm Ethos U-65 microNPU, which makes it possible to build low-cost, energy-efficient edge machine learning (ML).
For more information contact EBV Electrolink, +27 21 402 1940, capetown@ebv.com, www.ebv.com
Credit(s)
Further reading:
Time-of-flight multi-zone ranging sensor
29 September 2021, EBV Electrolink , Opto-Electronics
STMicroelectronics has announced the first multi-zone FlightSense time-of-flight sensor to be offered for general-purpose applications, bringing sophisticated distance sensing to the full spectrum of 
...
Read more...
---
Baseless power modules qualified for aerospace use
29 September 2021, EBV Electrolink , Power Electronics / Power Management
In the race to reduce aircraft emissions, developers are increasingly moving toward more efficient designs, including electrical systems that replace today's pneumatics and hydraulics powering everything 
...
Read more...
---
MCUs for secure and connected automotive gateways
25 August 2021, Altron Arrow , DSP, Micros & Memory
The SPC58 Chorus H Line is part of STMicroelectronics' portfolio of general-purpose automotive power architecture microcontrollers (MCUs). It is designed for high-end body, networking and security applications 
...
Read more...
---
Low-power multiprotocol wireless MCU
29 September 2021, Altron Arrow , DSP, Micros & Memory
The STM32WB15CC multiprotocol wireless microcontroller (MCU) embeds a powerful and ultra-low-power radio compliant with the Bluetooth Low Energy SIG specification 5.2. It contains a dedicated Arm Cortex-M0+ 
...
Read more...
---
Rugged silicon carbide power devices
25 August 2021, EBV Electrolink , Power Electronics / Power Management
Today's energy-efficient electric charging systems powering commercial vehicle propulsion, as well as auxiliary power systems, solar inverters, solid-state transformers and other transportation and industrial 
...
Read more...
---
MCU evaluation and development kits
25 August 2021, RS Components (SA) , DSP, Micros & Memory
RS Components announced availability of a new range of evaluation and development kits for Infineon Technologies' AURIX family of microcontrollers (MC), which are based on the manufacturer's 32-bit TriCore 
...
Read more...
---
EBV helps bring long-life tracker to market
25 August 2021, EBV Electrolink , Telecoms, Datacoms, Wireless, IoT
General Mechatronics, a Budapest-based company, enlisted the support of EBV Elektronik to devise an award-winning smart sensor device designed for use in asset tracking systems and applications.  
...
Read more...
---
Totem pole PFC controller
25 August 2021, EBV Electrolink , Power Electronics / Power Management
A new addition has been made to ON Semiconductor's solution set for ultra-high density offline power supplies in the form of the NCP1680, a dedicated critical conduction mode totem pole PFC controller. 
...
Read more...
---
Low-power DDR4X memory IC
25 August 2021, Brabek , DSP, Micros & Memory
Alliance Memory has expanded its offering of high-speed CMOS mobile low-power SDRAMs with a new LPDDR4X device featuring on-chip ECC. Offering an extension to the company's fourth-generation LPDDR4 SDRAMs, 
...
Read more...
---
HLS tool suite for PolarFire FPGAs
25 August 2021, EBV Electrolink , Programmable Logic
The need to combine performance with low power consumption in edge compute applications has driven demand for field programmable gate arrays (FPGAs) to be used as power-efficient accelerators while also 
...
Read more...
---