printer friendly version
User-configurable embedded I/O modules
31 March 2021
Computer/Embedded Technology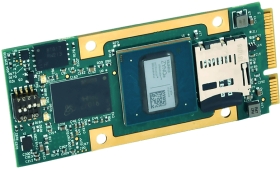 APZU modules from Acromag provide a programmable Xilinx Zynq UltraScale+ multiprocessor system-on-chip (MPSoC). This MPSoC combines a feature-rich, ARM-based processing system and programmable logic in a single device. Two dual-core ARM Cortex CPUs (A53 application processor and R5 realtime processor) deliver high-performance computation capability.
Additional resources include on-chip memory, external memory interfaces, and a rich set of peripheral connectivity interfaces. The integrated ASIC-class programmable logic is ideal for compute-intensive tasks and offloading critical applications.
The real value of the Zynq UltraScale+ MPSoC architecture lies in the tight integration of its programmable logic with the processing system. Its high-throughput interface eliminates bottlenecks that plague two-chip ASSP-FPGA solutions and allows designers to easily extend the processing system capabilities. Now developers can build custom designs by adding peripherals in the programmable logic and increase overall system performance by partitioning hardware and software functions with custom accelerators.
Designed for COTS (commercial off-the-shelf) applications, these FPGA-based digital I/O modules deliver user-customisable I/O in a high-density and very rugged form factor. Typical applications involve adaptive filtering, sensor fusion, motor control, and image processing.
Acromag's Engineering Design Kit (EDK) provides an FPGA generated firmware example design that provides host access to the hardware digital I/O on the APZU module. The example is implemented using the Xilinx Vivado development environment and offers a starting point from which customers can develop their customised applications.
Credit(s)
Further reading:
Compact fanless IoT edge server
29 September 2021, Brandwagon Distribution , Computer/Embedded Technology
With the rise of AI, machine vision and deep learning, much of the data analytics and processing are now happening further from the info centres in the field or where the data is collected. For those 
...
Read more...
---
Highly flexible remote I/O controllers
29 September 2021, RF Design , Computer/Embedded Technology
Remote I/O devices are well-established in the industrial world. By supporting popular communications protocols such as Modbus, they give other equipment and control systems such as scada access to remote 
...
Read more...
---
Data acquisition HATs for Raspberry Pi
29 September 2021, Osiris Technical Systems , Computer/Embedded Technology
Raspberry Pi is the most popular single-board computer in use today, but does not have built-in test and measurement capabilities such as analog-to-digital converters (ADCs), digital-to-analog converters 
...
Read more...
---
Video processing board with target tracking software
25 August 2021, Rugged Interconnect Technologies , Computer/Embedded Technology
Vision4ce recently unveiled the Charm 100NX video processing board built upon Nvidia's Jetson Xavier NX, hailed as the world's smallest AI supercomputer. The Xavier NX provides more than three times the 
...
Read more...
---
Nvidia releases version 4.6 of its AI SDK
28 July 2021, Altron Arrow , Computer/Embedded Technology
Nvidia has rolled out version 4.6 of its JetPack SDK, a production release supporting the Jetson AGX Xavier series, Jetson Xavier NX, Jetson TX2, Jetson TX1 and Jetson Nano. JetPack 4.6 includes support 
...
Read more...
---
AI edge computing platforms powered by Nvidia Jetson Nano
25 August 2021, Altron Arrow , Computer/Embedded Technology
The Boxer-8223AI is the latest platform in AAEON's lineup of AI edge systems, powered by the Nvidia Jetson Nano. Featuring two PoE PSE ports, the system can deliver power to PoE cameras, helping to reduce 
...
Read more...
---
Industrial CompactFlash memory cards
28 July 2021, Vepac Electronics , Computer/Embedded Technology
The Innodisk Industrial CompactFlash 9000 memory card (iCF 9000) products provide high-capacity, solid-state Flash memory that electrically complies with True IDE mode which is electrically compatible 
...
Read more...
---
CompactPCI Serial to PCI Express card adaptor
23 June 2021, Rugged Interconnect Technologies , Computer/Embedded Technology
EKF's SA4-Country is a peripheral slot board for PICMG CompactPCI Serial systems and acts as a carrier for a low-profile PCI Express (PCIe) card. The board is endowed with a PCIe x8 connector (optionally 
...
Read more...
---
Rugged CompactPCI Serial-based embedded platform
28 July 2021, Rugged Interconnect Technologies , Computer/Embedded Technology
The SRS-12xx-BLUBRICK from EKF is an embedded rugged system platform for a wide range of applications. The modular concept is based on CompactPCI Serial, a well-established industrial standard for IEEE 100 x 160 mm 
...
Read more...
---
Customisable local voice control at the edge
28 July 2021, Future Electronics , Computer/Embedded Technology
NXP's EdgeReady solution portfolio now includes a turnkey hardware and software solution that enables developers to add versatile local voice control with customisable commands to the industrial and IoT 
...
Read more...
---