printer friendly version
MCUs for low-power industrial and IoT applications
31 March 2021
DSP, Micros & Memory
Renesas Electronics has expanded its RA4 Series microcontrollers (MCUs) with 12 new RA4M2 Group parts. The new devices deliver an exceptional combination of very low power consumption, high performance and enhanced security features that positions them as ideal solutions for industrial and IoT applications.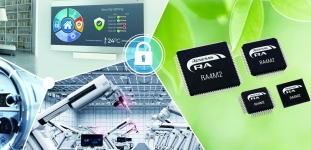 The highly power-efficient RA4M2 Group offers a market-leading operating current of only 80 µA/MHz in active mode, and low standby current of 0,7 mA. Even with these leading specifications, the new devices have an extremely fast wakeup time from standby of 30 µs. With operating frequencies up to 100 MHz, the RA4M2 MCUs are ideal for performance-hungry, low-power applications such as industrial and IoT edge devices.
The RA4M2 MCUs employ the Arm Cortex-M33 core based on Armv8-M architecture. They feature Arm TrustZone technology and Renesas' Secure Crypto Engine. The Secure Crypto Engine incorporates multiple symmetric and asymmetric cryptography accelerators, advanced key management, security lifecycle management, power analysis resistance, and tamper detection. This combination enables customers to realise secure element functionality, enabling safety and security in IoT edge devices for low-power applications.
Key features of the RA4M2 Group are:
• Very low power consumption of 80 A/MHz in active mode; 30 µs wakeup time.
• Scalable from 48- to 100-pin LQFP packages; also available in 48-pin QFNs.
• Integrated Flash memory of 512 KB, 384 KB or 256 KB; 128 KB SRAM.
• Capacitive touch sensing unit.
• USB 2.0 Full Speed, QuadSPI and SDHI.
• Advanced analog with one ADC (analog-to-digital converter) unit.
The RA4M2 Group is supported by the easy-to-use Flexible Software Package (FSP), which includes a best-in-class HAL driver. The FSP uses a GUI to simplify and dramatically accelerate the development process, while also making it easy for customers to transition from an original 8/16-bit MCU design. Designers using the RA4M2 MCUs also have access to the extensive Arm partner ecosystem, offering a wide range of tools that help speed time-to-market.
Credit(s)
Further reading:
Automotive motion sensor with embedded ML core
Altron Arrow DSP, Micros & Memory
The ASM330LHHX, a six-axis inertial module with embedded machine learning core and dual operating modes, ensures the lowest power consumption and in-sensor event detection.
Read more...
---
SolidRun releases a SoM solution based on a Renesas SoC
EBV Electrolink DSP, Micros & Memory
In partnership with Renesas, SolidRun has released a SoM solution based on the powerful RZ/G2 family of SoCs, which are engineered for AI-enhanced HMI applications.
Read more...
---
ST develops new serial EEPROM class
Altron Arrow DSP, Micros & Memory
This new class of serial EEPROM is a 32-Mbit page-erasable memory that is less expensive than FRAM while offering a lower power consumption.
Read more...
---
New Espressif MCU embeds Wi-Fi 6
iCorp Technologies DSP, Micros & Memory
Espressif Systems has introduced the ESP32-C5, their first dual-band 2,4 and 5 GHz Wi-Fi 6 and Bluetooth 5 low-energy microcontroller unit.
Read more...
---
New chip from ST ideal for use in a 3-phase motor controller
Altron Arrow DSP, Micros & Memory
STMicroelectronics' new STSPIN32G4 is an integrated and flexible motor controller for driving three-phase brushless motors, helping designers choose the most suitable driving mode and at the same time 
...
Read more...
---
An entire chain of trust for system platforms
RS Components (SA) DSP, Micros & Memory
Microchip's CEC1736 Trust Shield family spans silicon, software, tools, a development board and provisioning capabilities that drive the end-to-end platform firmware protection that customers need.
Read more...
---
EFM32PG23 Microcontroller for IoT applications
RS Components (SA) DSP, Micros & Memory
Silicon Labs' EFM32PG23 microcontroller is the ideal combination of excellent low-power performance, precision analog capabilities and security in a small package.
Read more...
---
MG24 Wireless Development Kit
RS Components (SA) DSP, Micros & Memory
Silicon Labs' MG24 development kit is a high-performing wireless SoC with an AI/ML accelerator for battery-powered IoT end devices.
Read more...
---
Mastering the MicroBlaze processor
EBV Electrolink DSP, Micros & Memory
AMD-Xilinx and Adiuvo will present a hands-on workshop on using the MicroBlaze processor on the Spartan-7 evaluation kit to create, develop and deploy an FPGA solution.
Read more...
---
Tiny standalone probe with a USB-C port
Altron Arrow DSP, Micros & Memory
STLINK-V3MINIE from STMicroelectronics is an upgrade on the renowned ST-LINK/V2 family of in-circuit debuggers/programmers with a faster interface speed and USB-C connectivity.
Read more...
---