printer friendly version
Two ranges of Eurocard subracks
31 March 2021
Enclosures, Racks, Cabinets & Panel Products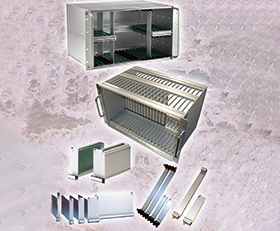 In order to meet the diverse mechanical, electrical and environmental requirements that today's markets and applications demand, Verotec offers two distinct Eurocard subrack ranges. Recognised as leading products in their field, they are complemented by an extensive range of front panels, modules and accessories, ensuring the needs of both board manufacturers and subrack users alike are met.
KM6-II subracks are fully compatible with DIN 41494 and IEC 60297; they are strong, versatile and easy to assemble with many accessories. All tie bars have two screw fixing positions, making the construction robust yet accurate and well suited to light- and medium-duty applications.
M6-HD subracks, primarily designed for military use, would suit any rugged application where resistance to shock and vibration is required. In addition to IEC 60297 and IEEE 1101.10/11, they are also designed to meet military standard MIL-STD-167. Features include positive guide retention, heavy-duty two-screw fixing tie bars, and 3 mm thick side plates and rack angles.
Verotec has a selection of configured systems plus individual elements such as backplanes, power supplies and cooling products, compliant with the PICMG/VITA specifications and supported by a range of accessories. These are offered in standard VME and CompactPCI platforms across various mechanical form factors, with customising options to suit specific applications.
A wide range of general 19-inch accessories includes front panels and fixing hardware, brush strips, keyboard drawers, shelves, fan trays, assembly tools, power distribution panels and cable trays.
The cases are ideal for instrumentation and general electronics applications, with a range of desktop and portable metal enclosures providing a technical yet aesthetic packaging solution. Available on short lead times, they come in many sizes and can easily be customised with machining and printing to suit your requirements.
Credit(s)
Further reading:
No need for custom enclosures thanks to rugged subrack system
29 September 2021, Vepac Electronics , Enclosures, Racks, Cabinets & Panel Products
The KM6-HD subrack range from Verotec meets the requirements of IEEE 1101.10 and 11, which expand on IEC60297 to add functionality required for modern industrial computing applications. This includes 
...
Read more...
---
New EC centrifugal fans for more power and efficiency
29 September 2021, Ebmpapst South Africa , Enclosures, Racks, Cabinets & Panel Products
Ventilation and air conditioning fans are constantly being developed, as users' demand for control options and energy efficiency in particular are increasing rapidly. Legal requirements, increasing awareness 
...
Read more...
---
600 W convection cooled power supplies
29 September 2021, Vepac Electronics , Power Electronics / Power Management
Cosel announced the introduction of 600 W free-air convection cooling power supplies in the form of the AEA600F series. With demanding applications in mind, the AEA600F is able to deliver 300% peak power 
...
Read more...
---
Small rectangular plastic enclosures
29 September 2021, Electrocomp , Enclosures, Racks, Cabinets & Panel Products
Owing to its versatility, Hammond Manufacturing's 1591 family is the company's best-selling plastic enclosure range, with a wide choice of sizes and features. The 1591 family is available in five small 
...
Read more...
---
Outdoor housings for space-critical applications
29 September 2021, Phoenix Contact , Enclosures, Racks, Cabinets & Panel Products
New outdoor housings with an installation depth of 80 mm extend the ECS range of outdoor housings from Phoenix Contact. The smaller design allows device dimensions that are 75% more compact. It is therefore 
...
Read more...
---
Plastic electronics housings made to custom specs
29 September 2021 , Enclosures, Racks, Cabinets & Panel Products
Based in Pretoria, NewElec boasts production capabilities that are ideally suited for making customised plastic electronic housings using computer-controlled manufacturing equipment. The process is quick, 
...
Read more...
---
Locally made, price-competitive SMC enclosures
29 September 2021, Allbro , Enclosures, Racks, Cabinets & Panel Products
The majority of electrical enclosures used in South Africa are coated with mild steel. Standard off-the-shelf sizes used to be locally manufactured but the tide of low-cost imported steel products has 
...
Read more...
---
Wall-mounting enclosures in mild steel
29 September 2021, Elen Enclosures , Enclosures, Racks, Cabinets & Panel Products
Elen Enclosures recently added a new range of wall-mounting mild steel enclosures from Italian metallic enclosure manufacturing specialist ETA. The new ECOR-Fe range is built to Industry 4.0 standards 
...
Read more...
---
Mixed-signal oscilloscopes with up to 20 channels
29 September 2021, Vepac Electronics , Test & Measurement
Offering up to 200 MHz bandwidth and 1 GSps sample rate, the MSO/DPO2000B mixed-signal oscilloscope (MSO) series from Tektronix delivers advanced debug features at an entry-level price. Users can 
...
Read more...
---
Power supplies and electronic loads for testing fuel cells
25 August 2021, Vepac Electronics , Test & Measurement
In response to demand for growing hydrogen fuel cell development and testing, EA Elektro-Automatik offers a series of powerful bidirectional DC power supplies and regenerative DC loads ideal for fuel 
...
Read more...
---