printer friendly version
Electronics housings for building automation
31 March 2021
Enclosures, Racks, Cabinets & Panel Products
Industry-specific housing solutions are placing new requirements on both electronics development and the electronics housings themselves. At the same time, system solutions are playing an increasingly important role. The building automation specialist, Neuberger, uses modular electronics housings for I/O applications from Phoenix Contact for its new controller (Figure 1).
Figure 1. The controller from Neuberger is based on the ME-IO housing system from Phoenix Contact – including the CPU module, it can be expanded to up to 32 modules.
Room automation for less energy consumption and added convenience
Neuberger Gebäudeautomation GmbH, from Rothenburg ob der Tauber, Germany, is a leading provider of systems for building automation. Currently, room automation has become a dominant topic for planners and operators of office buildings, hotels, schools and clinics. Convenience for the user isn't the only focus when temperature, lighting, surveillance, and many additional functions need to be controlled and regulated individually. Topics such as energy efficiency, added convenience, and cost optimisation are becoming increasingly important for operators and users.
In 2015, Neuberger began to develop a new room automation system, and was looking for a new housing system for this purpose. The main requirement was the need to be able to connect many cables by means of front connection, and with the now widely-used Phoenix Contact 'Push-in' connection technology. Additional requirements for the housing system were a high level of modularity for the housing variants, and a DIN rail connector.
Cooperation began in 2015
That fit well with the fact that Phoenix Contact, as a leading provider of empty electronics enclosures, had just launched a brand-new product family with front connection technology. While searching for a suitable housing system, the Neuberger developers also sought information at the Phoenix Contact stand at the Embedded World trade fair in Nuremberg in 2015.
There, the requirements that had already been precisely defined by Neuberger were compared with the functions of the new housing system. When a large overlap became apparent relatively quickly, a close cooperation was established. With Neuberger as a key customer and the specified requirements of the new room automation system, Open.Room, the front connection technology housing was adapted successfully to the requirements of the joint project (Figure 2).
One of the special features of the new ME-IO housing system is the connection technology on the front, which is based on the Push-in connection and, like many other components from Phoenix Contact, is now widely used. Wiring is convenient and tool-free, thanks to the push-in spring-force connector – an advantage over the conventional screw or spring-cage connection. This is because with the Push-in connection, a special contact spring ensures high contact and conductor pull-out forces and vibration-proof contacting. The front connection technology allows easy access to the Open.Room modules.
The codable PCB connectors can be released easily via the established 'Lock and Release' technology. To do so, the plugged-in connection blocks are released and lifted out of the header by actuating a single trip lever; this allows them to be removed easily from the plugged-in position in a de-energised state, ensuring error-free device replacement.
Five types of front connectors are available for the selection and configuration of the connection technology. They can be combined with each other as needed. This allows you to arrange a mixture of 4-position and 6-position connection blocks. With terminal blocks for higher voltages, it is possible to separate connection blocks with lower voltage ranges. The connection blocks and the actuating elements for the Push-in connection are available in different colours and can be arranged however the customer likes. For the 6-position connection elements, up to 54 connections with a width of 18,8 mm are available (Figure 3).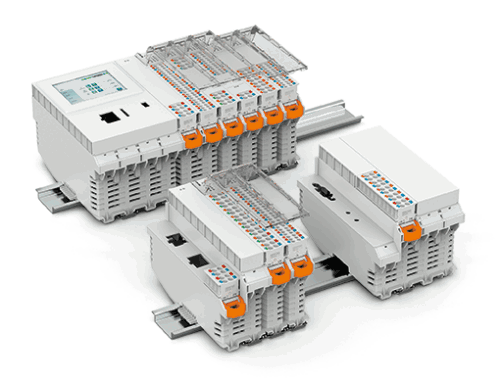 Figure 2. Controllers and I/O modules can be easily assembled, thanks to the modular design of the ME-IO housing system.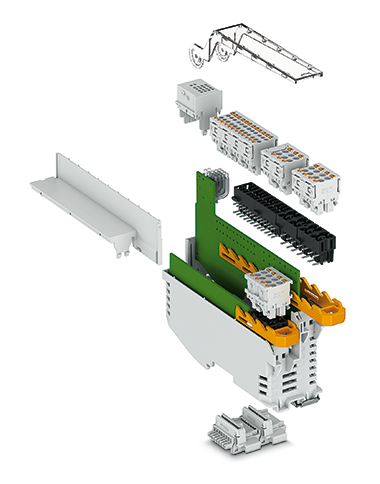 Figure 3. The Push-in front connection technology and compact design enable devices with up to 54 positions per overall width of 18,8 mm to be implemented.
The ME-IO housing system provides numerous application options, and not just because of its modular principle. If the housing modules are first configured in accordance with the requirements of the device manufacturer, communication between several modules can be realised conveniently via a DIN rail connector. The DIN rail connector is snapped into the standardised DIN rail; the individual I/O modules on the ME-IO housing system can then be opened unchanged on the DIN rail with the locked bus connectors and are immediately interconnected securely.
The DIN rail connector is available as a 5-position and an 8-position version – each with three different contact assignments. The 8-position design is available in variants with 8 parallel contacts, 7 parallel and 1 serial contact, and 6 parallel and 2 serial contacts.
Thanks to these features, the ME-IO housing system was examined more closely by Neuberger for the development of room automation systems. After a series of customer-specific adaptations, which Phoenix Contact was able to implement in numerous customer projects due to its expertise, the housing was selected.
Creating the target system
Controlling and regulating complex buildings requires a flexible, future-proof, and intelligent room automation system. The Neuberger room automation system Open.Room fulfils all functions of room automation – from lighting, surveillance, presence and media technology, all the way to room climate control. With the newly developed room automation based on the ME-IO housing, a system is made available to operators that comprises a CPU module, input and output modules, and communication modules.
Summary
In the search for a suitable housing for its newly developed room automation system, Neuberger chose the ME-IO housing system. The arrangement and number of modules in ME-IO housings are flexible, so all modules of Open.Room can be combined with one another.
Wiring is fast and simple and requires no tools, thanks to Push-in connection technology. The simple locking system allows the modules to be replaced quickly if needed, and operation continues without problems during the process. The current status of the building automation system is shown by LEDs on the front of the housing, which are clear and visible at a glance. The compact design of the Open.Room module stored in the housing allows space-saving installation and assembly on DIN rails, which is ideal for use in ceiling, wall and floor distributors.
For more information contact Phoenix Contact, +27 11 801 8200, sbritz@phoenixcontact.co.za, www.phoenixcontact.co.za
Credit(s)
Further reading:
M12 push-pull connectors with internal locking
31 March 2021, Phoenix Contact , Interconnection
Phoenix Contact has extended its existing M12 portfolio to include new push-pull connectors with internal locking. The cross-manufacturer locking system based on IEC 61076-2-010 enables easy cabling and 
...
Read more...
---
Phoenix Contact makes connecting a snap
26 February 2021, Phoenix Contact , Interconnection
Phoenix Contact brings added convenience to conductor connections with the lever-actuated PCB terminal blocks and PCB connectors of the consistent LPT and LPC series. They combine the reliability of push-in 
...
Read more...
---
Assistance system supports efficient conductor processing
26 February 2021, Phoenix Contact , Manufacturing / Production Technology, Hardware & Services
In industrial control cabinet manufacturing, processes still feature multiple manual steps. Phoenix Contact offers a solution in the form of the ClipX WIRE assistance system from the ClipX product family, 
...
Read more...
---
Hybrid device connectors with knurled nut
26 February 2021, Phoenix Contact , Interconnection
M23 Hybrid series device connectors from Phoenix Contact are now also available with a knurled nut. This enables devices such as servo drives to be connected using either coupler or cable connectors. 
...
Read more...
---
Two ranges of Eurocard subracks
31 March 2021, Vepac Electronics , Enclosures, Racks, Cabinets & Panel Products
In order to meet the diverse mechanical, electrical and environmental requirements that today's markets and applications demand, Verotec offers two distinct Eurocard subrack ranges. Recognised as leading 
...
Read more...
---
Rack-mounted instrument enclosure
31 March 2021, Electrocomp , Enclosures, Racks, Cabinets & Panel Products
Made from extruded aluminium, the RM Series of enclosures from Hammond Manufacturing are suitable for rack-mount or desktop use. Featuring strong construction yet light in weight, the enclosures are made 
...
Read more...
---
Outdoor housing for 4G LTE routers
31 March 2021, Otto Wireless Solutions , Enclosures, Racks, Cabinets & Panel Products
WLink industrial wireless routers have become the preferred industrial LTE router for many customers over the last decade, largely due to their flexibility, lower cost, free backend management platform, 
...
Read more...
---
Industrial PCs that are simply communicative and reliable
26 February 2021, Phoenix Contact , Computer/Embedded Technology
Industrial PCs are indispensable in factory automation. In times of increasing digitalisation, they take care of a variety of tasks. That's why it's important that the devices can be easily installed, 
...
Read more...
---
High conductor pull-out values with square crimping shape
25 November 2020, Phoenix Contact , Manufacturing / Production Technology, Hardware & Services
The Crimpfox Vario 4S crimping tool from Phoenix Contact ensures reliable processing of insulated, uninsulated, and TWIN ferrules.The integrated pressure lock guarantees a complete and process-reliable 
...
Read more...
---
DC/AC inverter for DIN rail mounting
25 November 2020, Phoenix Contact , Power Electronics / Power Management
With the new DC/AC inverter in the Quint Power family from Phoenix Contact, a compact solution is available to generate alternating current in DC applications. The DC/AC inverter for DIN rail mounting 
...
Read more...
---