printer friendly version
Locally developed power supplies
31 March 2021
Power Electronics / Power Management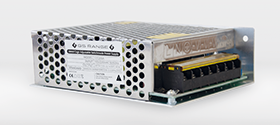 Critical equipment can now be operated with locally developed power supplies that have been specially designed to function on the local power grid and have built-in features to make it more robust than standard equipment.
GSS Group director, Greg Pritchard, says more than thirty years spent in the security and electronics industries has given the team the best possible understanding of local operating challenges. This has allowed it to develop power supplies that are designed to handle all of South Africa's extremes, including load shedding, brown-outs, and they even have circuitry that is better able to deal with the Highveld's well-known lightning storms.
Designed and developed by GSS Group, the power supplies are manufactured in a quality-controlled manufacturing plant in China, which allows the costs of the high-quality componentry to be incorporated at more affordable prices for the local market. As a result, several of the country's large security and electronic distributors have already switched to the local brand of power supplies with success.
Manufacturing expertise
"During my time in the industry I have worked for some of the largest electronic security equipment suppliers and gained decades of experience and long relationships with manufacturers in the East. By setting up our manufacturing operation alongside a large-scale electronics equipment manufacturer we get to enjoy better pricing as a result of the large volumes of components purchased by the manufacturer monthly.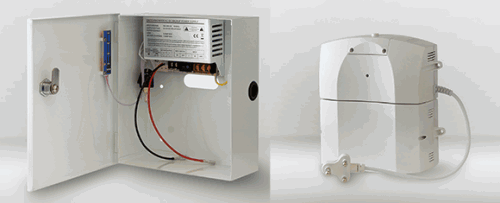 Various power supplies and uninterruptible power supplies from GSS Group.
"The enclosures are also specially designed for tough African conditions and, where possible, incorporate innovations that can protect and even avoid damage where batteries may be used or in the event of short circuits, etc. By maintaining strict control of the process, we have the agility to change and customise the power supplies to customers' requirements and even bring the customer's own branding onto the supply where sufficient volumes are ordered.
"This type of arrangement is only possible as a result of our longstanding relationships with suppliers in the East following dozens of visits and a good understanding of the business culture. As a result, our manufacturing partners work with us to manufacture products that are as good as or better than locally available equivalents," says Pritchard.
Local certification
He adds that GSS Group power supplies carry SANS IEC 60950, LOA and NRCS certification – for AC and DC power supplies and DC UPS (uninterruptible power supplies) – as well as meeting SANS/IEC 61558 certification for its range of linear transformers.
The products also incorporate EMI filtering and meet EMC standards. These standards are required for effective use in IoT devices, electronics and security applications which include intrusion, CCTV, access control and automation. The power supplies have subsequently also found favour in the electrical and alternative energy industries or wherever power supplies are required.
For more information contact Greg Pritchard, GSS Group, +27 10 140 7137, greg@gssgroup.co.za, www.gssgroup.co.za
Further reading:
Quad-output power management IC
31 March 2021, CST Electronics , Power Electronics / Power Management
The MAX77655 single-inductor multiple-output (SIMO) power management IC (PMIC) from Maxim Integrated Products provides the highest-density power solution for extremely compact next-generation devices. 
...
Read more...
---
Ultrafast avalanche SMD rectifier diode
31 March 2021, Hi-Q Electronics , Power Electronics / Power Management
Diotec's new BYG20 Series is an ultrafast avalanche SMD rectifier diode in an SMA package, with repetitive reverse voltage of 200 V to 600 V and average forward current rating of 1,5 A. Having non-repetitive 
...
Read more...
---
Industrial AC to DC power supplies
26 February 2021, Conical Technologies , Power Electronics / Power Management
Mornsun-Power offers a wide range of industrial AC to DC power supplies including the LM series of switched mode supplies that offer a wide input range of 85-305 V a.c. and 100 to 430 V d.c. The LM series 
...
Read more...
---
BLDC motor control demonstrator and evaluation board
26 February 2021, EBV Electrolink , Power Electronics / Power Management
EBV Elektronik is demonstrating the simplicity of designing with Power Integrations' BridgeSwitch devices with the introduction of the EBV BridgeSwitch MB high-voltage, single-phase brushless DC (BLDC) 
...
Read more...
---
ebm-papst's automation solutions on display
26 February 2021, Ebmpapst South Africa , Power Electronics / Power Management
Automation solutions in the context of Industry 4.0 were presented late last year at the regional trade fair 'all about automation' in Essen and Chemnitz, Germany. ebm-papst presented its latest products 
...
Read more...
---
PoE to USB-C power and data adaptor
26 February 2021, Altron Arrow , Power Electronics / Power Management
There are many consumer, enterprise and industrial devices today that have a USB Type-C port as the only input power option. While USB-C technology can offer high power and high data rate, it limits the 
...
Read more...
---
Enclosed AC-DC power supplies
26 February 2021, Vepac Electronics , Power Electronics / Power Management
XP Power has introduced the LCS series of regulated output, convection cooled AC-DC power supplies that are well suited to budget-conscious applications. The four new series (LCS35, LCS50, LCS75 and LCS100) 
...
Read more...
---
300 W digital DC/DC power module
31 March 2021, NuVision Electronics , Power Electronics / Power Management
The MPC1100A-54-0000 from Monolithic Power Systems (MPS) is a high-efficiency, non-isolated LLC-DCX power card module with a fixed 10:1 transformer turns ratio. The device operates from a 40 V to 60 V d.c. 
...
Read more...
---
1200 V SiC MOSFETs
26 February 2021, RS Components (SA) , Power Electronics / Power Management
RS Components now stocks ON Semiconductor's latest 1200 V-rated MOSFETs. Based on silicon carbide (SiC) technology, these power discretes are able to push the performance envelope. The new N-channel 
...
Read more...
---
High-voltage 10 kW power supplies
25 November 2020, Vepac Electronics , Power Electronics / Power Management
The new XP Glassman BQ series of 10 kW, high-voltage power supplies targets OEM, industrial and laboratory organisations requiring controllable DC power from 0-15 kV through to 0-100 kV. The fast response 
...
Read more...
---