printer friendly version
Low-power MCUs with advanced cybersecurity
31 March 2021
DSP, Micros & Memory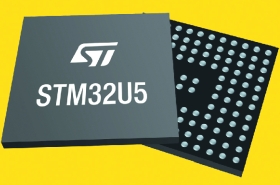 STMicroelectronics has announced a new generation of extreme power-saving microcontrollers (MCUs), the STM32U5 series, to meet the most demanding power/performance requirements for smart applications including wearables, personal medical devices, home automation, and industrial sensors.
The industry-leading STM32 MCUs, built upon the highly energy-efficient Arm Cortex-M processors, are already in billions of domestic appliances, industrial controls, computer peripherals, communication devices, and equipment managing smart cities and infrastructure.
The new STM32U5 series teams the efficient Arm Cortex-M33 core with ST's innovative proprietary power-saving features and on-chip IP, cutting down energy demand while pumping up performance. The line also adds new state-of-the-art features needed by today's applications, including advanced cybersecurity with new hardware-based protection targeting PSA and SESIP (Security Evaluation Standard for IoT Platforms) assurance level 3, as well as graphics accelerators for rich user experiences.
For more information contact Future Electronics, +27 21 421 8292, marian.ledgerwood@futureelectronics.com, www.futureelectronics.com
Credit(s)
Further reading:
Fully configurable gate driver for SiC MOSFETs
29 September 2021, Future Electronics , Power Electronics / Power Management
As demand for electric buses and other electrified heavy transport vehicles increases to meet lower emission targets, silicon carbide (SiC)-based power management solutions are providing greater efficiencies 
...
Read more...
---
MCUs for secure and connected automotive gateways
25 August 2021, Altron Arrow , DSP, Micros & Memory
The SPC58 Chorus H Line is part of STMicroelectronics' portfolio of general-purpose automotive power architecture microcontrollers (MCUs). It is designed for high-end body, networking and security applications 
...
Read more...
---
Low-power multiprotocol wireless MCU
29 September 2021, Altron Arrow , DSP, Micros & Memory
The STM32WB15CC multiprotocol wireless microcontroller (MCU) embeds a powerful and ultra-low-power radio compliant with the Bluetooth Low Energy SIG specification 5.2. It contains a dedicated Arm Cortex-M0+ 
...
Read more...
---
MCU evaluation and development kits
25 August 2021, RS Components (SA) , DSP, Micros & Memory
RS Components announced availability of a new range of evaluation and development kits for Infineon Technologies' AURIX family of microcontrollers (MC), which are based on the manufacturer's 32-bit TriCore 
...
Read more...
---
Low-power DDR4X memory IC
25 August 2021, Brabek , DSP, Micros & Memory
Alliance Memory has expanded its offering of high-speed CMOS mobile low-power SDRAMs with a new LPDDR4X device featuring on-chip ECC. Offering an extension to the company's fourth-generation LPDDR4 SDRAMs, 
...
Read more...
---
Ethernet PHYs for industrial networking
25 August 2021, Future Electronics , Telecoms, Datacoms, Wireless, IoT
Smart manufacturing is driving efficiencies in automation as digital networks increasingly connect machines, production line equipment and robotics. Operation technology (OT) and information technology 
...
Read more...
---
LEDs for indoor lighting market
25 August 2021, Future Electronics , Opto-Electronics
Lumileds introduced its new Luxeon 2835 Commercial LEDs engineered and designed to support the growing demand for a high-volume, high-efficacy mid-power LED to serve commercial indoor lighting applications. 
...
Read more...
---
Microchip achieves JEDEC qualification for rad-tolerant FPGA
28 July 2021, Future Electronics , Programmable Logic
Developers of small-satellite constellations and other systems used in 'New Space' missions must deliver both high reliability and radiation protection while meeting stringent cost and scheduling requirements. 
...
Read more...
---
MCUs for real-time control, analytics and networking
28 July 2021 , DSP, Micros & Memory
Brand new from Texas Instruments (TI) comes a high-performance microcontroller (MCU) portfolio that advances real-time control, networking and analytics applications at the edge. With new Sitara AM2x 
...
Read more...
---
Customisable local voice control at the edge
28 July 2021, Future Electronics , Computer/Embedded Technology
NXP's EdgeReady solution portfolio now includes a turnkey hardware and software solution that enables developers to add versatile local voice control with customisable commands to the industrial and IoT 
...
Read more...
---