printer friendly version
Low-power MCUs with advanced cybersecurity
31 March 2021
DSP, Micros & Memory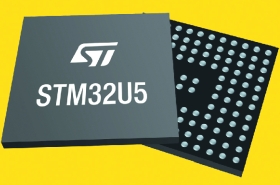 STMicroelectronics has announced a new generation of extreme power-saving microcontrollers (MCUs), the STM32U5 series, to meet the most demanding power/performance requirements for smart applications including wearables, personal medical devices, home automation, and industrial sensors.
The industry-leading STM32 MCUs, built upon the highly energy-efficient Arm Cortex-M processors, are already in billions of domestic appliances, industrial controls, computer peripherals, communication devices, and equipment managing smart cities and infrastructure.
The new STM32U5 series teams the efficient Arm Cortex-M33 core with ST's innovative proprietary power-saving features and on-chip IP, cutting down energy demand while pumping up performance. The line also adds new state-of-the-art features needed by today's applications, including advanced cybersecurity with new hardware-based protection targeting PSA and SESIP (Security Evaluation Standard for IoT Platforms) assurance level 3, as well as graphics accelerators for rich user experiences.
For more information contact Future Electronics, +27 21 421 8292, marian.ledgerwood@futureelectronics.com, www.futureelectronics.com
Credit(s)
Further reading:
Discovery kit for IoT nodes using STM32U5 MCU
Altron Arrow DSP, Micros & Memory
The B-U585I-IOT02A Discovery kit provides a complete demonstration and development platform for STMicroelectronics' STM32U585AI microcontroller, featuring an Arm Cortex-M33 core with Arm TrustZone and 
...
Read more...
---
200 MHz MCUs backed by TrustZone security
Hi-Q Electronics DSP, Micros & Memory
Renesas Electronics now offers a 200 MHz RA6E1 microcontroller (MCU) which uses a high-performance Arm Cortex M33 core and TrustZone. The device is built on a highly efficient 40 nm process and supported 
...
Read more...
---
32-bit MCU for IoT edge applications
NuVision Electronics DSP, Micros & Memory
Silicon Labs launched the EFM32PG22 (PG22) 32-bit microcontroller (MCU), a low-cost, high-performance solution with an optimised combination of energy efficiency, performance and security. With easy-to-use, 
...
Read more...
---
Crossover MCU with 3D camera
EBV Electrolink DSP, Micros & Memory
NXP Semiconductors has announced the expansion of its NXP EdgeReady solution portfolio, adding a solution for secure face recognition that leverages a high-performance 3D structured light module (SLM) 
...
Read more...
---
Front-end modules for 5G MIMO infrastructure
Future Electronics Telecoms, Datacoms, Wireless, IoT
NXP Semiconductors has announced the new BTS6302U/6201U pre-drivers and BTS7203/5 dual-channel receive (RX) front-end modules (FEM) for 5G massive multi-input multi-output (MIMO) infrastructure. These 
...
Read more...
---
VCSEL modules for 3D gesture recognition
Future Electronics Opto-Electronics
ams Osram has expanded its 3D sensing portfolio with four new VCSEL modules. The number of applications which utilise 3D sensing technology continues to increase, from the detection of the surroundings 
...
Read more...
---
UV-A light detection for wearable and mobile devices
Future Electronics Opto-Electronics
Monitoring vital signs such as pulse or oxygen saturation in the blood via smartphones and smartwatches has been available for several years. The corresponding UV channel of the TSL2585 from ams Osram 
...
Read more...
---
High-precision voltage reference IC
Future Electronics Analogue, Mixed Signal, LSI
Extended temperature-range voltage reference ICs for automotive and industrial applications require low drift, high reliability and high performance. A new high-precision voltage reference (Vref) IC from 
...
Read more...
---
Fully configurable gate driver for SiC MOSFETs
Future Electronics Power Electronics / Power Management
As demand for electric buses and other electrified heavy transport vehicles increases to meet lower emission targets, silicon carbide (SiC)-based power management solutions are providing greater efficiencies 
...
Read more...
---
MCUs for secure and connected automotive gateways
Altron Arrow DSP, Micros & Memory
The SPC58 Chorus H Line is part of STMicroelectronics' portfolio of general-purpose automotive power architecture microcontrollers (MCUs). It is designed for high-end body, networking and security applications 
...
Read more...
---