printer friendly version
Evaluate 3D magnetic sensors in under ten minutes
31 March 2021
Analogue, Mixed Signal, LSI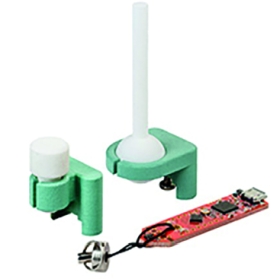 You probably think that it's not possible to evaluate a 3D magnetic sensor in less than ten minutes? Think again! Anything is possible with Infineon's 2GO kits. Its 3D magnetic sensor 2GO kit is a budget-priced evaluation board equipped with a 3D magnetic sensor for three-dimensional measurement combined with an ARM Cortex-M0 CPU. And whether you are a beginner or an advanced engineer, you know that there is no magnetic sensing without a magnet...
This is why Infineon offers plenty of add-on components, including joysticks, rotation knobs, linear sliders and out-of-shaft adaptors. These add-ons are each equipped with a magnet and can be easily mounted onto the 2GO kit. Combined with the GUI available for free from Infineon's website, this tool offers fast and easy prototyping.
Check it out, get your 2GO kit, download the GUI and share your experience on Infineon's 'facebook4engineers' page.
For more information contact Gyula Wendler, Altron Arrow, +27 11 923 9709, gwendler@arrow.altech.co.za, www.altronarrow.com
Credit(s)
Further reading:
Discovery kit for IoT nodes using STM32U5 MCU
Altron Arrow DSP, Micros & Memory
The B-U585I-IOT02A Discovery kit provides a complete demonstration and development platform for STMicroelectronics' STM32U585AI microcontroller, featuring an Arm Cortex-M33 core with Arm TrustZone and 
...
Read more...
---
Signal chain implementation for condition monitoring systems
Altron Arrow Editor's Choice Analogue, Mixed Signal, LSI
Like all system designs, there are many choices to be made when it comes to designing a condition monitoring system, each of which comes with various trade-offs and can drastically alter the DAQ signal chain design.
Read more...
---
USB charger solution with high power density
Altron Arrow Power Electronics / Power Management
Diodes Incorporated has launched a three-chip solution for enhancing the performance of ultra-high-power-density USB Type-C power delivery (PD) systems. These products can be used in a wide variety of 
...
Read more...
---
High-speed SAR ADC family
Analogue, Mixed Signal, LSI
Texas Instruments expanded its portfolio of high-speed data converters with a broad family of successive-approximation register (SAR) analog-to-digital converters (ADCs) that enable high-precision data 
...
Read more...
---
Digital flow sensor for respiratory devices
Electrocomp Analogue, Mixed Signal, LSI
The compact SFM3119 digital flow meter is the successor to Sensirion's SFM3100 mass flow meter. Compared to its predecessor, the SFM3119 comes with a digital I
2
C output as well as improved specifications.  
...
Read more...
---
Liquid flow sensor in small planar package
Electrocomp Analogue, Mixed Signal, LSI
With a tiny footprint of only
10 x 10 mm
, Sensirion's LPG10-1000 liquid flow sensor provides optimal performance and speed in measuring liquid flow in a planar microfluidic glass substrate, with down-mount 
...
Read more...
---
Demo of new TouchGFX video widget
Altron Arrow Multimedia, Videos
The latest release (version 4.18) of STMicroelectronics' TouchGFX software for user-interface development with STM32 microcontrollers (MCUs) added support for video playback, enhanced tools for multi-developer 
...
Read more...
---
Configurable dual IO-Link and SIO transceiver
Altron Arrow Telecoms, Datacoms, Wireless, IoT
STMicroelectronics is bringing extra flexibility to IO-Link connections with the L6364 transceiver, which features dual communication channels that allow configurable output doubling for extra drive strength, 
...
Read more...
---
Wide range of sensor technologies for innovative designs
TRX Electronics Analogue, Mixed Signal, LSI
Mouser Electronics has created a sensor technology content stream on its website that highlights the latest in innovative sensor solutions and resources from the world's top manufacturers. With the 
...
Read more...
---
Updates add video to ST's TouchGFX suite
Altron Arrow Computer/Embedded Technology
STMicroelectronics has released TouchGFX Version 4.18 for user-interface development with STM32 microcontrollers (MCUs), adding video playback, enhanced tools for multi-developer collaboration and support 
...
Read more...
---