printer friendly version
Small E-Stop button with 360° visibility
28 April 2021
Switches, Relays & Keypads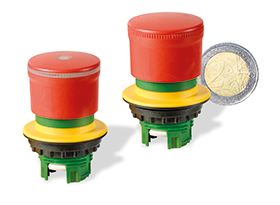 RS Components has added the Eaton RMQ Small E-Stop to its emergency pushbutton portfolio. This compact device is around 30% smaller than standard emergency-stop buttons and is designed to deliver improved levels of safety in the smallest possible footprint.
Offering 360° visibility and with a diameter of just 30 mm, the E-Stop integrates seamlessly into most automation and machine building applications. Its compact size gives machine builders and operations engineers an emergency stop option that is at home in any automation environment, whether mounted horizontally on a flat control panel or vertically on a machine enclosure.
Although it is small in size, the Eaton Small E-Stop is big on safety. In addition to a front-facing LED status indicator, this emergency stop button features an innovative illuminated ring design around its circumference. This delivers full 360° visibility when the device is activated, ensuring that its status can be seen clearly from all sides as well as from the front. An optional RGB LED element gives system designers and operations engineers a choice of seven colours, which can be selected to show machine status or to ensure the emergency light is distinct from other visual indicators in the area.
The Small E-Stop is simple to integrate thanks to its modular plug-and-play design. It is compatible with flat rear contacts but can be supplied with self-monitoring contacts as an option. For further flexibility, specifiers can select from either a 22 mm or 30 mm diameter version and models which are rated to IP65K and IP69K. There is also a choice of a pull-to-reset or turn-to-reset release mechanism.
The Small E-Stop is fully compatible with other Eaton RMQ products, which are also available from RS – making it easier for system designers and machine builders to source everything they need from a single supplier.
Credit(s)
Further reading:
eFuse with transient overcurrent blanking timer
RS Components (SA) Power Electronics / Power Management
The TPS25981xx family of eFuses from Texas Instruments is a robust defence against overloads, short circuits, voltage surges and excessive inrush current.
Read more...
---
An entire chain of trust for system platforms
RS Components (SA) DSP, Micros & Memory
Microchip's CEC1736 Trust Shield family spans silicon, software, tools, a development board and provisioning capabilities that drive the end-to-end platform firmware protection that customers need.
Read more...
---
EFM32PG23 Microcontroller for IoT applications
RS Components (SA) DSP, Micros & Memory
Silicon Labs' EFM32PG23 microcontroller is the ideal combination of excellent low-power performance, precision analog capabilities and security in a small package.
Read more...
---
MG24 Wireless Development Kit
RS Components (SA) DSP, Micros & Memory
Silicon Labs' MG24 development kit is a high-performing wireless SoC with an AI/ML accelerator for battery-powered IoT end devices.
Read more...
---
50 W high-power RF MOSFET announced
RS Components (SA) Telecoms, Datacoms, Wireless, IoT
Mitsubishi has announced that it will launch a 50 W silicon RF high-power metal-oxide semiconductor field-effect transistor (MOSFET) module for use in high-frequency power amplifiers.
Read more...
---
Tektronix reimagines performance and portability in oscilloscopes
RS Components (SA) Test & Measurement
The new 2 series of oscilloscope can move from the bench to the field and back, enabling workflows previously not possible.
Read more...
---
'Excellently average' PhotoMOS relays
Avnet Abacus Switches, Relays & Keypads
With the new AQY215S 100 V load voltage type, Panasonic Industry complements its GU series of MOSFET relays in the middle of the feature scale.
Read more...
---
RS to showcase IoT and Food Safe products at NAMPO Harvest Day
RS Components (SA) News
Following a two-year hiatus, this year's event will take place over five days as opposed to four, to accommodate Covid-19 restrictions.
Read more...
---
Automotive solid-state relays
Switches, Relays & Keypads
The TPSI3050-Q1 isolated switch driver and the TPSI2140-Q1 isolated switch both integrate power and signal isolation across a single barrier.
Read more...
---
What can sport teach us about MRO procurement?
RS Components (SA) News
Just like triathlon transitions, if you don't respect the details and aren't supportive about making manufacturing flexible, as a supplier you aren't contributing to your customers' success.
Read more...
---