printer friendly version
New receptacles make key switch hot-swapping effortless
28 April 2021
Interconnection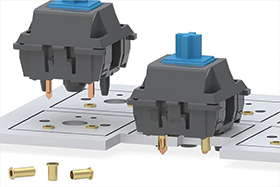 Mill-Max receptacles have long been an excellent solution for making PCB components pluggable, removable and replaceable. Mill-Max has recently developed a new series of open bottom, low profile, solder mount receptacles specifically designed to make mechanical key switches hot-swappable.
The new 3305-X is designed to be soldered into a 1,50 mm minimum mounting hole, with an ultra-thin retention shoulder so plugged-in components sit nearly flush to the board surface. The open bottom design is meant to accommodate varying lead lengths, making this a very versatile receptacle.
The 3305-X series offers three length options of 2,67 mm, 3,30 mm and 3,94 mm, all with an above-board height of 0,25 mm, providing the low profile desired for optimal switch height and functioning. And while these receptacles are compact in size, high-quality materials make these easy-to-use parts both reliable and long-lasting.
Like all Mill-Max receptacles, the 3305-X series utilises a beryllium copper contact clip to make dependable, low-resistance connections with mated leads and maintain those high-quality connections after thousands of cycles (plug/unplug). The 3305-X accepts round leads of 0,635-0,940 mm in diameter as well as square and rectangular leads of 0,48-0,66 mm square – typical of the leads found on most keyboard switches.
The introduction of the 3305-X series and this style of receptacle means that repairing, upgrading, or customising keyboards – once tedious and time-consuming endeavours – have become viable options by eliminating the painstaking task of de-soldering then re-soldering an entire keyboard – a process which could take 90 minutes or more each time, depending on the user's skill level. Conversely, after the one-time process of installing Mill-Max 3305-X receptacles, all the key switches can be replaced in just a few minutes, many times over, allowing users of all skill levels to join the hot-swap keyboard movement.
Credit(s)
Further reading:
M12 push-pull connectors with internal locking
28 April 2021, Phoenix Contact , Interconnection
Phoenix Contact has extended its existing M12 portfolio to include new push-pull connectors with internal locking. The cross-manufacturer locking system based on IEC 61076-2-010 enables easy cabling and 
...
Read more...
---
How Fujikura developed arc fusion splicing machines with PAS
28 April 2021, IC Logistix , Interconnection
In the early days of fibre communication, distance was important and voice communication was the number one consideration. Today speed plays a pivotal role and fibre is used for voice and petabytes 
...
Read more...
---
Battery connectors for industrial vehicles
28 April 2021, Vepac Electronics , Interconnection
The Anderson family of Euro Battery Connectors (EBC) are expertly designed for ease-of-use and incorporate an innovative contact carrier to simplify assembly. The EBC connectors include the industry 
...
Read more...
---
Right-angle SMA connectors and assemblies
28 April 2021, TRX Electronics , Interconnection
Amphenol SV Microwave's right-angle SMA connectors and cable assemblies offer true broadband 40 GHz performance and a space saving design. The design reduces stress on solder joints and accommodates .047 
...
Read more...
---
Adaptor grommets for M23 square flange connectors
28 April 2021 , Interconnection
For its modularly designed adaptor system, IMAS-CONNECT, icotek offers the new adaptor grommets AT-FL and QT-AT-FL. The adaptor grommets serve as an interface for M23 square flange connectors. The 
...
Read more...
---
Will AI embed itself into the Mil/Aero market in 2021?
28 April 2021, Spectrum Concepts , Interconnection
Embedded systems and artificial intelligence (AI) seem to be the leading trends in the Mil/Aero market. Samtec's industry manager, Chuck Gratz, agrees with articles written in
COTS Journal, Military & 
...
Read more...
---
Samtec Catalogue 2021
28 April 2021, Spectrum Concepts , Technical Literature
The latest edition of Samtec's catalogue covers the company's full range of connectors, technologies and services. Running to a total of 319 pages, of particular note are the new products in the range, 
...
Read more...
---
Bayonet connectors for harsh environments
28 April 2021, IPD Electronics , Interconnection
Waterproof, shockproof and UV resistant, the UTGX series from Souriau can withstand continuous underwater immersion, routine pressure washing, dirt and dust and other harsh conditions. Ideal for both 
...
Read more...
---
Miniaturised coax connectors and cable assemblies
28 April 2021, Actum Electronics , Interconnection
Rosenberger's new-generation WSMP connectors are approximately 45% smaller than standard SMP connectors and can be used for applications up to 100 GHz. Featuring a variety of coaxial connectors and cable 
...
Read more...
---
New connectors for photovoltaics
31 March 2021, Phoenix Contact , Interconnection
New connectors as well as cable-based string fuses extend the Sunclix product series for photovoltaic (PV) systems from Phoenix Contact. The device connectors are particularly suitable for cabling inverters 
...
Read more...
---