printer friendly version
Electronics news digest
28 April 2021
News
South Africa
Nordson DAGE announced the appointment of Techmet Equipment, a division of SMT Afritech, as the distributor for its X-ray inspection equipment for southern Africa. Commenting on the news, Russell Byrne, Nordson Test and Inspection (EMEA) said, "We are confident that Techmet, with their expertise and customer support structure, will offer the inspections market our leading-edge technologies in the field of X-ray inspection and we look forward to working with Techmet in this market and growing our market share."
Conical Technologies has been appointed as an official South African distributor for Mornsun. Headquartered in China, Mornsun has grown into a leading industrial power supply manufacturer that specialises in magnetic isolation technology and product research and application, and manufactures high-quality products including AC/DC converters, DC/DC converters, adaptors, isolation transmitters, IGBT drivers, LED drivers and more.
Overseas
Companies
Farnell, an Avnet company, is now shipping a broad range of ON Semiconductor products to support a new framework to help OEMs more rapidly develop end-to-end Internet of Things (IoT) devices. The new framework simplifies the process of building IoT-enabled devices through rapid prototyping system solutions from ON Semiconductor that are preconfigured to connect to IoT application developers and service providers through the cloud. Avnet's IoTConnect platform, powered by Microsoft Azure and the associated Avnet IoT Partner Program, facilitates this connection.
Digi International has acquired Dallas-based Haxiot, an industry leader in end-to-end LoRaWAN-based solutions. Terms of the acquisition were not immediately disclosed. Founded in 2015, Haxiot has an extensive product portfolio that includes high-performance client modules, intelligent industrial devices, gateways and the highly scalable X-ON cloud IoT platform.
Industry
Total semiconductor unit shipments, which include integrated circuits as well as optoelectronics, sensor/actuator and discrete devices, are forecast to rise 13% in 2021 to 1,135 trillion units, to set a new all-time annual record, based on data from IC Insights. This follows a 3% increase in 2020 as the Covid-19 pandemic was wreaking havoc across many segments of the economy. From 1978, when 32,6 billion units were shipped, through 2021, the compound annual growth rate (CAGR) for semiconductor units is forecast to be 8,6%.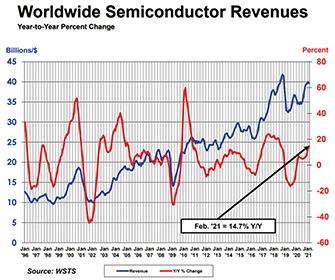 Global sales for the semiconductor industry were $39,6 billion for the month of February 2021 according to the Semiconductor Industry Association (SIA), an increase of 14,7% over the February 2020 total of $34,5 billion, but 1,0% less than the January 2021 total of $40,0 billion. Regionally, year-to-year sales increased across all markets: China (18,9%), Asia Pacific/All Other (18,2%), the Americas (9,7%), Japan (7,6%), and Europe (6,8%).
Avnet Silica has been awarded 'Best Demand Creation Distributor in EMEA 2020' by Micron Technology, an industry leader in innovative memory and storage technologies. During the 2020 fiscal year, Avnet Silica generated more than 50% of Micron's demand creation revenue across its distribution network in EMEA.
Technology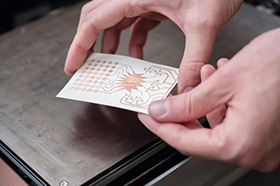 An inkjet-printed prototype of a mm-wave harvester developed at Georgia Tech. (Photo credit: Christopher Moore, Georgia Tech)
Researchers at the Georgia Institute of Technology have uncovered an innovative way to tap into the over-capacity of 5G networks, turning them into a 'wireless power grid' for powering IoT devices that today need batteries to operate. They have developed a flexible Rotman lens-based rectifying antenna (rectenna) system capable, for the first time, of millimetre-wave harvesting in the 28 GHz band. This robust system may open the door for new passive, long-range, mm-wave 5G-powered RFID for wearable and ubiquitous IoT applications. A professor at the institute who specialises in flexible electronics predicts that power as a service will be the next big application for the telecom industry, just as data overtook voice services as a major revenue producer.
Further reading:
Hensoldt and CSIR sign radar development agreement
28 April 2021 , News
A new generation of tactical 3D surveillance radar systems is being developed for naval and land deployment, which will modernise one of Hensoldt's key radar product lines and further enhance its extensive 
...
Read more...
---
Smart Industry 4.0 enablement in security-critical applications
28 April 2021 , News
Data-driven manufacturing is revolutionising the industry, improving quality, productivity and agility, while also decreasing production costs and ordering lead-times. In sectors requiring a very high 
...
Read more...
---
From the editor's desk: Digital migration is finally happening – does anyone care?
31 March 2021, Technews Publishing , News
For those who have followed the saga of South Africa's (non) migration to digital terrestrial television (DTT), many phrases might come to mind. Shambles. Disaster. Corruption. Government ineptitude. 
...
Read more...
---
Electronics news digest
31 March 2021 , News
South Africa
South Africa's photonics industry is set to benefit from the state-of-the-art Photonics Prototyping Facility (PPF) that was unveiled at the Council for Scientific and Industrial Research 
...
Read more...
---
Component shortages and how to mitigate them
31 March 2021, RS Components (SA), Projects Concern Manufacturing, Production Logix, Altron Arrow , News
To find out just how severe the problem is right now, and the impact it is having, we consulted two South African CEMs and two component distributors for their insights and advice.
Read more...
---
RAD gateways deployed in local security solution
31 March 2021, Otto Wireless , News
RAD, an industry pioneer in Industrial IoT (IIoT) and edge computing solutions which appointed Otto Wireless Solutions as its South African distributor last year, has announced that an unnamed South African 
...
Read more...
---
Intelsat, XinaBox partner up for STEM advancement
31 March 2021 , News
Intelsat, operator of the world's largest integrated satellite and terrestrial network, is partnering with XinaBox (pronounced 'X in a Box') to deliver space-focused STEM (science, technology, engineering 
...
Read more...
---
Electrocomponents plc joins the ECIA
31 March 2021, RS Components (SA) , News
The Electronic Components Industry Association (ECIA) has welcomed Electrocomponents plc, a global omni-channel solutions partner for electronics, industrial and automation customers and suppliers, which 
...
Read more...
---
RS partners with Geekulcha to hack for a difference
28 April 2021 , News
The Annual Geekulcha Hackathon took place recently and saw more than 100 coders, developers and programmers challenge each other in an online contest. This anticipated event has become a highlight in 
...
Read more...
---
SABS drives transparency to eliminate technical barriers to trade
31 March 2021 , News
The South African Bureau of Standards (SABS), in collaboration with the World Trade Organization (WTO), hosted a virtual seminar in March on the WTO Technical Barriers to Trade (TBT) Agreement's Transparency 
...
Read more...
---