printer friendly version
Electronics news digest
28 April 2021
News
South Africa
Nordson DAGE announced the appointment of Techmet Equipment, a division of SMT Afritech, as the distributor for its X-ray inspection equipment for southern Africa. Commenting on the news, Russell Byrne, Nordson Test and Inspection (EMEA) said, "We are confident that Techmet, with their expertise and customer support structure, will offer the inspections market our leading-edge technologies in the field of X-ray inspection and we look forward to working with Techmet in this market and growing our market share."
Conical Technologies has been appointed as an official South African distributor for Mornsun. Headquartered in China, Mornsun has grown into a leading industrial power supply manufacturer that specialises in magnetic isolation technology and product research and application, and manufactures high-quality products including AC/DC converters, DC/DC converters, adaptors, isolation transmitters, IGBT drivers, LED drivers and more.
Overseas
Companies
Farnell, an Avnet company, is now shipping a broad range of ON Semiconductor products to support a new framework to help OEMs more rapidly develop end-to-end Internet of Things (IoT) devices. The new framework simplifies the process of building IoT-enabled devices through rapid prototyping system solutions from ON Semiconductor that are preconfigured to connect to IoT application developers and service providers through the cloud. Avnet's IoTConnect platform, powered by Microsoft Azure and the associated Avnet IoT Partner Program, facilitates this connection.
Digi International has acquired Dallas-based Haxiot, an industry leader in end-to-end LoRaWAN-based solutions. Terms of the acquisition were not immediately disclosed. Founded in 2015, Haxiot has an extensive product portfolio that includes high-performance client modules, intelligent industrial devices, gateways and the highly scalable X-ON cloud IoT platform.
Industry
Total semiconductor unit shipments, which include integrated circuits as well as optoelectronics, sensor/actuator and discrete devices, are forecast to rise 13% in 2021 to 1,135 trillion units, to set a new all-time annual record, based on data from IC Insights. This follows a 3% increase in 2020 as the Covid-19 pandemic was wreaking havoc across many segments of the economy. From 1978, when 32,6 billion units were shipped, through 2021, the compound annual growth rate (CAGR) for semiconductor units is forecast to be 8,6%.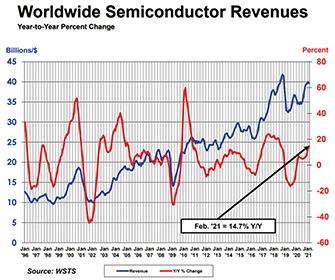 Global sales for the semiconductor industry were $39,6 billion for the month of February 2021 according to the Semiconductor Industry Association (SIA), an increase of 14,7% over the February 2020 total of $34,5 billion, but 1,0% less than the January 2021 total of $40,0 billion. Regionally, year-to-year sales increased across all markets: China (18,9%), Asia Pacific/All Other (18,2%), the Americas (9,7%), Japan (7,6%), and Europe (6,8%).
Avnet Silica has been awarded 'Best Demand Creation Distributor in EMEA 2020' by Micron Technology, an industry leader in innovative memory and storage technologies. During the 2020 fiscal year, Avnet Silica generated more than 50% of Micron's demand creation revenue across its distribution network in EMEA.
Technology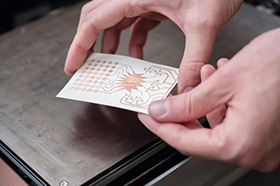 An inkjet-printed prototype of a mm-wave harvester developed at Georgia Tech. (Photo credit: Christopher Moore, Georgia Tech)
Researchers at the Georgia Institute of Technology have uncovered an innovative way to tap into the over-capacity of 5G networks, turning them into a 'wireless power grid' for powering IoT devices that today need batteries to operate. They have developed a flexible Rotman lens-based rectifying antenna (rectenna) system capable, for the first time, of millimetre-wave harvesting in the 28 GHz band. This robust system may open the door for new passive, long-range, mm-wave 5G-powered RFID for wearable and ubiquitous IoT applications. A professor at the institute who specialises in flexible electronics predicts that power as a service will be the next big application for the telecom industry, just as data overtook voice services as a major revenue producer.
Further reading:
Extended ST offering from RS
26 May 2021, RS Components (SA) , News
The scope of the supply chain agreement between RS Components and STMicroelectronics has been significantly extended. This new phase in the relationship between the two companies will result in a substantial 
...
Read more...
---
Structural battery breakthrough towards 'massless' energy storage
26 May 2021 , News
Chalmers University of Technology researchers have produced a structural battery that performs 10 times better than all previous versions. It contains carbon fibre that serves simultaneously as an electrode, 
...
Read more...
---
BAMR celebrates 75th anniversary
26 May 2021, BAMR , News
BAMR is celebrating its 75th year of serving the local industry, having been founded on 22 May 1946 by Fred Duk, a former Major in the South African Air Force, upon his return from the Second World 
...
Read more...
---
A tribute to Mark Schroeder
26 May 2021, S.J. Andrews Electronics , News
Written by Mark's family, with pride as we remember our husband, our dad, our granddad – a man who was and will always be so loved.
Read more...
---
Company profile: RS Components SA
26 May 2021, RS Components (SA) , News
The history of RS Components is a long and storied one, having been founded in London in 1937 by J.H. Waring and P.M. Sebestyen under the name Radiospares. In those early days, the company was run out 
...
Read more...
---
Electronics news digest
26 May 2021 , News
Overseas
Business
ams reported robust first quarter of 2021 group results with revenues of $1,55 billion and an adjusted operating (EBIT – earnings before interest and taxes) margin of 11%. This was 
...
Read more...
---
Events
26 May 2021 , Events, News
Tech Snacks
7-18 June 2021 Virtual A new learning concept from Arrow Electronics allowing visitors to choose from up to five Tech Snacks from across all the event's headline topics. Each snack is a 15-minute 
...
Read more...
---
From the editor's desk: The continued relevance of Moore's Law in the IoT age
26 May 2021, Technews Publishing , News, Editor's Choice
The end of Moore's Law (which famously posits that the number of transistors in a dense IC doubles about every two years, assuming an optimal price/performance ratio) has repeatedly been predicted, yet 
...
Read more...
---
Machine learning scholarships on offer at Wits University
26 May 2021 , News
DeepMind, an Alphabet company (Alphabet is the holding company of Google) and a world leader in the field of artificial intelligence (AI) research and its applications in the real world, has donated scholarship 
...
Read more...
---
Bosch opens advanced silicon wafer fab
26 May 2021 , News
Bosch has opened one of the world's most modern silicon wafer fabrication plants (fabs) in Dresden, Germany. Production will start as early as July – six months earlier than planned. From that time on, 
...
Read more...
---