printer friendly version
A case study on implementing smart traffic management
28 April 2021 Telecoms, Datacoms, Wireless, IoT News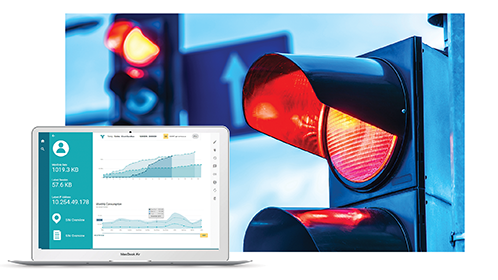 Syntell is a leading South African technology company. One of its key projects is the running and management of one third of Johannesburg's traffic lights. Syntell's system is a full traffic management and monitoring system and the connectivity of all end points is enabled by Trinity IoT's 4G-enabled routers. Syntell has deployed 855 Trinity-enabled RUT955 routers to date, with plans for a further development in the near future.
Knowing the precise location of each router is critical to the traffic management solution. Before moving to Trinity's technology, Syntell's system used standard serial modems, which were unable to scale with network speeds or handle an increase in the variety of devices, such as cameras which needed to be added.
The increase in the complexity of the system also required a solution which increased visibility of activity and enabled remote management of devices; from remote lockdown through to geographic ring-fencing.
The solution
After working closely with Syntell to elicit its requirements, our engineers determined that the RUT955 (a customisable industrial device) would be the perfect fit for the company's needs. Since Trinity devices are pre-provisioned and ICASA certified, our team started development on the devices immediately.
Development included building custom software embedded in the RUT955 firmware. This would allow the device to send and receive data tailored to Syntell's needs. In addition, all devices were loaded on the Trinity IoT platform, providing remote visibility of each device on the network.
Waheed Mia, system manager at Syntell, said "We have been very pleased with Trinity's solution. It has enabled us to manage all endpoints on our system more effectively and add a variety of device types. We couldn't do this before."
Advantages of the Trinity IoT system are:
• Visibility: One view of your entire SIM, device and asset estates at any instant with bidirectional control.
• Alerts: Manage critical 'in field' information remotely via alerts and notifications.
• Remote management: Manage or inspect the operational state of assets, routers and SIMs instantly.
• Cloud: Retrieve live data supplied by a 4G geographically-redundant cloud solution.
What to expect when you work with our team
Partnership
You know your business and we know IoT. The best way to launch a successful IoT project is to combine our expertise. By collaborating with you and your team, we'll work out a custom IoT solution that solves your business needs.
Rapid deployment
Trinity devices are pre-provisioned: Sourcing, importing and certification are taken care of before you've even selected your device, allowing us to start development on your project the moment you give us the go-ahead.
Custom solutions
Every business has its own tools, processes and internal dynamics. Our team takes these nuances into account when building your IoT solution and develops any necessary software changes for you – freeing up your time to take care of your core business.
For more information contact Louise Du Plessis, Trinity IoT, +27 79 892 8156, louise.duplessis@trintel.co.za, www.trinity.co.za
Credit(s)
Further reading:
Secure LTE-M, NB-IoT module with 400 MHz support
28 April 2021, RF Design , Telecoms, Datacoms, Wireless, IoT
u-blox has extended its SARA-R5 LTE-M and NB-IoT communications family with the introduction of a module that supports the 400-450 MHz LTE spectrum bands available in Europe, Asia and Latin America.  
...
Read more...
---
The vulnerabilities and opportunities of IoT security
26 May 2021 , Telecoms, Datacoms, Wireless, IoT
Today, there are 8,6 billion IoT connections. By 2026, that number will nearly triple to 23,6 billion, according to ABI Research market data.This exponential growth will usher in a new era of connectivity 
...
Read more...
---
IoT evaluation kit and Ubuntu-derived Linux distribution
26 May 2021, RF Design , Telecoms, Datacoms, Wireless, IoT
The newly released WM2000EV is an elegant kit for evaluating the capabilities of the WM2000, Tibbo's programmable Wi-Fi/BLE module. The kit was designed to be completely self-contained and to enable 
...
Read more...
---
Otto Wireless Solutions welcomes new SIMCom family
26 May 2021, Otto Wireless Solutions , Telecoms, Datacoms, Wireless, IoT
SIMCom modules have created a reputation… no, it's more than that… it's a legacy, of releasing compatible modules when new product lines are launched. Nothing has changed, as we welcome the new A7600 
...
Read more...
---
RF signal recorder for beamforming and radar
26 May 2021, Rugged Interconnect Technologies , Telecoms, Datacoms, Wireless, IoT
A new addition has been made to the Talon series of recorders from Pentek, the Talon Model RTR 2628 8-channel, phase coherent, 4U 19-inch rackmount recorder with integrated RF tuners and A/D converters. 
...
Read more...
---
Free tool to optimise antenna placement on a PCB
26 May 2021, iCorp Technologies , Telecoms, Datacoms, Wireless, IoT
Antenova has created a new software tool to help designers place antennas in a wireless design. The tool displays the optimum position for embedded antennas on the PCB, depending upon the dimensions of 
...
Read more...
---
LTE Cat.1 platform for global or regional IoT connectivity
26 May 2021, Gemalto IoT (Cinterion Wireless Modules) , Telecoms, Datacoms, Wireless, IoT
The Thales Cinterion PLS63-W delivers a global approach to cost-optimised IoT connectivity, providing 18-band LTE Cat.1, 7-band 3G HSPA/UMTS and quad-band GSM for seamless roaming coverage across various 
...
Read more...
---
Waveguide amplifiers and their applications
26 May 2021, RF Design , Telecoms, Datacoms, Wireless, IoT
Waveguide amplifiers are amplifiers specifically designed to be housed within a waveguide assembly. This provides some intrinsic advantages and trade-offs compared with coaxial connectorised amplifier 
...
Read more...
---
Events
26 May 2021 , Events, News
Tech Snacks
7-18 June 2021 Virtual A new learning concept from Arrow Electronics allowing visitors to choose from up to five Tech Snacks from across all the event's headline topics. Each snack is a 15-minute 
...
Read more...
---
Automotive dead reckoning module
26 May 2021, Altron Arrow , Telecoms, Datacoms, Wireless, IoT
STMicroelectronics boasts that its latest Teseo-VIC3DA module is an easy-to-use dead reckoning global navigation satellite system (GNSS) standalone module, embedding a TeseoIII single-die standalone positioning 
...
Read more...
---