printer friendly version
Wireless comms and positioning solutions for eMobility
28 April 2021
Telecoms, Datacoms, Wireless, IoT
iCorp Technologies is one of the largest independent distributors of electronic components in southern Africa, with a formidable line card for IoT solutions. The company offers advanced product technology from its partners including Quectel Wireless Modules, Espressif Systems and HopeRF Electronics.
iCorp believes that the future is eMobility and strives to offer its customers tailor-made solutions including GNSS, Wi-Fi 6, Bluetooth 5 and energy harvesting technology to enable customers to bring their ideas and designs to reality.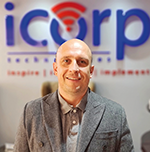 Gerrie van Heerden, iCorp technical sales engineer.
The Global Navigation Satellite System (GNSS) provides a well understood, widely deployed and accepted way to accurately determine precise location. It therefore underpins navigation, tracking and tracing of goods and assets and with billions of GNSS devices already deployed, it has become pervasive. However, GNSS applications are not one-size-fits-all and organisations are challenged to find and deploy suitable solutions that meet the constraints of their applications.
In eMobility, ride-sharing providers have to carefully balance accuracy, cost, the power demand and the dimensional footprint of a GNSS module to ensure they select the optimum solution. Often, GNSS alone is not enough to pinpoint the location of small eMobility vehicles such as eScooters, so eMobility organisations typically augment GNSS with additional sensors and algorithms like Wi-Fi 6 modules from Espressif Systems.
eMobility encompasses electric cars and trucks and public transport in addition to ride-sharing and hailing services such as those from Uber and Lyft, plus micromobility solutions such as eBikes, eScooters and eSkateboards from companies like Bird, Lime and Didi, which are also offered by Uber and Lyft. In addition, new vehicle types such as last-mile delivery robots are facing the same sorts of challenges as the micromobility market.
All services succeed or fail based on the customer experience they provide. This starts right from the first interaction, so eMobility's first challenge is to make the vehicle easy to find. Ride-sharing providers have demonstrated this can be convenient and simple but cars are larger devices and can accommodate more expensive, larger form-factor GNSS capabilities than eScooters,
The smaller size of eBikes and eScooters further hinders users' ability to actually locate the bike in the first place. They can easily be hidden between parked cars, behind trees or obscured by street furniture. This lack of a clear view of satellites, caused by deep urban canyons, bad weather or parking garages, makes it very challenging for any GNSS module to provide an accurate position. This is compounded by multipath effects which are prevalent in deep urban canyons.
The challenge of locating devices also affects service providers. If ride-sharing providers can't find their vehicles, they can't maintain them, charge batteries and relocate them to areas of greatest demand. This costs service providers in wasted worker time as well as increased downtime of their vehicles.
In perfect conditions, when the sky is clear and there are no obstructions in the way, GNSS can tell users exactly where an eScooter is. However, perfect conditions seldom exist and micromobility vehicles therefore rely on additional methods to augment GNSS performance.
Dead reckoning solves many of the issues by combining wheel speed and inertial measurement unit (IMU) data – typically accelerometer and gyroscopic information – with GNSS. The position accuracy can be affected by issues such as changes in tyre pressure, road vibration and atmospheric differences that can all affect the performance of the dead reckoning engine when GNSS is challenged. In eMobility, dead reckoning is ideally suited and provides vast improvements to positioning in deep urban canyons.
Quectel's LC79D is an L1/L5 dual-band, multi-constellation GNSS receiver that offers an ultra-low form factor with dimensions of 10,1 x 9,7 x 2,4 mm, making it ideal for space-constrained designs such as eMobility vehicles. The LC79D's best-in-class price point, performance and low power consumption make it an ideal and unique solution. It can track L1 and L5 bands for satellite systems including GPS, Galileo and QZSS. On the L1 band, the LC79D can track the GLONASS and Beidou satellite systems and the module tracks the IRNSS system in the L5 band. Providing L1/L5 capability offers huge diversity and connection choice in even the most unfriendly locations.
In contrast with L1-only GNSS modules, the LC79D adds the L5 band which greatly increases the number of satellites available, improves position accuracy and helps mitigate the multipath challenge. Of further value to eMobility providers, the GNSS chipset, based on 28 nm process technology, is coupled with an advanced low-power management solution that enables low-power operation and positioning determination. This makes the module well suited for the power-sensitive and battery-powered systems used in eMobility.
Credit(s)
Further reading:
LoRa transceiver modules for ranging applications
28 April 2021, Avnet Silica , Telecoms, Datacoms, Wireless, IoT
Avnet Silica announced the availability of Miromico's FMLR-8x-x-STLx LoRa and LoRaWAN IoT modules. Based on Semtech's LoRa 2,4 GHz technology, Miromico partnered with danalto to enable location services. 
...
Read more...
---
Dual-band GNSS RTK module
28 April 2021, Electrocomp , Telecoms, Datacoms, Wireless, IoT
The RTK-1010 is a high-performance dual-band GNSS RTK module that is designed for applications requiring centimetre-level positioning accuracy. It adopts a 12 nm manufacturing process and integrates an 
...
Read more...
---
Electronic warfare: Vying for control of the electromagnetic spectrum
28 April 2021, Concilium Technologies , Telecoms, Datacoms, Wireless, IoT
Future systems will move from being adaptive to using new AI and machine learning capabilities to decipher constant changes in spectrum use.
Read more...
---
Development kit supporting Espressif's Alexa Connect Kit
31 March 2021, iCorp Technologies , Telecoms, Datacoms, Wireless, IoT
Espressif Systems announced the launch of its new development kit, the ESP32-PICO-V3-ZERO-DevKit, which uses the Alexa Connect Kit (ACK) module announced by Espressif in July 2020. Both this module and 
...
Read more...
---
Multi-constellation GNSS module
31 March 2021, Altron Arrow , Telecoms, Datacoms, Wireless, IoT
Telit's high-precision GNSS SE868SY-D is a new multi-frequency, multi-constellation positioning receiver capable of combining GPS/QZSS and Galileo in the L1/E1 and L5/E5 bands, GLONASS in the L1, BeiDou 
...
Read more...
---
S-band low-noise amplifier
31 March 2021, RFiber Solutions , Telecoms, Datacoms, Wireless, IoT
The MAAL-011138 from MACOM Technology Solutions is a high dynamic range, single-stage MMIC LNA (low-noise amplifier) designed to operate from 2,5 GHz to 3,5 GHz, and is assembled in a lead-free, 2 mm 
...
Read more...
---
Wireless module for integrating BLE sensors
31 March 2021, Phoenix Contact , Telecoms, Datacoms, Wireless, IoT
The compact FL BLE 1300 wireless module with integrated antenna from Phoenix Contact connects up to eight industrial Bluetooth Low Energy (BLE) sensors to industrial controllers and IoT systems. This 
...
Read more...
---
SP4T PIN diode switch
28 April 2021, RF Design , Telecoms, Datacoms, Wireless, IoT
The PE71S5006 from Pasternack is an absorptive, SP4T PIN diode switch that operates from DC to 20 GHz. It has an insertion loss of 3,8 dB, a switching speed of 17 ns and provides isolation of more than 
...
Read more...
---
UWB personnel tag for real-time location system
31 March 2021, Altron Arrow , Telecoms, Datacoms, Wireless, IoT
The Inpixon Personnel Tag is a compact, lightweight, ultra-wideband (UWB) locator tag for Inpixon's real-time location system (RTLS). It is designed to deliver 30 cm accuracy to locate employees or visitors 
...
Read more...
---
Timing modules and antenna based on L1 and L5 GNSS signals
31 March 2021, RF Design , Telecoms, Datacoms, Wireless, IoT
u-blox has announced its first multi-band, high-accuracy timing solutions to concurrently support the L1 and L5 GNSS (global navigation satellite system) signals. The ZED-F9T-10B and LEA-F9T-10B timing 
...
Read more...
---