printer friendly version
Spectrum analyser with 10,4-inch display
28 April 2021
Test & Measurement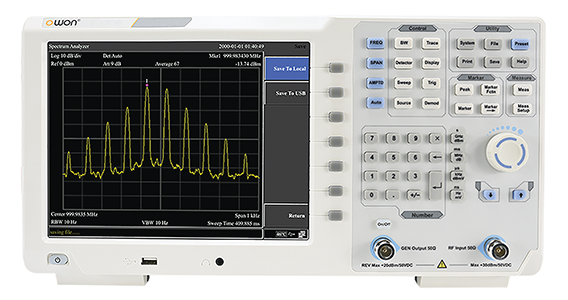 Known as one of China's leading test and measurement manufacturers and suppliers, Owon has released the XSA1000TG Series spectrum analyser with digital IF technology that offers a minimum bandwidth of 10 Hz, allowing excellent signal resolution when separation of closely spaced signals is required.
Features of the instrument include a frequency range from 9 kHz up to 7,5 GHz,-160 dBm displayed average noise level, phase noise of -98 dBc/Hz at 1 GHz and offset at 10 kHz, total amplitude accuracy within 1,5 dB, an EMI pre-compliance test kit and optional EMC test software, standard pass/fail on-site test alert ability, up to 7,5 GHz tracking generator kit and a 10,4-inch display.
Equipped with a 6 dB EMI filter and peak detector as standard, it is highly accurate for EMI pre-test and diagnosis and complete testing and production reports can be completed by using supporting software. More than 200 mainstream EMC test standard and regulation templates come built-in. The user selects the corresponding template and the software automatically sets the spectrum analyser and records the test data. The data and regulations can be compared on the same screen. Users can also customise regulations for comparative analysis.
Function modes include standard modulation signal quality analysis, audio demodulation, field strength measurement, channel measurement, frequency counter and more, to provide multiple general and extended test functions. A waterfall plot graphic allows the user to view the behaviour of varying signal parameters over time and track the frequency and power behaviour over time, particularly useful for intermittent signals. The graphic can be used to analyse the stability of a signal over time, or to identify intermittent interference signals in communications systems.
For more information contact Andrew Hannay, RFiber Solutions, +27 82 494 5466, sales@rfibersolutions.com, www.rfibersolutions.com
Credit(s)
Further reading:
SatGen simulation software now supports NavIC
26 May 2021, RF Design , Test & Measurement
The latest update to LabSat SatGen GNSS simulation software for PC now incorporates NavIC RF simulation. Designed to create custom GNSS RF I/Q or IF data files based on user-generated trajectories, the 
...
Read more...
---
MEMS accelerometer for automotive
26 May 2021, RFiber Solutions , Analogue, Mixed Signal, LSI
The STMicroelectronics AIS2IH three-axis linear accelerometer brings enhanced resolution, temperature stability and mechanical robustness to non-safety automotive applications including anti-theft, telematics, 
...
Read more...
---
Low-noise gain block amplifier
26 May 2021, RFiber Solutions , Telecoms, Datacoms, Wireless, IoT
Atlanta Micro announced the product release of a new 1 MHz to 22 GHz gain block amplifier, part number AM1102. It is a low SWaP (size, weight and power) device drawing less than 160 mW of power and packaged 
...
Read more...
---
Flexible microwave cable assemblies
26 May 2021, RFiber Solutions , Interconnection
The W7 Series is a complete line of high-performance flexible microwave cable assemblies produced by WithWave. Specifically, the flexible armoured W701 Series employs a low-density PTFE structure to achieve 
...
Read more...
---
E-commerce platform for new and pre-owned T&M equipment
26 May 2021, Willcom , Test & Measurement
Electro Rent has added e-commerce capability to its global website, helping customers to find, research and compare more than 21 000 test and measurement (T&M) products. The new site offers a streamlined, 
...
Read more...
---
12,5 W wideband GaN HEMT
28 April 2021, RFiber Solutions , Telecoms, Datacoms, Wireless, IoT
The NPT2018 GaN HEMT (gallium nitride high-electron-mobility transistor) is a wideband transistor optimised for DC to 3,5 GHz operation. This device supports CW, pulsed and linear operation with output 
...
Read more...
---
RF test probes for the 5G revolution
28 April 2021, Electronic Industry Supplies , Test & Measurement
5G, the fifth-generation mobile communications standard, will shape the third decade of the 21st century: a higher degree of networking is emerging, connecting different aspects of life and enabling new 
...
Read more...
---
S-band low-noise amplifier
31 March 2021, RFiber Solutions , Telecoms, Datacoms, Wireless, IoT
The MAAL-011138 from MACOM Technology Solutions is a high dynamic range, single-stage MMIC LNA (low-noise amplifier) designed to operate from 2,5 GHz to 3,5 GHz, and is assembled in a lead-free, 2 mm 
...
Read more...
---
Digital flow sensor for respiratory devices
31 March 2021, Electrocomp , Test & Measurement
The compact SFM3119 digital flow meter is the successor to Sensirion's SFM3100 mass flow meter. Compared to its predecessor, the SFM3119 comes with a digital I
2
C output as well as improved specifications. The 
...
Read more...
---
Handheld spectrum analysers for up to 6 GHz frequencies
31 March 2021, Comtest , Test & Measurement
The latest offering from Bird, a leading RF and tech provider, has expanded its highly sought-after SignalHawk family of rugged, handheld spectrum analyser products by adding the SH-60S-AOA Angle of Arrival 
...
Read more...
---