printer friendly version
UWB personnel tag for real-time location system
31 March 2021
Telecoms, Datacoms, Wireless, IoT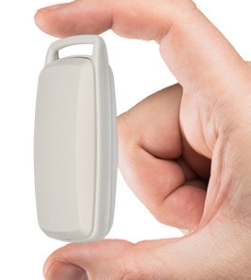 The Inpixon Personnel Tag is a compact, lightweight, ultra-wideband (UWB) locator tag for Inpixon's real-time location system (RTLS). It is designed to deliver 30 cm accuracy to locate employees or visitors in real-time in order to support a variety of safety and security use cases.
The RTLS market is expected to grow at a compound annual growth rate of 24,8% during the 2020-2025 period, according to market research firm MarketsandMarkets, and the demand specifically for UWB technology-based RTLS solutions is anticipated to surge. The firm reports that UWB offers higher accuracy and range with lower power consumption in comparison with most other RTLS technologies, leading to its increased penetration in applications requiring high accuracy.
"There are a number of situations where location precision is paramount and safety and security applications top the list," noted Nadir Ali, CEO of Inpixon. "Finding an employee quickly in an emergency, executing an evacuation, mustering, identifying crowding, or locating unescorted visitors are just a few examples. Performing space and floor planning based on actual personnel usage patterns is another. RTLS can deliver increased visibility, safety and productivity for corporate enterprises, manufacturing, warehousing, logistics, healthcare and other industries. We're pleased to offer this new tag through Inpixon and its reseller partners as well as to OEMs and integrators in white- and private-labelled options."
The personnel tag is used in conjunction with Inpixon's UWB anchors and nanoLES location engine for an RTLS solution capable of supporting large-scale deployments. Key features of the tag in addition to its cm-level accuracy include wireless charging with industry-standard Qi chargers; a durable IP65 housing to protect against water, dirt and impact; over-the-air firmware updates; and wireless configuration to ease deployment and changes.
The tag is small and light, with a configurable transmission rate that supports up to 10 blinks per second, enabling administrators to realise their ideal balance of updates and battery usage. The onboard 3D accelerometer allows for the tag to conserve battery life when not in motion.
For more information contact Renaldo Fibiger, Altron Arrow, +27 11 923 9600, rfibiger@arrow.altech.co.za, www.altronarrow.com
Credit(s)
Further reading:
Ballast evaluation board for UV-C disinfection lamps
28 April 2021, Altron Arrow , Power Electronics / Power Management
The EVAL_ICB2FL03G is a ballast design evaluation board for 54 W UV-C disinfection lamps with voltage-mode preheating. Supplied by Infineon Technologies, it features the smart ballast controller ICB2FL03G 
...
Read more...
---
LoRa transceiver modules for ranging applications
28 April 2021, Avnet Silica , Telecoms, Datacoms, Wireless, IoT
Avnet Silica announced the availability of Miromico's FMLR-8x-x-STLx LoRa and LoRaWAN IoT modules. Based on Semtech's LoRa 2,4 GHz technology, Miromico partnered with danalto to enable location services. 
...
Read more...
---
Dual-band GNSS RTK module
28 April 2021, Electrocomp , Telecoms, Datacoms, Wireless, IoT
The RTK-1010 is a high-performance dual-band GNSS RTK module that is designed for applications requiring centimetre-level positioning accuracy. It adopts a 12 nm manufacturing process and integrates an 
...
Read more...
---
Challenges for electronic circuits in space applications
28 April 2021, Altron Arrow , Electronics Technology
Outside the protective cover of the Earth's atmosphere, the natural space radiation environment can damage electronic devices and the effects range from a degradation in parametric performance to a complete functional failure.
Read more...
---
Electronic warfare: Vying for control of the electromagnetic spectrum
28 April 2021, Concilium Technologies , Telecoms, Datacoms, Wireless, IoT
Future systems will move from being adaptive to using new AI and machine learning capabilities to decipher constant changes in spectrum use.
Read more...
---
Component shortages and how to mitigate them
31 March 2021, RS Components (SA), Projects Concern Manufacturing, Production Logix, Altron Arrow , News
To find out just how severe the problem is right now, and the impact it is having, we consulted two South African CEMs and two component distributors for their insights and advice.
Read more...
---
Development kit supporting Espressif's Alexa Connect Kit
31 March 2021, iCorp Technologies , Telecoms, Datacoms, Wireless, IoT
Espressif Systems announced the launch of its new development kit, the ESP32-PICO-V3-ZERO-DevKit, which uses the Alexa Connect Kit (ACK) module announced by Espressif in July 2020. Both this module and 
...
Read more...
---
Bidirectional logic-level voltage translators
31 March 2021, Altron Arrow , Analogue, Mixed Signal, LSI
The 74LVC2T45 and 74LVCH2T45 from Diodes Incorporated provide logic-level voltage translation between devices that operate from different supply rails. The devices have dual power supplies and support 
...
Read more...
---
Multi-constellation GNSS module
31 March 2021, Altron Arrow , Telecoms, Datacoms, Wireless, IoT
Telit's high-precision GNSS SE868SY-D is a new multi-frequency, multi-constellation positioning receiver capable of combining GPS/QZSS and Galileo in the L1/E1 and L5/E5 bands, GLONASS in the L1, BeiDou 
...
Read more...
---
S-band low-noise amplifier
31 March 2021, RFiber Solutions , Telecoms, Datacoms, Wireless, IoT
The MAAL-011138 from MACOM Technology Solutions is a high dynamic range, single-stage MMIC LNA (low-noise amplifier) designed to operate from 2,5 GHz to 3,5 GHz, and is assembled in a lead-free, 2 mm 
...
Read more...
---