printer friendly version
Company profile: Spectrum Concepts
28 April 2021
News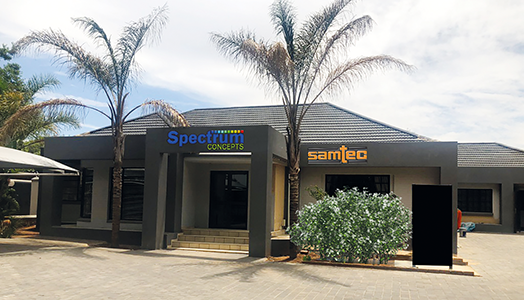 Spectrum Concepts turned 20 last year, having started its existence in an 18 square metre section of owner Bradley Richards' house in Benoni in 2000, furnished with just two desks, two phone lines, and other necessities. As Bradley describes those early days: "I will never forget how often I checked the phones to make sure they were working, wondering why they were not ringing off the hook!"
Bradley was called the Gypsy King as he moved a lot, mostly for expansion but sometimes for better premises. To name a few, these included an expansion to a 36 square metre office space he built onto his house which had a separate entrance. The company then moved into offices at Lakefield Square, but it was not long before Bradley had the itch to move again. He purchased a house in Rynfield, renovated it and went through a three-year process getting business rights.
Suddenly Spectrum Concepts had two buildings, one just less than 300 square metres and the other just over 200 square metres. "It was awesome, we suddenly had a dedicated store, a proper reception, several offices and a kitchen/canteen section. We started off with a finance guy, sales guy, admin chap and a delivery guy and you guessed it: I was all of those guys," Bradley jokes. "Before I knew it I had a real admin lady, real internal sales lady and a pucka external sales guy (none of them me). With a staff complement of eight, we remain lean but a well-oiled working machine. This probably helped during COVID because no-one did short time and everyone got full pay."
The company's sales and marketing model is a combination of 'pounding the pavement' and online/media presence, but ultimately, exceptional service is its calling card. Bradley believes this approach has wowed its clients enough for them to pass on its information to their clients, colleagues and so on.
The nitty gritty
Spectrum Concepts is an authorised distributor of passive, electromechanical and interconnect products, with a core focus on interconnect, cable assembly and antenna products. It represents the world's No. 1 interconnect manufacturer, Samtec, which specialises in connectors, cables, optics, RF and silicone-to-silicone solutions. Also on Spectrum Concepts' books are Fischer Connectors, a Swiss manufacturer well known for its high-end circular connectors and cable assemblies, and Speccon, a Taiwanese supplier of good quality, low cost connector and cable assembly solutions.
Over and above its product offering, Spectrum Concepts stands out from the crowd by adding value through its outstanding customer service. "We are a distribution company and that is what we're good at, we do not want to step on any of our clients' toes who currently offer value-added services like custom cable assemblies and so on. Our partners offer some customisation which we offer on to our clients but we do not offer any local customisation," says Bradley.
A tightly coupled work family
"We are truly a bunch of nutters and we love pranking each other. Our sister company, Get Your Brand On, is located behind Spectrum Concepts and they too love pranking, so there is constant action. One example: the Spectrum rep had a car accident, he was uninjured but the car was a write-off so I had to buy him a new car. During the first week of getting the new car, we followed him with the spare key, took the car and took a video of his reaction when he walked out of the building and realised his car was gone," Bradley shares.
"My right-hand lady Aletta Mashabe joined the company in its early stages and has been with Spectrum Concepts for over 16 years. Aletta really enjoys internal sales, so much so that she has turned down many offers to get out on the road. Spectrum Concepts will shake things up this year and Aletta will play a very important role in the shake-up. Watch this space: we have some very exciting opportunities on the table but have not been able to get the ball rolling due to the infamous COVID pandemic.
"I have no idea what the future holds for this industry in South Africa but I think there is a lot to be done to make us more competitive. One thing that comes to mind is the reduction or removal of duties that are not protecting any local manufacturers. These reductions will help local manufacturers, contract manufacturers, etc. to be more competitive, methinks."
Credit(s)
Further reading:
Extended ST offering from RS
26 May 2021, RS Components (SA) , News
The scope of the supply chain agreement between RS Components and STMicroelectronics has been significantly extended. This new phase in the relationship between the two companies will result in a substantial 
...
Read more...
---
Structural battery breakthrough towards 'massless' energy storage
26 May 2021 , News
Chalmers University of Technology researchers have produced a structural battery that performs 10 times better than all previous versions. It contains carbon fibre that serves simultaneously as an electrode, 
...
Read more...
---
BAMR celebrates 75th anniversary
26 May 2021, BAMR , News
BAMR is celebrating its 75th year of serving the local industry, having been founded on 22 May 1946 by Fred Duk, a former Major in the South African Air Force, upon his return from the Second World 
...
Read more...
---
A tribute to Mark Schroeder
26 May 2021, S.J. Andrews Electronics , News
Written by Mark's family, with pride as we remember our husband, our dad, our granddad – a man who was and will always be so loved.
Read more...
---
Company profile: RS Components SA
26 May 2021, RS Components (SA) , News
The history of RS Components is a long and storied one, having been founded in London in 1937 by J.H. Waring and P.M. Sebestyen under the name Radiospares. In those early days, the company was run out 
...
Read more...
---
Electronics news digest
26 May 2021 , News
Overseas
Business
ams reported robust first quarter of 2021 group results with revenues of $1,55 billion and an adjusted operating (EBIT – earnings before interest and taxes) margin of 11%. This was 
...
Read more...
---
Events
26 May 2021 , Events, News
Tech Snacks
7-18 June 2021 Virtual A new learning concept from Arrow Electronics allowing visitors to choose from up to five Tech Snacks from across all the event's headline topics. Each snack is a 15-minute 
...
Read more...
---
From the editor's desk: The continued relevance of Moore's Law in the IoT age
26 May 2021, Technews Publishing , News, Editor's Choice
The end of Moore's Law (which famously posits that the number of transistors in a dense IC doubles about every two years, assuming an optimal price/performance ratio) has repeatedly been predicted, yet 
...
Read more...
---
Machine learning scholarships on offer at Wits University
26 May 2021 , News
DeepMind, an Alphabet company (Alphabet is the holding company of Google) and a world leader in the field of artificial intelligence (AI) research and its applications in the real world, has donated scholarship 
...
Read more...
---
Bosch opens advanced silicon wafer fab
26 May 2021 , News
Bosch has opened one of the world's most modern silicon wafer fabrication plants (fabs) in Dresden, Germany. Production will start as early as July – six months earlier than planned. From that time on, 
...
Read more...
---