printer friendly version
Handheld spectrum analysers for up to 6 GHz frequencies
31 March 2021
Test & Measurement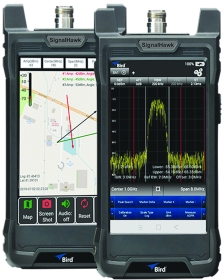 The latest offering from Bird, a leading RF and tech provider, has expanded its highly sought-after SignalHawk family of rugged, handheld spectrum analyser products by adding the SH-60S-AOA Angle of Arrival spectrum analyser and the SH-60S-TC. This means a good balance of price and performance up to a frequency range of 6 GHz.
The new SignalHawk SH-60S-TC and SH-60S-AOA provide test coverage for all major wireless systems in an easy-to-use, fully portable test instrument. Building off the flexible software architecture and highly integrated, small form-factor packaging of SignalHawk and SiteHawk platforms, these test instruments offer ruggedness, customisation and ease-of-use.
Leveraging multi-touch technology, users can change reference level and centre of frequency with a touch of a finger and zoom and span just like a smartphone. Multi-task measurements are made easy with the ability to simultaneously review several windows for comparison. With 8 GB of internal storage, users can screenshot data and transfer it via USB/OTG/Wi-Fi/Bluetooth to the cloud and email or upload to a PC for reference.
With the SH-60S-TC RF analyser, users can view RF signals between 9 kHz and 6 GHz. It combines optimal functionality and ease-of-use, intuitive menus and predefined measurements, together with higher frequency coverage and spectrogram (waterfall) display. Additional built-in functions include FM demodulation, GNSS signal quality, field strength and spectrum masking.
The SH-60S-AOA extends the capability of the SH-60S-TC by adding the ability to triangulate the location of an interferer on a map for signals between 9 kHz and 6 GHz. Triangulation is a pivotal move in spectrum analysers by allowing users to utilise Bird's interference analysis and triangular functionality to locate the source within three measurements, forming a triangle in the area of the emitter and utilising a built-in map to find the exact location of the problem.
Bird's new handheld spectrum analyser family saves time and provides high precision and accuracy with ease-of-use. It's a valuable tool for technicians, service providers, contractors, field engineers and military personnel.
For more information contact Comtest, +27 10 595 1821, sales@comtest.co.za, www.comtest.co.za
Credit(s)
Further reading:
RF test probes for the 5G revolution
28 April 2021, Electronic Industry Supplies , Test & Measurement
5G, the fifth-generation mobile communications standard, will shape the third decade of the 21st century: a higher degree of networking is emerging, connecting different aspects of life and enabling new 
...
Read more...
---
Digital flow sensor for respiratory devices
31 March 2021, Electrocomp , Test & Measurement
The compact SFM3119 digital flow meter is the successor to Sensirion's SFM3100 mass flow meter. Compared to its predecessor, the SFM3119 comes with a digital I
2
C output as well as improved specifications. The 
...
Read more...
---
Comtest to represent Netscout
26 February 2021, Comtest , News
Comtest is pleased to announce that it now represents Netscout Systems, protecting digital business services against disruptions in availability, performance and security. Netscout's market and technology 
...
Read more...
---
Range of environmental T&M instruments
25 November 2020, RS Components (SA) , Test & Measurement
RS Components is now stocking a wide range of its own-brand RS PRO environmental test and measurement (T&M) products. These high-precision instruments and devices are for engineers and scientists to monitor 
...
Read more...
---
Real-time drone detection system
25 November 2020, Conical Technologies , Test & Measurement
Aaronia announced the release of its sixth generation real-time drone detection system. The new AARTOS system monitors all frequency bands in real time, and has direction finding and frequency monitoring 
...
Read more...
---
User-friendly oscilloscope for STEM learning
25 November 2020, RS Components (SA) , Test & Measurement
Affordable, compact, and easy to use, Tektronix' TBS1000C digital storage oscilloscope (DSO) comes with an enhanced user interface and courseware, proving a great tool for STEM educators, students, and 
...
Read more...
---
Radiation safety tester for 5G EMF
26 February 2021, Conical Technologies , Test & Measurement
Since 1986, the Microwave Vision Group (MVG) has developed unique expertise in the visualisation of electromagnetic waves. The latest addition to its list of electromagnetic field (EMF) exposure monitors 
...
Read more...
---
Software links oscilloscopes with the cloud
26 February 2021, Comtest , Test & Measurement
Comtest, local representative of Tektronix, has announced the availability of TekDrive, the first native oscilloscope-to-cloud software solution to facilitate global data collaboration directly on an 
...
Read more...
---
Spectrum analyser with 10,4-inch display
28 April 2021, RFiber Solutions , Test & Measurement
Known as one of China's leading test and measurement manufacturers and suppliers, Owon has released the XSA1000TG Series spectrum analyser with digital IF technology that offers a minimum bandwidth of 
...
Read more...
---
Ensuring workers' safety through EMF monitoring
25 November 2020, Conical Technologies , Test & Measurement
Accurately measuring the electromagnetic field (EMF) is essential to confirm that exposure levels comply with the regulatory limits established in each country, and thus ensure the safety of individuals 
...
Read more...
---