printer friendly version
Watertight glass reinforced polyester enclosures
28 April 2021
Enclosures, Racks, Cabinets & Panel Products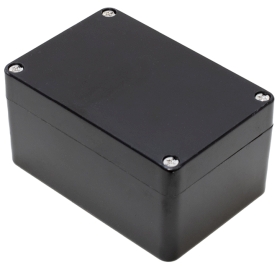 Glass reinforced polyester (GRP) enclosures from Hammond Manufacturing are lightweight and corrosion resistant. They are also UV-resistant, enabling them to be installed inside and outside.
The new black 1590ZGRPBK family offers the same 18 sizes as the well-established and field-proven 1590ZGRP grey family. The new design offers better impact resistance (IK09 rather than IK08) and all sizes have the additional feature of shelves moulded into the base, fitted with threaded inserts to aid retention of a PCB or the housed equipment. The thick wall design gives good thermal insulation as well as impact resistance.
The family is designed for use as instrument enclosures, electric, hydraulic or pneumatic control housings, electrical junction boxes or terminal wiring enclosures and are ideal for housing equipment that uses Wi-Fi, Bluetooth or other non-wired communication technologies as the aerials can be safely positioned inside the enclosure without suffering signal attenuation.
Key features:
• 18 sizes from the smallest 81 x 75 x 55 mm to the largest 600 x 250 x 160 mm including lids.
• Heavy-duty construction with a wall thickness of 3,7 to 5 mm depending on size.
• Sealed to IP66.
• Easy wall mount using through-box holes located outside the sealing gasket.
• All sizes are approved to IEC 62262, 'degrees of protection provided by enclosures for electrical equipment against external mechanical impacts'.
• Impact resistance is rated at IK09, confirming protection against 10 Joules of impact, tested by a 50 mm diameter steel ball weighing 5 kg dropped from 200 mm above the impacted surface.
• Corrosion resistant.
• Good thermal insulation.
Credit(s)
Further reading:
Dual-band GNSS RTK module
28 April 2021, Electrocomp , Telecoms, Datacoms, Wireless, IoT
The RTK-1010 is a high-performance dual-band GNSS RTK module that is designed for applications requiring centimetre-level positioning accuracy. It adopts a 12 nm manufacturing process and integrates an 
...
Read more...
---
Digital flow sensor for respiratory devices
31 March 2021, Electrocomp , Test & Measurement
The compact SFM3119 digital flow meter is the successor to Sensirion's SFM3100 mass flow meter. Compared to its predecessor, the SFM3119 comes with a digital I
2
C output as well as improved specifications. The 
...
Read more...
---
Upcoming modifications to Bourns' isolation power transformers
26 February 2021, Electrocomp , Passive Components
In the spirit of continuous improvement, effective 14 June 2021, Bourns is changing the silicone material, Hi-pot specification and marking content for its HCT Series high clearance/creepage distance 
...
Read more...
---
Two ranges of Eurocard subracks
31 March 2021, Vepac Electronics , Enclosures, Racks, Cabinets & Panel Products
In order to meet the diverse mechanical, electrical and environmental requirements that today's markets and applications demand, Verotec offers two distinct Eurocard subrack ranges. Recognised as leading 
...
Read more...
---
Rack-mounted instrument enclosure
31 March 2021, Electrocomp , Enclosures, Racks, Cabinets & Panel Products
Made from extruded aluminium, the RM Series of enclosures from Hammond Manufacturing are suitable for rack-mount or desktop use. Featuring strong construction yet light in weight, the enclosures are made 
...
Read more...
---
Outdoor housing for 4G LTE routers
31 March 2021, Otto Wireless Solutions , Enclosures, Racks, Cabinets & Panel Products
WLink industrial wireless routers have become the preferred industrial LTE router for many customers over the last decade, largely due to their flexibility, lower cost, free backend management platform, 
...
Read more...
---
Electronics housings for building automation
31 March 2021, Phoenix Contact , Enclosures, Racks, Cabinets & Panel Products
Industry-specific housing solutions are placing new requirements on both electronics development and the electronics housings themselves. At the same time, system solutions are playing an increasingly 
...
Read more...
---
Compact transformers for DC/DC converters
26 February 2021, Electrocomp , Passive Components
New from TDK is the EPCOS E10 EM series, a range of insulated SMT transformers that are suitable for various DC/DC converter topologies and gate driver circuits in e-mobility and industrial electronics. 
...
Read more...
---
Closed-loop MEMS accelerometer
26 February 2021, Electrocomp , Analogue, Mixed Signal, LSI
TDK announced the release of Tronics AXO315, a miniature, 1-axis closed-loop MEMS accelerometer with a 24-bit digital SPI interface and SMD package that reaches quartz sensor performance, outperforms 
...
Read more...
---
Embedded Wi-Fi antennas
25 November 2020, Electrocomp , Telecoms, Datacoms, Wireless, IoT
AVX released a brand new series of embedded Wi-Fi antennas designed to satisfy steadily increasing cross-market demand for smaller and thinner wireless products with superior signal sensitivity. The 
...
Read more...
---