printer friendly version
Watertight glass reinforced polyester enclosures
28 April 2021
Enclosures, Racks, Cabinets & Panel Products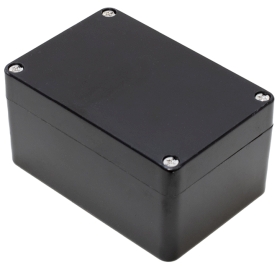 Glass reinforced polyester (GRP) enclosures from Hammond Manufacturing are lightweight and corrosion resistant. They are also UV-resistant, enabling them to be installed inside and outside.
The new black 1590ZGRPBK family offers the same 18 sizes as the well-established and field-proven 1590ZGRP grey family. The new design offers better impact resistance (IK09 rather than IK08) and all sizes have the additional feature of shelves moulded into the base, fitted with threaded inserts to aid retention of a PCB or the housed equipment. The thick wall design gives good thermal insulation as well as impact resistance.
The family is designed for use as instrument enclosures, electric, hydraulic or pneumatic control housings, electrical junction boxes or terminal wiring enclosures and are ideal for housing equipment that uses Wi-Fi, Bluetooth or other non-wired communication technologies as the aerials can be safely positioned inside the enclosure without suffering signal attenuation.
Key features:
• 18 sizes from the smallest 81 x 75 x 55 mm to the largest 600 x 250 x 160 mm including lids.
• Heavy-duty construction with a wall thickness of 3,7 to 5 mm depending on size.
• Sealed to IP66.
• Easy wall mount using through-box holes located outside the sealing gasket.
• All sizes are approved to IEC 62262, 'degrees of protection provided by enclosures for electrical equipment against external mechanical impacts'.
• Impact resistance is rated at IK09, confirming protection against 10 Joules of impact, tested by a 50 mm diameter steel ball weighing 5 kg dropped from 200 mm above the impacted surface.
• Corrosion resistant.
• Good thermal insulation.
Credit(s)
Further reading:
Hybrid design combines best of MOV and GDT protection
28 July 2021, Electrocomp , Circuit & System Protection
Bourns has introduced one of the most significant breakthroughs in MOV (metal oxide varistor) device design in decades, in the form of its IsoMOV protectors. The innovatively designed hybrid protection 
...
Read more...
---
Robust sealed connector system
28 July 2021, Electrocomp , Interconnection
Today's complex vehicles include more connectors than ever, which brings a higher risk of failure as one compromised seal on a single connector can result in the failure of an entire system. To address 
...
Read more...
---
Cylindrical DC-link capacitors for PCB mounting
23 June 2021, Electrocomp , Passive Components
The new B32320I
*
series of compact cylindrical DC-link capacitors has been presented by TDK for mounting on PCBs. They are designed for voltages of 450 V d.c. to 1300 V d.c. and cover a capacitance range 
...
Read more...
---
Wireless module for high-speed 5G connectivity
28 July 2021, Electrocomp , Telecoms, Datacoms, Wireless, IoT
Fibocom recently announced the joint release of the FM350 5G wireless module. By partnering with Intel and MediaTek, Fibocom's FM350 is designed to offer high-speed 5G wireless connectivity for better 
...
Read more...
---
RJ45 connectors for the harshest environments
26 May 2021, Electrocomp , Interconnection
TE Connectivity's ODVA Variant 1 RJ45 connectors are designed with a rugged housing that provides a chemical resistant, IP67 and UV resistant protection to handle harsh-environment applications. The 
...
Read more...
---
Safe and secure plastic enclosures
23 June 2021, Vepac Electronics , Enclosures, Racks, Cabinets & Panel Products
The IP65-rated Fibox Cardmaster family of enclosures is designed to provide an optimal solution to instrumentation packaging. Ideal for measurement, monitoring and process control equipment, Cardmaster 
...
Read more...
---
Polycarbonate enclosures in wide selection of sizes
23 June 2021, Allbro , Enclosures, Racks, Cabinets & Panel Products
Amongst the selection of enclosures manufactured locally by Allbro is the Enlec family of polycarbonate enclosures for electronic and electrical applications. Available in a selection of 18 different 
...
Read more...
---
New members of Hammond's miniature plastic enclosure family
23 June 2021, Electrocomp , Enclosures, Racks, Cabinets & Panel Products
The 1551 miniature plastic enclosure family from Hammond Manufacturing consists of 49 different sizes; in this latest extension to the range a further 10 variants have been introduced. In addition to 
...
Read more...
---
Compact outdoor housings
23 June 2021, Phoenix Contact , Enclosures, Racks, Cabinets & Panel Products
The outdoor housings of the Phoenix Contact ECS series are now also available in a more compact design. The shorter installation depth of 109 mm – instead of 169 mm – is especially suitable for space-critical 
...
Read more...
---
Cases for small fanless designs
23 June 2021, Actum Electronics , Enclosures, Racks, Cabinets & Panel Products
As electronics and processing systems become smaller and smaller, the need for versatile, compact form-factor cases that allow efficient heat dissipation increases. nVent Schroff offers customisable 
...
Read more...
---