printer friendly version
Secure LTE-M, NB-IoT module with 400 MHz support
28 April 2021
Telecoms, Datacoms, Wireless, IoT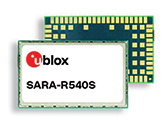 u-blox has extended its SARA-R5 LTE-M and NB-IoT communications family with the introduction of a module that supports the 400-450 MHz LTE spectrum bands available in Europe, Asia and Latin America.
The SARA-R540S can communicate on LTE bands 31, 72, 73, 87 and 88. These lower-frequency bands have good propagation characteristics, helping customers in the smart meter, public safety, smart grid and smart cities markets to meet strict indoor and outdoor coverage requirements that might otherwise be difficult to reach over standard cellular connectivity options.
The new module is being introduced, in part, to service a growing trend to install dedicated communications infrastructure for IoT ecosystems, ensuring high levels of availability and resilience. For example, the shift to smart energy grids will demand close coordination of distributed renewable power plants and millions of demand-management controllers installed at customer premises. Therefore, it needs a robust communications infrastructure to enable it.
The SARA-R540S is based on the u-blox UBX-R5 cellular chipset and takes advantage of many of the features already engineered into the SARA-R5 family. This vertical ownership of the module's hardware and software means that u-blox can guarantee long-term device availability and provide lifetime support for the entire platform for decades to come – an important factor in many IoT deployments.
Other hardware features include a high RF power output to further enhance the reach of the SARA-R540S in places such as within buildings, where ensuring coverage can be challenging. The module supports Power Class 3 transmission over standard LTE bands and Power Class 2, at an enhanced 26 dBm maximum output power, in the 450 MHz spectrum. It also supports the 3GPP bands 87 and 88 in the 410 MHz spectrum, as well as dynamic antenna tuning to help designers achieve maximum efficiency and coverage.
The module has been tuned for energy efficiency, which is important for remote and battery-powered products, such as water meters and gas meters. The SARA-R540S draws less than 1 μA of current in power-saving mode and has a 'last-gasp' function to send a last message before it finally loses its power supply, for example, during a power outage or in case of a tampering event.
The SARA-R540S also has the necessary hardware and software onboard to support u-blox's IoT Security-as-a-Service strategy. This makes it ideal for devices that transmit critical and confidential information in, for example, industrial or infrastructure applications such as metering. The module has a built-in hardware root of trust, which provides the foundation for secure authentication of the device in the field. It also implements a lightweight pre-shared key management system designed specifically for low-power wide-area (LPWA) applications to guarantee state-of-the-art security.
For more information contact Andrew Hutton, RF Design, +27 21 555 8400, andrew@rfdesign.co.za, www.rfdesign.co.za
Credit(s)
Further reading:
The vulnerabilities and opportunities of IoT security
26 May 2021 , Telecoms, Datacoms, Wireless, IoT
Today, there are 8,6 billion IoT connections. By 2026, that number will nearly triple to 23,6 billion, according to ABI Research market data.This exponential growth will usher in a new era of connectivity 
...
Read more...
---
IoT evaluation kit and Ubuntu-derived Linux distribution
26 May 2021, RF Design , Telecoms, Datacoms, Wireless, IoT
The newly released WM2000EV is an elegant kit for evaluating the capabilities of the WM2000, Tibbo's programmable Wi-Fi/BLE module. The kit was designed to be completely self-contained and to enable 
...
Read more...
---
Otto Wireless Solutions welcomes new SIMCom family
26 May 2021, Otto Wireless Solutions , Telecoms, Datacoms, Wireless, IoT
SIMCom modules have created a reputation… no, it's more than that… it's a legacy, of releasing compatible modules when new product lines are launched. Nothing has changed, as we welcome the new A7600 
...
Read more...
---
RF signal recorder for beamforming and radar
26 May 2021, Rugged Interconnect Technologies , Telecoms, Datacoms, Wireless, IoT
A new addition has been made to the Talon series of recorders from Pentek, the Talon Model RTR 2628 8-channel, phase coherent, 4U 19-inch rackmount recorder with integrated RF tuners and A/D converters. 
...
Read more...
---
Free tool to optimise antenna placement on a PCB
26 May 2021, iCorp Technologies , Telecoms, Datacoms, Wireless, IoT
Antenova has created a new software tool to help designers place antennas in a wireless design. The tool displays the optimum position for embedded antennas on the PCB, depending upon the dimensions of 
...
Read more...
---
SatGen simulation software now supports NavIC
26 May 2021, RF Design , Test & Measurement
The latest update to LabSat SatGen GNSS simulation software for PC now incorporates NavIC RF simulation. Designed to create custom GNSS RF I/Q or IF data files based on user-generated trajectories, the 
...
Read more...
---
LTE Cat.1 platform for global or regional IoT connectivity
26 May 2021, Gemalto IoT (Cinterion Wireless Modules) , Telecoms, Datacoms, Wireless, IoT
The Thales Cinterion PLS63-W delivers a global approach to cost-optimised IoT connectivity, providing 18-band LTE Cat.1, 7-band 3G HSPA/UMTS and quad-band GSM for seamless roaming coverage across various 
...
Read more...
---
Waveguide amplifiers and their applications
26 May 2021, RF Design , Telecoms, Datacoms, Wireless, IoT
Waveguide amplifiers are amplifiers specifically designed to be housed within a waveguide assembly. This provides some intrinsic advantages and trade-offs compared with coaxial connectorised amplifier 
...
Read more...
---
Automotive dead reckoning module
26 May 2021, Altron Arrow , Telecoms, Datacoms, Wireless, IoT
STMicroelectronics boasts that its latest Teseo-VIC3DA module is an easy-to-use dead reckoning global navigation satellite system (GNSS) standalone module, embedding a TeseoIII single-die standalone positioning 
...
Read more...
---
CloudLocate brings power autonomy to IoT devices
26 May 2021, RF Design , Telecoms, Datacoms, Wireless, IoT
u-blox has introduced a service that offloads the position calculation from IoT devices into the cloud. The CloudLocate service will enable accurate positioning of even the simplest IoT devices with the 
...
Read more...
---