printer friendly version
ESD protection devices for high-speed automotive interfaces
28 April 2021
Circuit & System Protection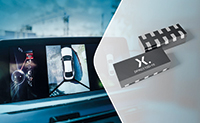 Nexperia has announced a new range of ESD protection devices aimed specifically at protecting the ever-increasing number of high-speed interfaces found in automotive applications, especially the in-vehicle networks (IVN) associated with infotainment and vehicle communications.
As data rates increase and vehicles feature more electronic content, the need for EMC protection becomes more critical and providing the correct type of protection is a challenge for design engineers. Nexperia's TrEOS technology optimises the three pillars of ESD protection (signal integrity, system protection and robustness) to deliver devices with the ideal combination of low capacitance, low clamping voltage and high ESD robustness.
The new PESD4USBx series comprises a total of 12 high-performance, 4-channel ESD protection devices that incorporate TrEOS technology. Signal integrity is ensured by the very low line capacitance for each channel (as low as 0,25 pF) and the sub-0,05 pF line matching capacitance. All devices offer deep snapback combined with a low resistance of 0,4 Ω. With ESD protection up to +/-15 kV, the PESD4USBx series meets IEC61000-4-2 level 4 and ISO10605. This is the highest level of ESD protection currently available in this package size, making the devices ideal for modern, densely-packed automotive designs.
A wide range of interface standards are supported, including USB 2.0, Superspeed USB at 10 Gbps, HDMI 2.0, HDBaseT and the increasing number of automotive A/V monitor displays and cameras found in vehicles. PESD4USBx devices also support video links (SerDes): GMSL, FPD-Link and LVDS.
Specifically engineered for automotive applications, the devices exceed the needs of AEC-Q101 by a factor of two. Furthermore, in Nexperia's state-of-the-art DFN2510D packages (SOT1165D and SOT1176D), side-wettable flanks (SWF) are available as standard, allowing the use of automatic optical inspection (AOI), thereby enhancing assembly quality for customers.
Credit(s)
Further reading:
Compact varistors offer surge capability of 6000 A
Electrocomp Circuit & System Protection
TDK has released the new EPCOS B72314S2* series of leaded disk varistors which cover a wide operating voltage range of 175 V
RMS
to 625 V
RMS
.
Read more...
---
New high current through-hole inductors
EBV Electrolink Passive Components
Vishay has released a high current, through-hole inductor for use in high current and high temperature applications, DC/DC converters, high current differential chokes and inverters.
Read more...
---
Samsung launches GDDR6 RAM module
EBV Electrolink Computer/Embedded Technology
The DRAM is capable of 24 Gbps processing speeds and will significantly advance the graphics performance of AI-based applications and high-performance computing.
Read more...
---
Clearing the Static: ESD wrist straps
Actum Electronics Circuit & System Protection
The human body is the primary source of electrostatic charge generation. In order to control and reduce static charge build-up and prevent electrostatic discharges (ESD) at an electronic equipment facility, we use grounding systems to ensure that all components are at the same electrical potential.
Read more...
---
SolidRun releases a SoM solution based on a Renesas SoC
EBV Electrolink DSP, Micros & Memory
In partnership with Renesas, SolidRun has released a SoM solution based on the powerful RZ/G2 family of SoCs, which are engineered for AI-enhanced HMI applications.
Read more...
---
Programmable Bluetooth low-energy wireless SoC
EBV Electrolink Telecoms, Datacoms, Wireless, IoT
The next-gen BlueNRG-LPS SoC, a Bluetooth low-energy 5.3 enabled device, can precisely estimate movement and location with centimetre accuracy.
Read more...
---
Mastering the MicroBlaze processor
EBV Electrolink DSP, Micros & Memory
AMD-Xilinx and Adiuvo will present a hands-on workshop on using the MicroBlaze processor on the Spartan-7 evaluation kit to create, develop and deploy an FPGA solution.
Read more...
---
Low power 36 V operational amplifier
EBV Electrolink Analogue, Mixed Signal, LSI
The TSB622 is a general-purpose, dual operational amplifier featuring an extended supply voltage operating range of 2,7 to 36 V and rail-to-rail output
Read more...
---
High-power semiconductor solutions for green hydrogen electrolyser applications
EBV Electrolink News
Gain insights into AC- and DC-coupled electrolyser applications and learn about Infineon's best-in-class semiconductor solutions in the upcoming webinar.
Read more...
---
NXP releases real-time processors for automotive platforms
EBV Electrolink DSP, Micros & Memory
NXP has introduced real-time microcontrollers for automotive electronic control units as part of its S32 range of controllers.
Read more...
---