printer friendly version
Common-mode choke for automotive CAN-FD
28 April 2021
Passive Components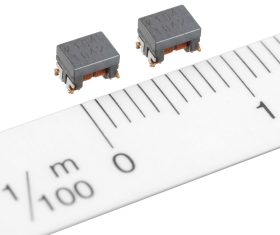 TDK unveiled its new ACT1210D Series common-mode choke for automotive CAN-FD, which began mass production in April 2021.
Automotive LANs (local area networks) are roughly categorised into four systems: body, safety, powertrain and multimedia/information and telecommunications. This product supporting CAN and CAN-FD enables a fivefold increase in data transmission speed at 5 Mbps. Currently, CAN is the most widely used standard for body and other systems, keeping a maximum data transmission speed of 1 Mbps.
While meeting the demands of CiA and IEC standards, the ACT1210D choke also boasts a compact low-profile body (3,2 x 2,5 x 2,5 mm) and noise suppression capabilities. Its unique structural design provides signal mode transfer characteristics (Ssd21) that increase communication quality. The manufacturing process involves a highly automated and extremely precise winder and a wire connection method using the laser welding of metal terminals to achieve high reliability.
Over recent years, demand for the handling of high-speed, large-capacity camera footage in ADAS (advanced driver-assistance systems) has increased. TDK offers a wide range of automotive communication products and a 1000BASE-T1 Ethernet standard lineup to deliver optimal performance for these applications.
Credit(s)
Further reading:
High-temperature 1:1 coupled power inductors
28 July 2021, RF Design , Passive Components
Coilcraft's MSD1278H Series of high-temperature 1:1 coupled power inductors feature magnetic shielding for compact packaging and tight winding-to-winding coupling. They are ideal for flyback, SEPIC, Cuk, 
...
Read more...
---
Hybrid design combines best of MOV and GDT protection
28 July 2021, Electrocomp , Circuit & System Protection
Bourns has introduced one of the most significant breakthroughs in MOV (metal oxide varistor) device design in decades, in the form of its IsoMOV protectors. The innovatively designed hybrid protection 
...
Read more...
---
Robust sealed connector system
28 July 2021, Electrocomp , Interconnection
Today's complex vehicles include more connectors than ever, which brings a higher risk of failure as one compromised seal on a single connector can result in the failure of an entire system. To address 
...
Read more...
---
Cylindrical DC-link capacitors for PCB mounting
23 June 2021, Electrocomp , Passive Components
The new B32320I
*
series of compact cylindrical DC-link capacitors has been presented by TDK for mounting on PCBs. They are designed for voltages of 450 V d.c. to 1300 V d.c. and cover a capacitance range 
...
Read more...
---
Precision resistors for industrial applications
23 June 2021, TRX Electronics , Passive Components
KOA's existing RN73 precision thin-film resistors will be superseded by the new RN73R series. The new protective coating of the RN73R offers improved moisture resistance and the high heat-resistant metal 
...
Read more...
---
Wireless module for high-speed 5G connectivity
28 July 2021, Electrocomp , Telecoms, Datacoms, Wireless, IoT
Fibocom recently announced the joint release of the FM350 5G wireless module. By partnering with Intel and MediaTek, Fibocom's FM350 is designed to offer high-speed 5G wireless connectivity for better 
...
Read more...
---
RJ45 connectors for the harshest environments
26 May 2021, Electrocomp , Interconnection
TE Connectivity's ODVA Variant 1 RJ45 connectors are designed with a rugged housing that provides a chemical resistant, IP67 and UV resistant protection to handle harsh-environment applications. The 
...
Read more...
---
New members of Hammond's miniature plastic enclosure family
23 June 2021, Electrocomp , Enclosures, Racks, Cabinets & Panel Products
The 1551 miniature plastic enclosure family from Hammond Manufacturing consists of 49 different sizes; in this latest extension to the range a further 10 variants have been introduced. In addition to 
...
Read more...
---
Ferrite E cores
23 June 2021, Sivan Electronic Supplies , Passive Components
Ferrite cores manufactured by Cosmo Ferrites are used in numerous applications such as lighting, power conditioning, EMI filtering, ultrasonic equipment and solar inverters. One of the most widely 
...
Read more...
---
High-performance LTE-A Cat. 12 module
23 June 2021, Electrocomp , Telecoms, Datacoms, Wireless, IoT
The global launch of a high-performance 4G LTE-Advanced category 12 module was recently announced by Fibocom. Highly integrated with competitive cost advantages, the FG101 is optimised to provide high-speed 
...
Read more...
---