printer friendly version
Renesas adds Bluetooth 5.0 to RE family
28 April 2021
Telecoms, Datacoms, Wireless, IoT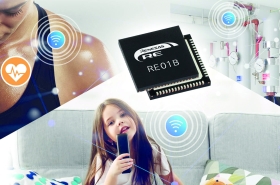 The RE family of 32-bit ultra-low power consumption microcontrollers (MCUs) from Renesas Electronics has been expanded to include the RE01B with Bluetooth 5.0 support. Developed using Renesas' SOTB (Silicon on Thin Buried Oxide) process technology, the new device is ideal for energy harvesting systems and intelligent IoT devices that need to operate constantly at extremely low power levels without the need to replace or recharge batteries.
The RE01B MCU makes it easier to implement regular data management and firmware updates over Bluetooth while maintaining ultra-low power consumption and extending the battery life. Applications include compact healthcare devices such as pulse oximeters and biomedical sensor patches, remote controls with voice recognition capabilities and smart meter modules. In addition, the RE01B is well suited for IoT devices that require constant operation, period data collection and updates, such as devices for monitoring the elderly, children or assets in transit.
Built around the Arm Cortex-M0+ core, the RE01B operates at a maximum operating frequency of 64 MHz and achieves current consumption as low as 35 µA/MHz during operation and 600 nA during standby, among the lowest in the industry for a Bluetooth-capable MCU. In addition, the RE01B can be combined with Renesas' ISL9123 ultra-low Iq DC/DC converter, configured as an external step-down regulator, to reduce current consumption during operation down to 15 µA/MHz for even better power efficiency.
Renesas offers several development tools for the RE Family, including a QE (Quick and Effective tool solution) for BLE, which generates programs for custom Bluetooth profiles that can then be integrated into the user's own application programs and a Bluetooth Test Tool Suite, which provides a GUI that allows users to perform initial wireless characteristics evaluations and Bluetooth functionality verification.
For more information contact Callie Lombard, Hi-Q Electronics, +27 11 894 8083, callie@hi-q.co.za, www.hi-q.co.za
Credit(s)
Further reading:
Connectivity for IoT devices with SoftSIM
Otto Wireless Solutions Telecoms, Datacoms, Wireless, IoT
IoT device vendors are facing more and more complex cellular connectivity issues these days. Manufacturing is often outsourced to third-party factories and finished devices are being distributed to many 
...
Read more...
---
Embedded GNSS antenna with integrated LNA
RF Design Telecoms, Datacoms, Wireless, IoT
The HC990EXF from Tallysman is an extended-filter embedded GNSS helical antenna. This RHCP (right-hand circular polarised) antenna provides a peak gain of 3 dBi at full bandwidth and has an axial ratio 
...
Read more...
---
Wireless asset tag supporting Quuppa RTLS
EBV Electrolink Telecoms, Datacoms, Wireless, IoT
onsemi unveiled a new system solution that overcomes the main challenges associated with developing asset tracking tags. Battery life has been a major obstacle to asset tag adoption, particularly within 
...
Read more...
---
Wi-Fi SoCs with USB interface
iCorp Technologies Telecoms, Datacoms, Wireless, IoT
USB (Universal Serial Bus) is an industry standard that enables communication between a host controller and peripherals or other devices. A USB interface is integrated into Espressif Systems' ESP32-S 
...
Read more...
---
RS-485/422 differential transceivers
Hi-Q Electronics Telecoms, Datacoms, Wireless, IoT
Renesas has expanded its RS-485/422 portfolio with the RAA78815x family of 5 V differential transceivers with electrical fast transient (EFT) immunity of ±5000 V and ESD protection up to ±16 000 V, making 
...
Read more...
---
NB-IoT roll-out will rapidly increase adoption
Flickswitch Telecoms, Datacoms, Wireless, IoT
In today's ever-evolving world, catching the IoT wave is critical. Surveys show that four out of five businesses are investing in IoT, however, there are always questions when it comes to delivering long-term 
...
Read more...
---
Multi-mode LTE Cat. 4 module
iCorp Technologies Telecoms, Datacoms, Wireless, IoT
The SC200R-EM is a new-generation multi-mode LTE Cat. 4 smart module measuring 40,5 mm × 40,5 mm × 2,8 mm with built-in Android OS, based on Qualcomm's ARM Cortex-A53 64-bit quad-core processor and built-in 
...
Read more...
---
Tiny Bluetooth module fit for industrial applications
RF Design Telecoms, Datacoms, Wireless, IoT
The newly released ANNA-B4 is u-blox' smallest Bluetooth module to date, packed with features tailored to the needs of industrial applications. This comes at a time when smart factories have matured from 
...
Read more...
---
Multiprotocol, dual-processor wireless SoC
RF Design Telecoms, Datacoms, Wireless, IoT
Nordic Semiconductor's nRF5340 high-end multiprotocol system-on-chip (SoC) became the first member of its next generation of nRF5 Series SoCs. The nRF5340 builds on Nordic's proven and globally adopted 
...
Read more...
---
Cloud platform securely manages and connects edge devices
Avnet Silica Telecoms, Datacoms, Wireless, IoT
NXP Semiconductors' EdgeLock 2GO IoT service platform enables easy, secure deployment and management of IoT devices and services. The platform is integrated with NXP's Common Criteria (CC) EAL 6+ certified 
...
Read more...
---