printer friendly version
Otto Wireless Solutions welcomes new SIMCom family
26 May 2021
Telecoms, Datacoms, Wireless, IoT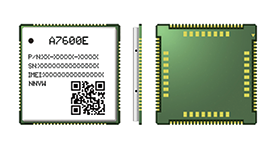 SIMCom modules have created a reputation… no, it's more than that… it's a legacy, of releasing compatible modules when new product lines are launched. Nothing has changed, as we welcome the new A7600 family into the fold.
Imagine entering the realm of LTE compliance at half the cost of traditional modules. How would this be possible, considering the marketing rhetoric which has been put out there: "Oh no sir, the reason why LTE modules are so expensive is because they have much more circuitry, they need to cater for higher speeds, LTE frequencies, 3G frequencies, 2G frequencies and not to mention the costs of compliance and licencing for those various technologies… it will never change." But it is this precise narrative which SIMcom has defeated with the launch of the A7600 family, because within that blurb lies a technology which the vast majority of telemetry applications have never used, mainly due to the ratio of cost to performance not being favourable and that near-redundant smokescreen is 3G technology.
What makes the A7600 family unique is the total absence of 3G technology. The devices are 4G compliant and fall straight back to 2G (Edge), thus avoiding 3G technology entirely and avoiding all the associated costs of 3G in so doing. When one compares the A7600E against the similar SIM7600E (which, to be fair, also has a GPS), it is quite literally half the cost.
But why make the change? It's no secret that the service providers have been intimating that the end of 2G is nigh for some time, but it is only recently that I have seen articles citing 2-3 year timelines. Practically, there are millions of 2G devices operational in South Africa and these are predominantly in the security environment, which makes it very unlikely that any service provider would throw the proverbial switch and shut down 2G anytime soon.
However, in my personal and humble opinion, what is potentially more likely to happen is the blocking of new, 2G-only devices from entering the market, similar to what happened elsewhere on the globe. It would not be inconceivable for 2G to be allowed only as an emergency fallback on new devices, provided such devices have a higher technology capability available as a primary connectivity medium. The time to consider 4G devices and future-proof products has, in my opinion, arrived.
With this in mind, Otto Wireless Solutions has taken the decision to go through ICASA approval of the A7600E family and the first product to be launched locally with ICASA approval is the A7600E. What we are doing to enable the market is providing starter kits consisting of a basic antenna, some connectors, common cables, a battery and of course, an A7600E module. This is supplied along with our full technical support to customers, in order to assist with the transition to 4G. A limited number of these kits are available free of charge.
Of course there is more to this than one module. It's a family affair. The LTE Cat. 1 module (A7600E) is the first and following in its wake is a family with additional capabilities and reduced size (A7682E), including higher LTE Cat. 4 speed (A7600E-H), onboard GPS (A7600E-MNSE) and more. Plans are afoot to position this family as the next flagship family as the lowest cost and highest capability modules on the market.
An investment in the A7600E family is an investment in the inevitable future.
For more information contact Chris Viveiros, Otto Wireless Solutions, +27 11 791 1033, chris@otto.co.za, www.otto.co.za
Credit(s)
Further reading:
Secure LTE-M, NB-IoT module with 400 MHz support
28 April 2021, RF Design , Telecoms, Datacoms, Wireless, IoT
u-blox has extended its SARA-R5 LTE-M and NB-IoT communications family with the introduction of a module that supports the 400-450 MHz LTE spectrum bands available in Europe, Asia and Latin America.  
...
Read more...
---
The vulnerabilities and opportunities of IoT security
26 May 2021 , Telecoms, Datacoms, Wireless, IoT
Today, there are 8,6 billion IoT connections. By 2026, that number will nearly triple to 23,6 billion, according to ABI Research market data.This exponential growth will usher in a new era of connectivity 
...
Read more...
---
IoT evaluation kit and Ubuntu-derived Linux distribution
26 May 2021, RF Design , Telecoms, Datacoms, Wireless, IoT
The newly released WM2000EV is an elegant kit for evaluating the capabilities of the WM2000, Tibbo's programmable Wi-Fi/BLE module. The kit was designed to be completely self-contained and to enable 
...
Read more...
---
RF signal recorder for beamforming and radar
26 May 2021, Rugged Interconnect Technologies , Telecoms, Datacoms, Wireless, IoT
A new addition has been made to the Talon series of recorders from Pentek, the Talon Model RTR 2628 8-channel, phase coherent, 4U 19-inch rackmount recorder with integrated RF tuners and A/D converters. 
...
Read more...
---
Free tool to optimise antenna placement on a PCB
26 May 2021, iCorp Technologies , Telecoms, Datacoms, Wireless, IoT
Antenova has created a new software tool to help designers place antennas in a wireless design. The tool displays the optimum position for embedded antennas on the PCB, depending upon the dimensions of 
...
Read more...
---
LTE Cat.1 platform for global or regional IoT connectivity
26 May 2021, Gemalto IoT (Cinterion Wireless Modules) , Telecoms, Datacoms, Wireless, IoT
The Thales Cinterion PLS63-W delivers a global approach to cost-optimised IoT connectivity, providing 18-band LTE Cat.1, 7-band 3G HSPA/UMTS and quad-band GSM for seamless roaming coverage across various 
...
Read more...
---
Waveguide amplifiers and their applications
26 May 2021, RF Design , Telecoms, Datacoms, Wireless, IoT
Waveguide amplifiers are amplifiers specifically designed to be housed within a waveguide assembly. This provides some intrinsic advantages and trade-offs compared with coaxial connectorised amplifier 
...
Read more...
---
Automotive dead reckoning module
26 May 2021, Altron Arrow , Telecoms, Datacoms, Wireless, IoT
STMicroelectronics boasts that its latest Teseo-VIC3DA module is an easy-to-use dead reckoning global navigation satellite system (GNSS) standalone module, embedding a TeseoIII single-die standalone positioning 
...
Read more...
---
CloudLocate brings power autonomy to IoT devices
26 May 2021, RF Design , Telecoms, Datacoms, Wireless, IoT
u-blox has introduced a service that offloads the position calculation from IoT devices into the cloud. The CloudLocate service will enable accurate positioning of even the simplest IoT devices with the 
...
Read more...
---
SP6T RF switches in common anode/cathode formats
26 May 2021, RF Design , Telecoms, Datacoms, Wireless, IoT
RFuW Engineering, a specialist in high-power SMT RF limiters and switches, announced the release of the MSW6T-6040-600 high-power SP6T (single pole, six throw) common cathode and MSW6T-6040-601 high-power 
...
Read more...
---