printer friendly version
Dual-channel digital isolator
26 May 2021
Analogue, Mixed Signal, LSI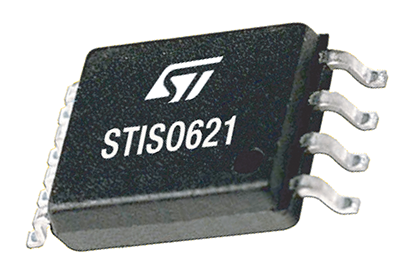 STMicroelectronics has begun volume production of the STISO621 dual-channel digital isolator, launching a new series of high-performance ICs for industrial applications and general optocoupler replacement.
The STISO621 transfers data between two isolated domains at up to 100 Mbps, with pulse distortion below 3 ns, leveraging ST's 6 kV thick-oxide galvanic-isolation technology. With two independent unidirectional channels, the device performs as a UART interface handling data in both directions. Schmitt-trigger inputs to each channel ensure high noise immunity.
The supply voltages to the two mutually galvanically isolated sides of the STISO621 are independent of each other. Each has a wide voltage range, allowing level translation between 3,3 V and 5,5 V circuitry. Typical common-mode transient immunity (CMTI) of 65 kV/µs protects the low-voltage side against high switching transients in harsh environments.
The STISO621 is suited to a wide range of industrial and consumer applications in power supplies, motor drives, meters, inverters, battery monitors, appliances, fieldbus isolators, size-critical multichannel isolation adaptors and general isolation throughout industrial automation systems. The design is tested in accordance with VDE0884-10 and UL 1577, the specifications typically applied to isolation devices for high-voltage applications.
The EVALSTISO62XV1 product evaluation board is available to help accelerate design completion in multiple applications. The EVALSTPM-3PHISO reference design, specifically designed for three-phase isolated metering system use cases, is also available. It combines the STISO621 to separate high-voltage domains with ST's high-accuracy STPMS2 metering front-end IC and specific firmware running on an STM32 microcontroller to compute three-phase metrology and power quality data.
With a maximum working isolation voltage (VIOWM) of 1200 V peak and high impulse-withstand voltage (VIOTM), galvanic insulation integrity is maintained over time and during any system faults. Two package variants are offered. In the SO8 narrow-body package with 4 mm creepage and clearance, the STISO621 has a VIOTM of 4800 V. The STISO621W, in the SO8 wide-body package with 8 mm creepage and clearance, has a VIOTM of 6000 V. High performance levels are guaranteed from -40°C to 125°C.
For more information contact Future Electronics, +27 21 421 8292,
marian.ledgerwood@futureelectronics.com, www.futureelectronics.com
Credit(s)
Further reading:
Temperature and humidity sensors for cold chains
26 May 2021, Electrocomp , Analogue, Mixed Signal, LSI
New calibrated and ISO 17025-certified temperature, and humidity and temperature sensors have been announced by Sensirion.These sensors enable customers to achieve cost-efficient GDP (good distribution 
...
Read more...
---
MEMS accelerometer for automotive
26 May 2021, RFiber Solutions , Analogue, Mixed Signal, LSI
The STMicroelectronics AIS2IH three-axis linear accelerometer brings enhanced resolution, temperature stability and mechanical robustness to non-safety automotive applications including anti-theft, telematics, 
...
Read more...
---
Automotive magnetic position sensor
26 May 2021, Future Electronics , Analogue, Mixed Signal, LSI
By offering accurate, contactless angle measurements in demanding automotive applications such as high-speed motors, the new AS5116 magnetic rotary position sensor from ams enables automotive manufacturers 
...
Read more...
---
Training videos for op-amp troubleshooting
26 May 2021 , Analogue, Mixed Signal, LSI
Texas Instruments (TI) has produced a sizeable collection of training materials for linear amplifier troubleshooting, including videos that highlight various techniques to assist with application problem-solving, 
...
Read more...
---
Isolation for SAR ADCs
26 May 2021, Altron Arrow , Analogue, Mixed Signal, LSI
Question:
How do I add isolation to my ADC without harming its performance?   
Answer:
For isolated high-performance ADCs, keep one eye on isolated clocks and a second on isolated power. SAR ADCs (successive 
...
Read more...
---
MEMS absolute pressure sensor
26 May 2021, Altron Arrow , Analogue, Mixed Signal, LSI
The LPS27HHTW from STMicroelectronics is an ultra-compact piezoresistive absolute pressure sensor which functions as a digital output barometer. The device also embeds a temperature sensor to monitor 
...
Read more...
---
MOSFET drivers with high current or high voltage
26 May 2021, Future Electronics , Power Electronics / Power Management
Modern industrial automation solutions, energy systems and professional equipment are often extremely specialised devices that require high safety and design flexibility for switching elements like semiconductor 
...
Read more...
---
Synchronous regulators simplify high-efficiency power conversion
28 April 2021, Future Electronics , Power Electronics / Power Management
STMicroelectronics has introduced L6981 synchronous step-down regulators, extending the family of high-efficiency converters that simplify power supply design by integrating power elements, feedback circuitry 
...
Read more...
---
Multi-Hall-array sensor for high-precision current sensing
28 April 2021, Future Electronics , Analogue, Mixed Signal, LSI
TDK has expanded its Micronas Hall-effect sensor portfolio with the CUR 4000 sensor. Developed for highly accurate current measurements in automotive and industrial applications, it offers non-intrusive, 
...
Read more...
---
Compact bias tees with up to 35 GHz bandwidth
31 March 2021, RF Design , Analogue, Mixed Signal, LSI
Designers can save design time and time-to-market by using a proven bias solution from the high-frequency specialist company, Marki Microwave. Its new line of surface mount bias tees, featuring up to 
...
Read more...
---