printer friendly version
Carrier card for COM Express and I/O modules
26 May 2021
Computer/Embedded Technology
Acromag's ACEX4040 carrier card facilitates the quick combination of a COM Express Type 10 CPU module with a mix of I/O modules for custom computing applications. With its rugged design and compact Mini-ITX form factor, this carrier card is easily mounted in a variety of enclosures for rapid development.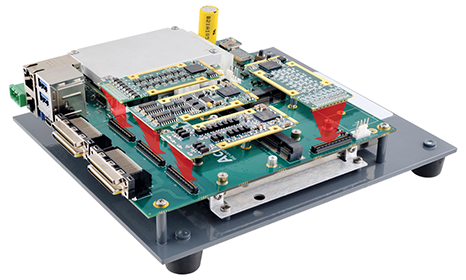 ACEX4040 carrier card.
High-density I/O connectors and numerous ports simplify interfacing to field devices and peripherals. System designers can select from more than 25 AcroPack modules to install any combination of analog I/O, digital I/O, serial I/O, communication and FPGA processor functions.
Designed for use in systems with size, weight, power and cost restrictions (SWaP-C), this carrier card provides a flexible solution for a broad range of signal processing tasks. The COM Express side supports high-performance, low-power Intel Atom CPU modules.
The four I/O slots interface Acromag's rugged AcroPack modules or Mini PCIe cards, enabling a powerful mix of measurement, control and communication capabilities. An M.2 slot offers flexible on-board storage while a SATA connector provides additional data storage options.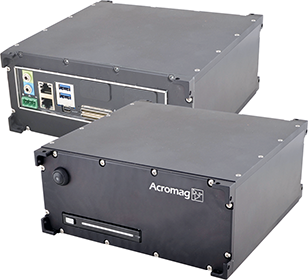 ARCX1100 rugged chassis.
Typical applications include deployable systems such as Vetronics, C4ISR, payload management, as well as systems with the ability to add A/D, D/A, discrete I/O, RS-232/485, CAN-bus, Ethernet, FPGA, MIL-STD-1553 and other signal interfaces.
Using AcroPack plug-in I/O modules provides a more rugged alternative to Mini PCIe modules that eliminates the need for internal cables. The ACEX4040 can be packaged in the ARCX1100 rugged chassis to form a complete portable communication solution.
Credit(s)
Further reading:
RF signal recorder for beamforming and radar
26 May 2021, Rugged Interconnect Technologies , Telecoms, Datacoms, Wireless, IoT
A new addition has been made to the Talon series of recorders from Pentek, the Talon Model RTR 2628 8-channel, phase coherent, 4U 19-inch rackmount recorder with integrated RF tuners and A/D converters. 
...
Read more...
---
AI platform for mass-market embedded/edge deployments
31 March 2021, RF Design , Computer/Embedded Technology
NVIDIA's Jetson TX2 NX delivers the next step in AI performance for entry-level embedded and edge products. It provides up to 2,5 times the performance of Jetson Nano and shares form factor and pin compatibility 
...
Read more...
---
Machine learning core repository on GitHub
28 April 2021 , Computer/Embedded Technology
Artificial intelligence is notoriously difficult because it relies on data science. Additionally, creating the right algorithm, such as a decision tree, and setting it up, can also be tricky. Unfortunately, 
...
Read more...
---
User-configurable embedded I/O modules
31 March 2021, Rugged Interconnect Technologies , Computer/Embedded Technology
APZU modules from Acromag provide a programmable Xilinx Zynq UltraScale+ multiprocessor system-on-chip (MPSoC). This MPSoC combines a feature-rich, ARM-based processing system and programmable logic in 
...
Read more...
---
Fourth generation PC/104 SBC extends product lifecycles
31 March 2021, Electronic Products Design , Computer/Embedded Technology
Diamond Systems has introduced Athena IV, a wide-temperature, COM-based SBC (single board computer) with integrated data acquisition and PC/104 I/O expansion. This combination of features makes the compact 
...
Read more...
---
CompactPCI Serial board for Single Pair Ethernet
26 February 2021, Rugged Interconnect Technologies , Computer/Embedded Technology
SPE (Single Pair Ethernet) is a new emerging networking standard for many automotive and industrial applications. With this in mind, EKF has developed the SY7-CYCLONE , a CompactPCI Serial FPGA board 
...
Read more...
---
Industrial PCs that are simply communicative and reliable
26 February 2021, Phoenix Contact , Computer/Embedded Technology
Industrial PCs are indispensable in factory automation. In times of increasing digitalisation, they take care of a variety of tasks. That's why it's important that the devices can be easily installed, 
...
Read more...
---
New Raspberry Pi Pico built on silicon developed in-house
26 February 2021 , Computer/Embedded Technology
The Raspberry Pi Foundation has launched its first microcontroller-class product, the Raspberry Pi Pico. Priced at just $4, it is built on RP2040, a brand-new chip developed by the Foundation. Whether 
...
Read more...
---
Quartz RFSoC subsystems ideal for custom integrations
26 February 2021, Rugged Interconnect Technologies , Computer/Embedded Technology
Pentek has introduced new additions to the Quartz RFSoC architecture family: the Model 6350S and Model 6353S (Gen 3 RFSoC), eight-channel A/D and D/A converter subsystems in a rugged, small form factor 
...
Read more...
---
Personality profile: Bossie Coetzer
26 February 2021, Rugged Interconnect Technologies , Editor's Choice, News
"Understanding product knowledge is power. I started reading any magazine that was available with articles discussing embedded products, including microprocessor technologies and bus architectures."
Read more...
---