printer friendly version
BAMR celebrates 75th anniversary
26 May 2021
News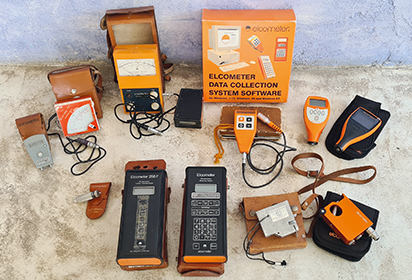 A selection of Elcometer products showing how they have evolved since the first Elcometer gauge was manufactured in 1947.
BAMR is celebrating its 75th year of serving the local industry, having been founded on 22 May 1946 by Fred Duk, a former Major in the South African Air Force, upon his return from the Second World War. His son, Frank, took over in 1961 and Graham, Fred's grandson, became involved in 1998. BAMR remains a customer-focused, family-owned business.
In its early days, the company focused predominantly on instrumentation in the coating industry, with the Air Force naturally being the first target in focus, given Fred's background. To this day, the business remains loyal to its core business principles.
BAMR has been the supplier and distributor of Elcometer instruments and equipment since 1947. It is the sole official authorised Elcometer distributor and partner in South Africa and most of Africa. The first export sale for Elcometer in 1947 was through BAMR. BAMR represents some global market leaders in southern Africa and strives to combine quality products at competitive prices, with personalised service.
Applications for the Elcometer protective coating inspection range include any application where you are applying a coating to a substrate. Other than measuring the coating thickness, other gauges and applications in this industry include:
• Material thickness.
• Surface cleanliness.
• Surface profiles.
• Climatic conditions including moisture.
• Coating thickness including wet and dry film.
• Pinhole and porosity testing.
• Adhesion testing.
Other than the protective coatings industry, Elcometer also supplies instruments and equipment that are used for laboratory and physical test equipment, predominantly in the paint manufacturing industry. Elcometer plans to launch a new coating thickness gauge in the next two years which will offer an exciting solution to current challenges. Its coating thickness gauges are considered the best value for money in the industry and the new model promises to be state-of-the-art, robust and as easy to use as the current models.
"With our partners on both the supplier front and the distribution front having similar philosophies with regards to innovation and customer service, we are very excited about the future of BAMR," says Graham Duk, the current owner.
He adds that BAMR is working hard to keep pace with the digital evolution and launched its e-commerce site www.gaugeit.co.za last year. "We have had a great response to the incorporation of this online platform. We are continually evolving and trying to make sure that we are relevant to our stakeholders. We feel that the combination of our 75 years of experience, alongside our goal of being the best in what we offer, gives the end user the confidence that they are having the best possible experience."
Credit(s)
Further reading:
Extended ST offering from RS
26 May 2021, RS Components (SA) , News
The scope of the supply chain agreement between RS Components and STMicroelectronics has been significantly extended. This new phase in the relationship between the two companies will result in a substantial 
...
Read more...
---
Structural battery breakthrough towards 'massless' energy storage
26 May 2021 , News
Chalmers University of Technology researchers have produced a structural battery that performs 10 times better than all previous versions. It contains carbon fibre that serves simultaneously as an electrode, 
...
Read more...
---
A tribute to Mark Schroeder
26 May 2021, S.J. Andrews Electronics , News
Written by Mark's family, with pride as we remember our husband, our dad, our granddad – a man who was and will always be so loved.
Read more...
---
Company profile: RS Components SA
26 May 2021, RS Components (SA) , News
The history of RS Components is a long and storied one, having been founded in London in 1937 by J.H. Waring and P.M. Sebestyen under the name Radiospares. In those early days, the company was run out 
...
Read more...
---
Electronics news digest
26 May 2021 , News
Overseas
Business
ams reported robust first quarter of 2021 group results with revenues of $1,55 billion and an adjusted operating (EBIT – earnings before interest and taxes) margin of 11%. This was 
...
Read more...
---
Events
26 May 2021 , Events, News
Tech Snacks
7-18 June 2021 Virtual A new learning concept from Arrow Electronics allowing visitors to choose from up to five Tech Snacks from across all the event's headline topics. Each snack is a 15-minute 
...
Read more...
---
From the editor's desk: The continued relevance of Moore's Law in the IoT age
26 May 2021, Technews Publishing , News, Editor's Choice
The end of Moore's Law (which famously posits that the number of transistors in a dense IC doubles about every two years, assuming an optimal price/performance ratio) has repeatedly been predicted, yet 
...
Read more...
---
Machine learning scholarships on offer at Wits University
26 May 2021 , News
DeepMind, an Alphabet company (Alphabet is the holding company of Google) and a world leader in the field of artificial intelligence (AI) research and its applications in the real world, has donated scholarship 
...
Read more...
---
Bosch opens advanced silicon wafer fab
26 May 2021 , News
Bosch has opened one of the world's most modern silicon wafer fabrication plants (fabs) in Dresden, Germany. Production will start as early as July – six months earlier than planned. From that time on, 
...
Read more...
---
Hensoldt and CSIR sign radar development agreement
28 April 2021 , News
A new generation of tactical 3D surveillance radar systems is being developed for naval and land deployment, which will modernise one of Hensoldt's key radar product lines and further enhance its extensive 
...
Read more...
---