printer friendly version
Company profile: RS Components SA
26 May 2021
News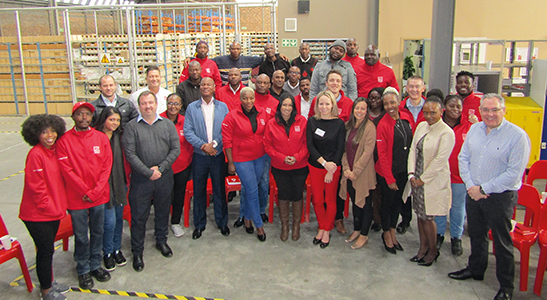 The history of RS Components is a long and storied one, having been founded in London in 1937 by J.H. Waring and P.M. Sebestyen under the name Radiospares. In those early days, the company was run out of a car boot and had just a single A4 page catalogue, supplying radio repair shops with spare parts and replacement electronic components, and later, when television sets became popular, TV parts were added to the product list.
In 1954, the founders expanded the company's focus from shops and home users to the industrial sector and began selling electronic components to manufacturers, and rebranded as RS Components (RS) in 1971. By then, the company had gone public, listing on the London Stock Exchange as 'Electrocomponents' in 1967. In its annual report of that year, the company emphasised the importance of customers and employees, with the motto '24 hour service with a smile!' To this day, RS continues to live by this same ethos.
RS was also one of the first companies to introduce white labelling of products, although back in those days the owners used to remove the manufacturer's branding and put the RS logo on the product. Now it partners with various manufacturers and OEMs to produce its own RS Pro branded products.
Now a global powerhouse
Fast forward to today, and RS has over 7000 employees across the world, with a staff complement that has evolved in line with the new acquisitions that the business has made in recent years. The South African operation has approximately 90 employees, which has remained consistent over the last 2-3 years, mainly due to technology efficiencies implemented within the business.
The company employs an omni-channel approach with regards to its customers and suppliers. Widely regarded as a 'traditional' distributor, it was in fact a pioneer in e-commerce and one of the first industrial distributors to take its business online. Globally, 63% of revenue comes through online sales, while in South Africa that number is closer to 75%.
RS Components has operations in 32 countries and trades through multiple distributors in other markets, delivering over 50 000 parcels a day to customers. In South Africa, its headquarters are in Kyalami Business Park at a premises it has occupied for 25 years. Storage innovation at its distribution centre has allowed the local operation to grow and expand its offering over the years without the need to relocate. In 2020, it undertook a significant refurbishment project to modernise its office space.
Over the years, RS has acquired a number of complementary businesses, expanding its capabilities and adding to its appeal and reach to customers globally. These include the founding of Okdo which is a global tech company focused on single board computing and the Internet of Things, and the acquisition of Monition, an energy and condition monitoring business which has been absorbed into the RS business. Further acquisitions include: IESA, a market leader in procurement and management of indirect materials; Synovos, a global, independent MRO supply chain management services provider; Needlers, which is the UK's leading supplier of PPE, safety and hygiene products to the food manufacturing industry; and Liscombe, a leading specialist supplier of high-risk hand protection and PPE products to industrial blue-chip customers in the UK and the Netherlands.
RS currently offers over 500 000 products across 2500 global brands in automation and control, electronics, test and measurement, personal protection equipment, tools and consumables. Over the last 80 years it's also built up its own brand called RS Pro, a quality industrial brand that is competitively priced.
More than just selling products
RS supports customers across the product life cycle, whether via innovation and technical support at the design phase – improving time to market and productivity in the build phase – or reducing purchasing costs and optimising inventory in the maintenance phase. One of its main aims is to help reduce indirect procurement costs or MROP (maintenance, repairs and operations procurement costs) which are the non-core products that are purchased to keep businesses and/or production facilities operating.
Research shows that through its value-adding solutions, RS is able to generate up to 35% in cost savings in a business' total MROP costs. These are some of the areas where RS's value-added solutions make them stand out:
DesignSpark – an online community for engineers, makers and students with access to free CAD, electrical and mechanical design software. This platform has over 1 million members as well as step-by-step tutorials and technical resources to help build and troubleshoot devices and various technology platforms.
Procurement – RS offers solutions for customers to consolidate their spending and reduce procure-to-pay costs, providing continued cost efficiencies across its procurement solutions. Purchasing Manager is a free online eProcurement system. This customisable tool is ideal if you don't have an in-house eProcurement system. There is no cost or investment involved and you don't need to upgrade your IT systems. RS also offers complete systems integration with customers' in-house eProcurement systems using punch-out or round tripping.
Inventory – these solutions are currently being tested in certain markets and enables customers to manage their inventory more effectively, reducing working capital and improving productivity. This includes recently rolled out offerings such as RS VendStock and RS ScanStock, as well as IESA's fully outsourced inventory management.
Maintenance – RS provides maintenance solutions to help customers manage their assets and improve productivity and sustainability, specifically around energy and condition monitoring.
Credit(s)
Further reading:
Extended ST offering from RS
26 May 2021, RS Components (SA) , News
The scope of the supply chain agreement between RS Components and STMicroelectronics has been significantly extended. This new phase in the relationship between the two companies will result in a substantial 
...
Read more...
---
Structural battery breakthrough towards 'massless' energy storage
26 May 2021 , News
Chalmers University of Technology researchers have produced a structural battery that performs 10 times better than all previous versions. It contains carbon fibre that serves simultaneously as an electrode, 
...
Read more...
---
BAMR celebrates 75th anniversary
26 May 2021, BAMR , News
BAMR is celebrating its 75th year of serving the local industry, having been founded on 22 May 1946 by Fred Duk, a former Major in the South African Air Force, upon his return from the Second World 
...
Read more...
---
A tribute to Mark Schroeder
26 May 2021, S.J. Andrews Electronics , News
Written by Mark's family, with pride as we remember our husband, our dad, our granddad – a man who was and will always be so loved.
Read more...
---
Electronics news digest
26 May 2021 , News
Overseas
Business
ams reported robust first quarter of 2021 group results with revenues of $1,55 billion and an adjusted operating (EBIT – earnings before interest and taxes) margin of 11%. This was 
...
Read more...
---
Events
26 May 2021 , Events, News
Tech Snacks
7-18 June 2021 Virtual A new learning concept from Arrow Electronics allowing visitors to choose from up to five Tech Snacks from across all the event's headline topics. Each snack is a 15-minute 
...
Read more...
---
From the editor's desk: The continued relevance of Moore's Law in the IoT age
26 May 2021, Technews Publishing , News, Editor's Choice
The end of Moore's Law (which famously posits that the number of transistors in a dense IC doubles about every two years, assuming an optimal price/performance ratio) has repeatedly been predicted, yet 
...
Read more...
---
Machine learning scholarships on offer at Wits University
26 May 2021 , News
DeepMind, an Alphabet company (Alphabet is the holding company of Google) and a world leader in the field of artificial intelligence (AI) research and its applications in the real world, has donated scholarship 
...
Read more...
---
Bosch opens advanced silicon wafer fab
26 May 2021 , News
Bosch has opened one of the world's most modern silicon wafer fabrication plants (fabs) in Dresden, Germany. Production will start as early as July – six months earlier than planned. From that time on, 
...
Read more...
---
Hensoldt and CSIR sign radar development agreement
28 April 2021 , News
A new generation of tactical 3D surveillance radar systems is being developed for naval and land deployment, which will modernise one of Hensoldt's key radar product lines and further enhance its extensive 
...
Read more...
---