printer friendly version
Electronics news digest
26 May 2021
News
Overseas
Business
ams reported robust first quarter of 2021 group results with revenues of $1,55 billion and an adjusted operating (EBIT – earnings before interest and taxes) margin of 11%. This was driven by healthy overall demand including strong demand in the automotive market, despite typical seasonality in the consumer market. For the second quarter of 2021, ams Osram (Osram having recently been acquired by ams) expects a further positive business development in light of certain seasonal effects with revenues of $1,43-1,53 billion.
NXP Semiconductors delivered first quarter revenue of $2,6 billion, an increase of 27% versus the year-ago period and better than the midpoint of the company's guidance. Other highlights included the approval of a payment of an interim dividend of $0,5625 per ordinary share, reflecting an increase of 50% from the prior quarterly dividend, the returning of $1,0 billion to shareholders through previously announced share repurchases and dividend payments and the addition of NXP to the S&P 500 index.
During its first 2021 fiscal quarter, ON Semiconductor reported that momentum in its strategic automotive and industrial end-markets is accelerating. It also secured key platform design wins for its silicon carbide and silicon-based power products. The upshot was total revenue of $1,48 billion, compared to $1,45 billion for the previous quarter and $1,28 billion for the first quarter of 2020. Diluted earnings per share (EPS) were $0,20, compared to a $0,03 loss per share in the first quarter of 2020.
Texas Instruments reported first quarter revenue of $4,29 billion, net income of $1,75 billion and earnings per share of $1,87. In its core businesses, analog revenue grew 5% and embedded processing grew 7% sequentially. From a year ago, analog revenue grew 33% and embedded processing grew 17%. The second quarter outlook is for revenue in the range of $4,13 billion to $4,47 billion and earnings per share between $1,68 and $1,92.
Net revenues for STMicroelectronics' first 2021 quarter totalled $3,02 billion, a year-over-year increase of 35,2%. On a year-over-year basis, the company recorded higher net sales in all product groups except the RF communications sub-group. Year-over-year net sales to OEMs and distribution increased 21,4% and 76,2%, respectively. Net income for the quarter was $364 million or $0,39 diluted earnings per share.
Companies
Northforge Innovations signed an agreement with Avnet and EBV Elektronik to promote Northforge to Broadcom customers in North America and EMEA. Both distributors will help Northforge expand its base of Broadcom customers that may require software development services for Broadcom's StrataDNX, StrataXGS, BroadPTP, BroadSync and Broadcom PLP products.
Industry
Renesas Electronics has joined the Responsible Business Alliance (RBA), a non-profit organisation founded in 2004 committed to supporting the rights and wellbeing of workers and communities worldwide affected by global supply chains. By joining the RBA, Renesas will fully support the vision and goals of the RBA to ensure that its manufacturing processes are environmentally responsible and that its workers are treated with respect and dignity. The RBA's core membership is comprised of more than 170 electronics, retail, auto and toy companies with combined annual revenue greater than $5 trillion, directly employing over 6 million people.
Worldwide sales of semiconductors totalled $123,1 billion during the first quarter of 2021 according to the Semiconductor Industry Association (SIA), an increase of 3,6% over the previous quarter and 17,8% more than the first quarter of 2020. Global sales for the month of March 2021 were $41,0 billion, an increase of 3,7% compared to the previous month. Regionally, year-to-year sales increased across all markets: China (25,6%), Asia Pacific/All Other (19,6%), Japan (13,0%), the Americas&nbsp(9,2%), and Europe (8,7%).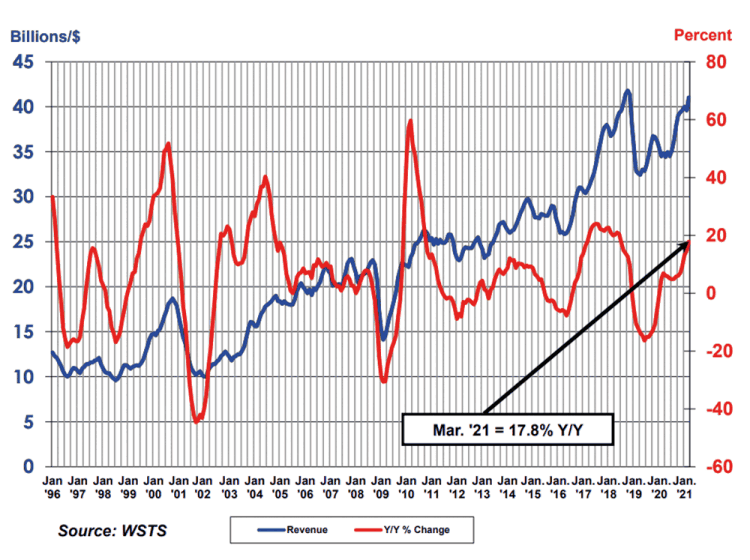 Worldwide semiconductor sales for the month of March 2021.
Further reading:
Extended ST offering from RS
26 May 2021, RS Components (SA) , News
The scope of the supply chain agreement between RS Components and STMicroelectronics has been significantly extended. This new phase in the relationship between the two companies will result in a substantial 
...
Read more...
---
Structural battery breakthrough towards 'massless' energy storage
26 May 2021 , News
Chalmers University of Technology researchers have produced a structural battery that performs 10 times better than all previous versions. It contains carbon fibre that serves simultaneously as an electrode, 
...
Read more...
---
BAMR celebrates 75th anniversary
26 May 2021, BAMR , News
BAMR is celebrating its 75th year of serving the local industry, having been founded on 22 May 1946 by Fred Duk, a former Major in the South African Air Force, upon his return from the Second World 
...
Read more...
---
A tribute to Mark Schroeder
26 May 2021, S.J. Andrews Electronics , News
Written by Mark's family, with pride as we remember our husband, our dad, our granddad – a man who was and will always be so loved.
Read more...
---
Company profile: RS Components SA
26 May 2021, RS Components (SA) , News
The history of RS Components is a long and storied one, having been founded in London in 1937 by J.H. Waring and P.M. Sebestyen under the name Radiospares. In those early days, the company was run out 
...
Read more...
---
Events
26 May 2021 , Events, News
Tech Snacks
7-18 June 2021 Virtual A new learning concept from Arrow Electronics allowing visitors to choose from up to five Tech Snacks from across all the event's headline topics. Each snack is a 15-minute 
...
Read more...
---
From the editor's desk: The continued relevance of Moore's Law in the IoT age
26 May 2021, Technews Publishing , News, Editor's Choice
The end of Moore's Law (which famously posits that the number of transistors in a dense IC doubles about every two years, assuming an optimal price/performance ratio) has repeatedly been predicted, yet 
...
Read more...
---
Machine learning scholarships on offer at Wits University
26 May 2021 , News
DeepMind, an Alphabet company (Alphabet is the holding company of Google) and a world leader in the field of artificial intelligence (AI) research and its applications in the real world, has donated scholarship 
...
Read more...
---
Bosch opens advanced silicon wafer fab
26 May 2021 , News
Bosch has opened one of the world's most modern silicon wafer fabrication plants (fabs) in Dresden, Germany. Production will start as early as July – six months earlier than planned. From that time on, 
...
Read more...
---
Hensoldt and CSIR sign radar development agreement
28 April 2021 , News
A new generation of tactical 3D surveillance radar systems is being developed for naval and land deployment, which will modernise one of Hensoldt's key radar product lines and further enhance its extensive 
...
Read more...
---