printer friendly version
Rotary sensor with SSI output
26 May 2021
Switches, Relays & Keypads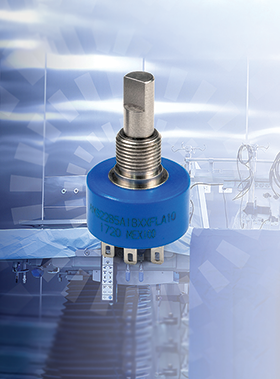 New from Bourns is the Model DMS22B non-contacting feedback rotary sensor that features Synchronous Serial Interface (SSI) output providing effective synchronisation in closed-loop control systems. This single-turn rotary sensor is based on Hall-effect technology and is supported by a factory programmable electrical angle from 10 to 360 degrees that enables more consistent and dependable operation of up to 50 million shaft revolutions.
The sensor is designed with non-contacting magnetic technology offering consistent performance and high reliability that is well suited for a range of application environments.Plus, its IP50 seal rating makes this rotary sensor highly resistant to fluid/dust ingress.
Available with a 7/8-inch flatted shaft and bushing mount configuration, the DMS22B offers designers a highly versatile position sensing solution for a broad variety of applications including patient platform positioning feedback, pneumatic control valve position feedback, draw wire position sensors, remote communications antenna positioning, actuator motor position feedback, automated manufacturing robotics and more.
Credit(s)
Further reading:
Sealed tantalum capacitors
Electrocomp Passive Components
With an operating temperature range of -55 to 125°C, with voltage derating, these capacitors have been designed especially for avionics and aerospace applications.
Read more...
---
Analogue front end for sensor measurements
Electrocomp Analogue, Mixed Signal, LSI
The NJU9103 AFE from Nisshinbo is a tiny analogue front end, with a 16-bit resolution ADC and up to 512 x signal amplification from the programmable gain amplifier.
Read more...
---
New series of chip-type capacitors
Electrocomp Passive Components
Panasonic Industries' SMT capacitor series all benefit from the longest lifetime plus the lowest ESR values currently available.
Read more...
---
SMD coupled inductors
Electrocomp Passive Components
TDK Corporation has expanded its family of flat wire inductors with the high-performance EPCOS ERUC23 coupled inductor series.
Read more...
---
Corrosion-resistant GRP enclosures
Electrocomp Enclosures, Racks, Cabinets & Panel Products
The design offers better impact resistance, and all sizes have the additional feature of shelves moulded into the base, fitted with threaded inserts to house a PCB or other electrical equipment.
Read more...
---
Millimetre-accurate ultrasonic ToF sensor
Electrocomp Telecoms, Datacoms, Wireless, IoT
InvenSense's SmartSonic family of ultrasonic ToF sensors integrate a MEMS piezoelectric micromachined ultrasonic transducer with an ultra-low power SoC in a miniature reflowable package.
Read more...
---
NTC thermistors for laser diode temperature measurement
Electrocomp Opto-Electronics
These bondable NTC thermistors can be mounted with Au wire bonding inside the package for highly accurate temperature detection of laser diodes used for optical communication.
Read more...
---
External Wi-Fi dual band antenna
Electrocomp Telecoms, Datacoms, Wireless, IoT
The X9001748 is an IP67 black or white antenna, which offers protection against dust and water, and provides a high gain suited for Wi-Fi applications.
Read more...
---
Snap-in capacity series with high capacitance density
Electrocomp Passive Components
TDK's new capacitor series cover a rated voltage range from 450 to 475 V DC, with capacitance values from 120 µF to 1,25 mF.
Read more...
---
EMI shielding knitted wire mesh
Electrocomp Interconnection
TE Connectivity's range of knitted wire mesh gaskets provides a cost-effective solution to high shielding performance applications to protect against RFI/EMI and EMP.
Read more...
---