printer friendly version
eBook exploring single-chip adaptable radio platforms
26 May 2021
Technical Literature
With the world transforming to incorporate more products and platforms into the connected, intelligent Internet of Things, increasing demands are being placed on computing solutions to facilitate rapid change. Today's computing technology must be dynamic, flexible and adaptive, enabling innovation in the cloud and at the edge. Radio frequency system-on-chip (RFSoC) solutions will play a key role in the future of computing, supporting end-to-end 5G mobile network architectures, adaptive radar technology and programmable aerospace and defence applications.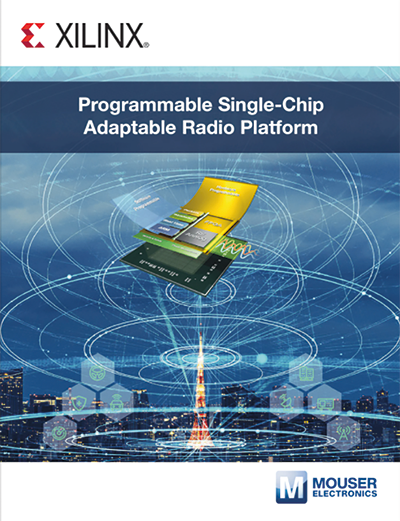 To this end, Mouser Electronics has produced a new eBook in collaboration with Xilinx, highlighting the need for adaptive computing solutions and the technological innovations making them possible. In the eBook, titled 'Programmable single-chip adaptable radio platform,' expert engineers from Mouser and Xilinx offer a series of in-depth articles and videos on the nuances of working with adaptive computing technologies.
The eBook can be accessed via the short URL www.dataweek.co.za/*may21-mouser
Further reading:
eBook explores surge protection design challenges
TRX Electronics Technical Literature
Mouser has joined forces with Bourns as the title sponsor of a new eBook titled 'How to choose the right surge protection technology'.
Read more...
---
The state of 3D printing in 2021
Technical Literature
element14 has released a new eBook that offers insights into the history and the reality of 3D printing, including the processes, materials and applications – as well as what the future holds for this 
...
Read more...
---
Power and sensing selection guide
Altron Arrow Technical Literature
With the 2021 edition of its Power and Sensing Selection Guide, Infineon Technologies aims to remove choice overload and decision stress by arranging its broad, cutting-edge power and sensor portfolio 
...
Read more...
---
pSemi RF product catalogue
RFiber Solutions Technical Literature
The 2021 version of pSemi's RF product catalogue lists part numbers and specifications for the variety of products offered by the company, as well as information about the company's core Ultra-CMOS technology 
...
Read more...
---
New content platform for automotive electronics design
Technical Literature
Mouser Electronics and the Yageo Group of companies have partnered to create a new content stream devoted to new products and trends in the automotive industry. The Yageo Group includes Kemet, Pulse 
...
Read more...
---
Meeting global IoT connectivity challenges
Technical Literature
Connectivity is perhaps the most critical component of an IoT infrastructure. The performance of an IoT application is highly dependent on the scope of a carrier's network coverage, along with its resilience 
...
Read more...
---
'Industry 4.0 and Beyond' eBook
Technical Literature
Mouser Electronics has produced a new eBook in collaboration with Analog Devices, exploring the technological innovations and wide-reaching applications of Industry 4.0. In 'Industry 4.0 and Beyond', 
...
Read more...
---
Sensor selection guide
Altron Arrow Technical Literature
Infineon Technologies' 'XENSIV – sensing the world' selection guide lets readers explore the company's portfolio of sensing technologies, complemented by application solutions, smallest 2GO kits, simulation 
...
Read more...
---
eZine explores the many facets of AI
Technical Literature
Mouser Electronics has released the newest issue of its Methods technology and solutions journal. The second issue of volume four, 'Understanding AI', offers a series of perspectives on the issues surrounding 
...
Read more...
---
Ferrite cores catalogue
MANTECH Technical Literature
Ferrite core specialist, Magnetics, has released its 2021 catalogue which includes the most up-to-date information on the company's ferrite cores. Besides technical specifications on the comprehensive 
...
Read more...
---