printer friendly version
Current-compensated ring core chokes
26 May 2021
Circuit & System Protection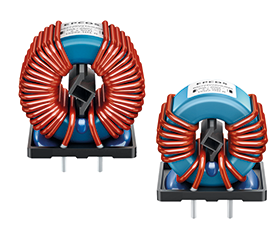 TDK has released a new series of current-compensated EPCOS double-ring core chokes for the suppression of common-mode interference. They are available in three sizes with current handling capacities between 10 A and 17 A and with a rated voltage of 250 V a.c. (50/60 Hz). Depending on the type, the inductance value is between 1,0 mH and 6,25 mH.
The plastic material of the base plate and spacer in the middle of the ring core conforms with UL 94 V-0 and the highest CTI value of >600. In order to meet the high requirements for specific applications in domestic appliances, in accordance with IEC 60335-2-xx, the plastic meets specifications for GWIT (+775°C), GWFI (850°C) and ball pressure (+190°C), as well as CTI >250. These high requirements are increasingly found in industrial applications such as drives.
These EMC components offer extremely small dimensions in relation to their current capacity, with dimensions of between 33 x 23 x 30 mm and 39 x 23 x 37 mm. Due to the leakage inductance of around 0,4%, the RoHS-compatible ring core chokes also suppress symmetrical interference. The main areas of application are switch-mode power supplies, converters and domestic appliances.
For more information contact Electrocomp, +27 11 458 9000, sales@electrocomp.co.za, www.electrocomp.co.za
Credit(s)
Further reading:
Hybrid design combines best of MOV and GDT protection
28 July 2021, Electrocomp , Circuit & System Protection
Bourns has introduced one of the most significant breakthroughs in MOV (metal oxide varistor) device design in decades, in the form of its IsoMOV protectors. The innovatively designed hybrid protection 
...
Read more...
---
Ventilation panels with EMI shielding
23 June 2021, Conical Technologies , Circuit & System Protection
Ranatec, a Swedish specialist in test equipment for design verification, product certification, production testing as well as expert troubleshooting and in-service monitoring, offers a range of ventilation 
...
Read more...
---
Robust sealed connector system
28 July 2021, Electrocomp , Interconnection
Today's complex vehicles include more connectors than ever, which brings a higher risk of failure as one compromised seal on a single connector can result in the failure of an entire system. To address 
...
Read more...
---
New EMI gasket and shielding solutions agency for Conical
28 July 2021, Conical Technologies , Circuit & System Protection
Euro Technologies, a leading European provider of shielding, RFI and thermal products, is now represented in South Africa by Conical Technologies. With more than 20 years of experience in the supply 
...
Read more...
---
Cylindrical DC-link capacitors for PCB mounting
23 June 2021, Electrocomp , Passive Components
The new B32320I
*
series of compact cylindrical DC-link capacitors has been presented by TDK for mounting on PCBs. They are designed for voltages of 450 V d.c. to 1300 V d.c. and cover a capacitance range 
...
Read more...
---
Wireless module for high-speed 5G connectivity
28 July 2021, Electrocomp , Telecoms, Datacoms, Wireless, IoT
Fibocom recently announced the joint release of the FM350 5G wireless module. By partnering with Intel and MediaTek, Fibocom's FM350 is designed to offer high-speed 5G wireless connectivity for better 
...
Read more...
---
Clearing the Static: The importance of quality, tested ESD flooring
28 July 2021, Altico Static Control Solutions , Circuit & System Protection
Many people think that when testing an ESD floor you only need to perform a test from point to point to ensure the material is static dissipative or conductive. ESD flooring contains antistatic chemicals 
...
Read more...
---
RJ45 connectors for the harshest environments
26 May 2021, Electrocomp , Interconnection
TE Connectivity's ODVA Variant 1 RJ45 connectors are designed with a rugged housing that provides a chemical resistant, IP67 and UV resistant protection to handle harsh-environment applications. The 
...
Read more...
---
New members of Hammond's miniature plastic enclosure family
23 June 2021, Electrocomp , Enclosures, Racks, Cabinets & Panel Products
The 1551 miniature plastic enclosure family from Hammond Manufacturing consists of 49 different sizes; in this latest extension to the range a further 10 variants have been introduced. In addition to 
...
Read more...
---
High-performance LTE-A Cat. 12 module
23 June 2021, Electrocomp , Telecoms, Datacoms, Wireless, IoT
The global launch of a high-performance 4G LTE-Advanced category 12 module was recently announced by Fibocom. Highly integrated with competitive cost advantages, the FG101 is optimised to provide high-speed 
...
Read more...
---