printer friendly version
Wideband omnidirectional antenna
26 May 2021
Telecoms, Datacoms, Wireless, IoT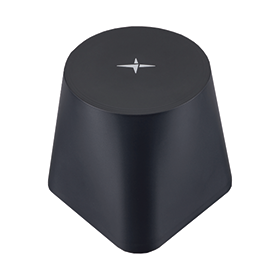 Taoglas' newly launched wideband, omnidirectional antenna – the Taoglas Discone One – is expertly engineered for 5G/4G routers and devices. This new antenna is designed to cover all worldwide 5G and 4G bands, including all sub-6 GHz deployments across the 400 MHz to 6000 MHz spectrum.
The Discone boasts excellent efficiencies of over 50% across the entire spectrum and a high peak gain of up to 6,6 dBi, to deliver best-in-class throughput on all major cellular bands worldwide. It is innovatively designed to deliver reliability on new, dedicated mission-critical communications bands between 400 and 500 MHz. Additionally, it covers extended 4G, band 71 and all 5G NR sub-6 GHz bands while also covering 3G/2G bands to allow for fallback when 5G/4G isn't available – keeping applications and devices connected when it's most needed.
"It can be challenging to maintain high antenna efficiency over an extremely wide band from 400 MHz to 6 GHz and exhibit an omnidirectional radiation pattern," explained Dave Ghilarducci, global vice president of engineering at Taoglas. "The DCN.01 features a smart discone antenna design to achieve a uniform omnidirectional radiation pattern especially on the azimuth (horizontal) plane, meeting the requirement for mission-critical and smart grid applications. This design methodology, in parallel with the lightweight, efficient and robust materials used, helped to achieve optimum antenna efficiency and gain across a wide range of frequencies covering different applications. By investing in the Discone antenna now, it means you're future proofing your devices and applications with 5G and 4G connectivity, resulting in bigger savings down the line."
The Discone cable type and length and connector types, are fully customisable and it comes packaged with a pole- and wall-mounting kit as standard for rugged, vandal-resistant installations.
For more information contact Andrew Hutton, RF Design, +27 21 555 8400, andrew@rfdesign.co.za, www.rfdesign.co.za
Credit(s)
Further reading:
Secure LTE-M, NB-IoT module with 400 MHz support
28 April 2021, RF Design , Telecoms, Datacoms, Wireless, IoT
u-blox has extended its SARA-R5 LTE-M and NB-IoT communications family with the introduction of a module that supports the 400-450 MHz LTE spectrum bands available in Europe, Asia and Latin America.  
...
Read more...
---
The vulnerabilities and opportunities of IoT security
26 May 2021 , Telecoms, Datacoms, Wireless, IoT
Today, there are 8,6 billion IoT connections. By 2026, that number will nearly triple to 23,6 billion, according to ABI Research market data.This exponential growth will usher in a new era of connectivity 
...
Read more...
---
IoT evaluation kit and Ubuntu-derived Linux distribution
26 May 2021, RF Design , Telecoms, Datacoms, Wireless, IoT
The newly released WM2000EV is an elegant kit for evaluating the capabilities of the WM2000, Tibbo's programmable Wi-Fi/BLE module. The kit was designed to be completely self-contained and to enable 
...
Read more...
---
Otto Wireless Solutions welcomes new SIMCom family
26 May 2021, Otto Wireless Solutions , Telecoms, Datacoms, Wireless, IoT
SIMCom modules have created a reputation… no, it's more than that… it's a legacy, of releasing compatible modules when new product lines are launched. Nothing has changed, as we welcome the new A7600 
...
Read more...
---
RF signal recorder for beamforming and radar
26 May 2021, Rugged Interconnect Technologies , Telecoms, Datacoms, Wireless, IoT
A new addition has been made to the Talon series of recorders from Pentek, the Talon Model RTR 2628 8-channel, phase coherent, 4U 19-inch rackmount recorder with integrated RF tuners and A/D converters. 
...
Read more...
---
Free tool to optimise antenna placement on a PCB
26 May 2021, iCorp Technologies , Telecoms, Datacoms, Wireless, IoT
Antenova has created a new software tool to help designers place antennas in a wireless design. The tool displays the optimum position for embedded antennas on the PCB, depending upon the dimensions of 
...
Read more...
---
SatGen simulation software now supports NavIC
26 May 2021, RF Design , Test & Measurement
The latest update to LabSat SatGen GNSS simulation software for PC now incorporates NavIC RF simulation. Designed to create custom GNSS RF I/Q or IF data files based on user-generated trajectories, the 
...
Read more...
---
LTE Cat.1 platform for global or regional IoT connectivity
26 May 2021, Gemalto IoT (Cinterion Wireless Modules) , Telecoms, Datacoms, Wireless, IoT
The Thales Cinterion PLS63-W delivers a global approach to cost-optimised IoT connectivity, providing 18-band LTE Cat.1, 7-band 3G HSPA/UMTS and quad-band GSM for seamless roaming coverage across various 
...
Read more...
---
Waveguide amplifiers and their applications
26 May 2021, RF Design , Telecoms, Datacoms, Wireless, IoT
Waveguide amplifiers are amplifiers specifically designed to be housed within a waveguide assembly. This provides some intrinsic advantages and trade-offs compared with coaxial connectorised amplifier 
...
Read more...
---
Automotive dead reckoning module
26 May 2021, Altron Arrow , Telecoms, Datacoms, Wireless, IoT
STMicroelectronics boasts that its latest Teseo-VIC3DA module is an easy-to-use dead reckoning global navigation satellite system (GNSS) standalone module, embedding a TeseoIII single-die standalone positioning 
...
Read more...
---