printer friendly version
Bosch opens advanced silicon wafer fab
26 May 2021
News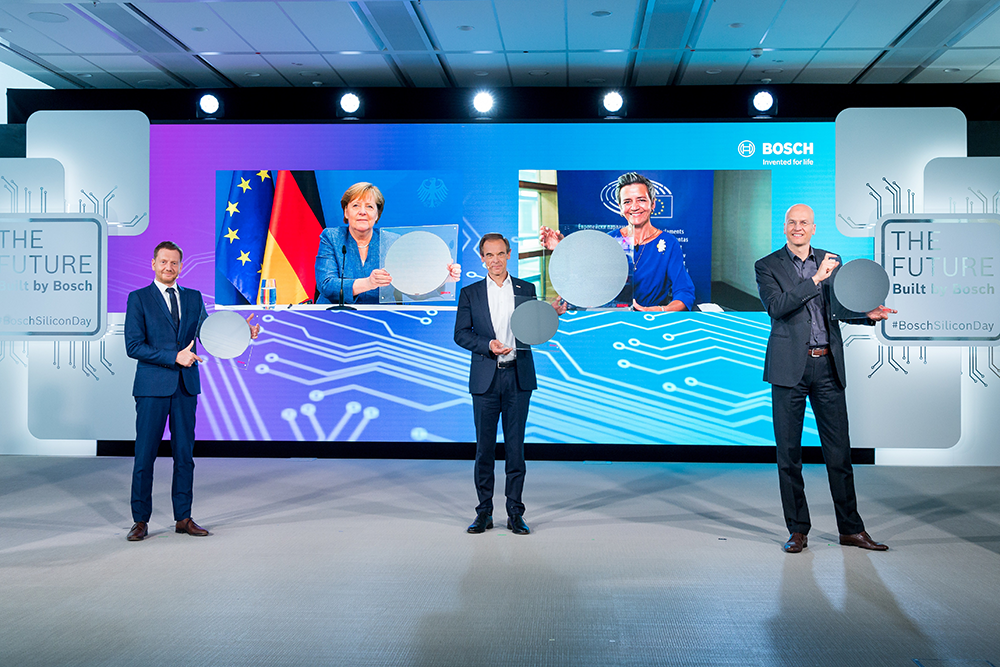 Bosch has opened one of the world's most modern silicon wafer fabrication plants (fabs) in Dresden, Germany. Production will start as early as July – six months earlier than planned. From that time on, semiconductors made in the new plant will be installed in Bosch power tools. For automotive customers, chip production will start in September and thus three months earlier than planned.
The new factory will be an important part of the semiconductor manufacturing network. With it, Bosch is strengthening Germany's position as a technology and business location. "The new wafer fab is good for Europe, for Germany and for Saxony. Directly and indirectly, it means many new jobs in a huge growth industry. This billion-Euro investment strengthens Silicon Saxony and the entire European semiconductor industry," said Michael Kretschmer, the minister-president of Saxony.
On 72 000 square metres of floor space, 250 people are already working in the wafer fab in Saxony's state capital. The workforce is set to grow to roughly 700 once construction work has been completed.
Further reading:
Extended ST offering from RS
26 May 2021, RS Components (SA) , News
The scope of the supply chain agreement between RS Components and STMicroelectronics has been significantly extended. This new phase in the relationship between the two companies will result in a substantial 
...
Read more...
---
Structural battery breakthrough towards 'massless' energy storage
26 May 2021 , News
Chalmers University of Technology researchers have produced a structural battery that performs 10 times better than all previous versions. It contains carbon fibre that serves simultaneously as an electrode, 
...
Read more...
---
BAMR celebrates 75th anniversary
26 May 2021, BAMR , News
BAMR is celebrating its 75th year of serving the local industry, having been founded on 22 May 1946 by Fred Duk, a former Major in the South African Air Force, upon his return from the Second World 
...
Read more...
---
A tribute to Mark Schroeder
26 May 2021, S.J. Andrews Electronics , News
Written by Mark's family, with pride as we remember our husband, our dad, our granddad – a man who was and will always be so loved.
Read more...
---
Company profile: RS Components SA
26 May 2021, RS Components (SA) , News
The history of RS Components is a long and storied one, having been founded in London in 1937 by J.H. Waring and P.M. Sebestyen under the name Radiospares. In those early days, the company was run out 
...
Read more...
---
Electronics news digest
26 May 2021 , News
Overseas
Business
ams reported robust first quarter of 2021 group results with revenues of $1,55 billion and an adjusted operating (EBIT – earnings before interest and taxes) margin of 11%. This was 
...
Read more...
---
Events
26 May 2021 , Events, News
Tech Snacks
7-18 June 2021 Virtual A new learning concept from Arrow Electronics allowing visitors to choose from up to five Tech Snacks from across all the event's headline topics. Each snack is a 15-minute 
...
Read more...
---
From the editor's desk: The continued relevance of Moore's Law in the IoT age
26 May 2021, Technews Publishing , News, Editor's Choice
The end of Moore's Law (which famously posits that the number of transistors in a dense IC doubles about every two years, assuming an optimal price/performance ratio) has repeatedly been predicted, yet 
...
Read more...
---
Machine learning scholarships on offer at Wits University
26 May 2021 , News
DeepMind, an Alphabet company (Alphabet is the holding company of Google) and a world leader in the field of artificial intelligence (AI) research and its applications in the real world, has donated scholarship 
...
Read more...
---
Hensoldt and CSIR sign radar development agreement
28 April 2021 , News
A new generation of tactical 3D surveillance radar systems is being developed for naval and land deployment, which will modernise one of Hensoldt's key radar product lines and further enhance its extensive 
...
Read more...
---