printer friendly version
Samtec expands micro power connector range
23 June 2021
Interconnection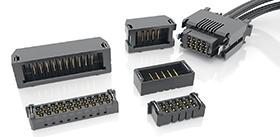 The Samtec mPOWER connector system is a micro, high-power solution with design flexibility for power-only or power/signal applications. Due to the wide variety of stack heights available, mPOWER can be easily added to new or existing architectures alongside one of Samtec's high-speed connector systems for either a unique two-piece power or a signal + power solution. A number of new additions have been made to the portfolio:
The new UMPC is a micro power cable assembly available in up to 10 positions, with current ratings from 16,8 A per contact to 8,8 A per contact (the latter is the rating if all 10 pins are powered). It is available with rugged latching options – a plastic latch is available on the top of the cable connector, or two metal latches are available on the side of the connector. Designers can also specify Teflon cable, in addition to the standard #16 or #18 AWG PVC cable. Individual components and tooling are also available.
The mPOWER board-to-board (vertical or parallel) offering of two-piece micro power board-level connectors (the UMPT and UMPS series) now includes up to 10 power pins per connector and the board-to-board stack heights have been expanded from 5 mm to 20 mm.
Finally, a new right-angle (90°) micro power terminal strip (UMPT-RA) is available for perpendicular board-to-board applications.
mPOWER connectors are available with optional welding tabs to increase the mechanical strength of the connector to the PCB. They are rated as 'severe environment tested' connectors and you can selectively load contacts to achieve specific creepage and clearance requirements.
Credit(s)
Further reading:
Micro connectors with backshells
25 August 2021, Hiconnex , Interconnection
At this year's DSEI exhibition, Nicomatic launched its new DBMM Series, a modification of the DMM 2 mm connectors to include fully integrated backshells. DBMM connectors save space, measuring only 15 mm 
...
Read more...
---
Terminal blocks for measuring transducers
25 August 2021, Phoenix Contact , Interconnection
The PTVME test-disconnect terminal blocks from Phoenix Contact are an extension to the PTV portfolio and can be used in all applications on the secondary wiring side of switching devices for transducers 
...
Read more...
---
EMC shields for lever-actuated PCB connectors
25 August 2021, Phoenix Contact , Interconnection
Shields with enhanced EMC properties are now available for the LPC 6/LPCH 6 lever-actuated PCB connectors from Phoenix Contact. With reliable protection against electromagnetic interference, the range 
...
Read more...
---
Circular connectors for signals, data and/or power
28 July 2021 , Interconnection
Farnell is now delivering Intercontec circular connectors from TE Connectivity – an innovative, plug-and-play connector concept that simplifies modular machine design by offering a wide range of variants 
...
Read more...
---
Modern trends are shaping new power connectors
25 August 2021 , Editor's Choice, Interconnection
While it may sound counter-intuitive to use smaller connectors, it is possible to obtain a better total current rating with connectors that use a larger number of smaller terminals.
Read more...
---
The evolution of heavy-duty connectors
25 August 2021, Phoenix Contact , Editor's Choice, Interconnection
Tomorrow's smart production demands smart components that can be assembled quickly, easily and economically to create customised solutions that can be delivered from batch sizes of one upwards.
Read more...
---
Connector backshells for demanding environments
25 August 2021, Hiconnex , Interconnection
A backshell is the rear portion of a connector which is normally a separate section from the connector head. It is used to secure the cable to the end of the connector in order to relieve strain on solder 
...
Read more...
---
High-speed connectors for vehicle networks
25 August 2021, Actum Group , Interconnection
The differential high-speed data connector systems H-MTD, H-MTD+ and H-MTDe developed by Rosenberger, set high standards for future vehicle network systems. H-MTD connectors can be used for frequencies 
...
Read more...
---
Low-PIM coaxial cable assemblies
25 August 2021, RF Design , Interconnection
Pasternack recently expanded its ever-growing line of low-PIM coaxial cable assemblies using its Superflex cables, as well as popular cable offerings from Times Microwave that are ideal for use in wireless 
...
Read more...
---
Touch-safe appliance power connectors
25 August 2021, Vepac Electronics , Interconnection
Saf-D-Grid builds on the proven contact technology used in Anderson Power Products' (APP) SB and Powerpole connectors by offering features required in 380-400 V d.c. power distribution systems. APP 
...
Read more...
---