printer friendly version
Cloud tools ecosystem for PIC and AVR microcontrollers
23 June 2021
DSP, Micros & Memory
Microcontroller (MCU) design is being simplified with the new MPLAB cloud tools ecosystem available for PIC and AVR devices from Microchip Technology. The free, all-in-one cloud platform combines easy, integrated search and discovery of example code, graphical configuration of projects and code debugging in a collaborative environment. This environment enables enterprise-scale rapid development while simplifying software design for users at all skill levels with an intuitive browser-based interface and cloud connectivity.
Microchip's MPLAB cloud tools ecosystem incorporates three powerful components designed to modernise the development workflow for PIC and AVR microcontrollers. Users can easily find fully configured and complete source code, projects, examples and software applications using the intuitive catalogue in MPLAB Discover. Selected code and projects instantly populate in the MPLAB Xpress integrated development environment (IDE) for further development.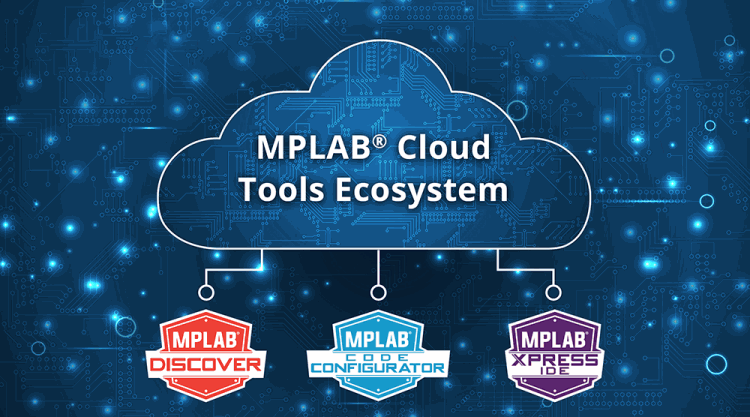 MPLAB Code Configurator, with its easy-to-use graphical configuration, offers point-and-click options to set up hardware peripherals and further configure projects. Device setup is simplified with optimised peripheral libraries, modular downloads and updates. Developing, debugging and deploying project applications directly from any web browser can be completed without any software installation.
The enhanced MPLAB Xpress IDE delivers a powerful, scalable cloud infrastructure for development and debugging along with community collaboration tools using secure GitHub repository interface controls. Designers have the option to download MPLAB Xpress projects to continue development in MPLAB X IDE. Seamless, quick access to MPLAB Discover and MPLAB Code Configurator is provided from the Xpress toolbar. The MPLAB cloud tools ecosystem, which has been designed as a front end to access these cloud tools based on the development flow the client is in, also has a quickstart guide and overview of tools.
Online security is provided through tight integration with secure public and private GitHub repositories for saving and sharing source code, as well as through seamless import and export of online projects to local storage and secure myMicrochip login enabled for online sessions.
Microchip's Curiosity and Curiosity nano boards are available to evaluate and program its 8-bit PIC and AVR MCUs and are supported by the MPLAB cloud tools ecosystem. The platform includes an integrated programmer/debugger and requires no additional hardware to get started. The MPLAB cloud tools ecosystem is available for free on Microchip's website (www.microchip.com/MPLABCloudTools).
For more information contact EBV Electrolink, +27 21 402 1940, capetown@ebv.com, www.ebv.com
Credit(s)
Further reading:
Rugged silicon carbide power devices
25 August 2021, EBV Electrolink , Power Electronics / Power Management
Today's energy-efficient electric charging systems powering commercial vehicle propulsion, as well as auxiliary power systems, solar inverters, solid-state transformers and other transportation and industrial 
...
Read more...
---
MCU evaluation and development kits
25 August 2021, RS Components (SA) , DSP, Micros & Memory
RS Components announced availability of a new range of evaluation and development kits for Infineon Technologies' AURIX family of microcontrollers (MC), which are based on the manufacturer's 32-bit TriCore 
...
Read more...
---
EBV helps bring long-life tracker to market
25 August 2021, EBV Electrolink , Telecoms, Datacoms, Wireless, IoT
General Mechatronics, a Budapest-based company, enlisted the support of EBV Elektronik to devise an award-winning smart sensor device designed for use in asset tracking systems and applications.  
...
Read more...
---
Totem pole PFC controller
25 August 2021, EBV Electrolink , Power Electronics / Power Management
A new addition has been made to ON Semiconductor's solution set for ultra-high density offline power supplies in the form of the NCP1680, a dedicated critical conduction mode totem pole PFC controller. 
...
Read more...
---
Low-power DDR4X memory IC
25 August 2021, Brabek , DSP, Micros & Memory
Alliance Memory has expanded its offering of high-speed CMOS mobile low-power SDRAMs with a new LPDDR4X device featuring on-chip ECC. Offering an extension to the company's fourth-generation LPDDR4 SDRAMs, 
...
Read more...
---
HLS tool suite for PolarFire FPGAs
25 August 2021, EBV Electrolink , Programmable Logic
The need to combine performance with low power consumption in edge compute applications has driven demand for field programmable gate arrays (FPGAs) to be used as power-efficient accelerators while also 
...
Read more...
---
Baseless power modules qualified for aerospace use
25 August 2021, EBV Electrolink , Power Electronics / Power Management
In the race to reduce aircraft emissions, developers are increasingly moving toward more efficient designs, including electrical systems that replace today's pneumatics and hydraulics powering everything 
...
Read more...
---
EBV and Infineon collaborate on SiC technology
23 June 2021, EBV Electrolink , Power Electronics / Power Management
EBV Elektronik is working closely with Infineon Technologies on the manufacturer's leading-edge silicon carbide (SiC)-based CoolSiC technology, which delivers key benefits for engineers designing advanced 
...
Read more...
---
NXP boosts efficiency of 5G multi-chip modules
28 July 2021, EBV Electrolink , Telecoms, Datacoms, Wireless, IoT
NXP Semiconductors claimed a major industry milestone for 5G energy efficiency with the integration of gallium nitride (GaN) technology to its multi-chip module platform. Building on the company's investment 
...
Read more...
---
LED drivers supporting visible-light communication
28 July 2021, EBV Electrolink , Opto-Electronics, Power Electronics / Power Management
ON Semiconductor has announced two new devices designed to enhance the performance of connected lighting systems. The NCL31000 and NCL31001 LED drivers allow manufacturers to develop LED luminaires with 
...
Read more...
---