printer friendly version
Robust sealed connector system
28 July 2021
Interconnection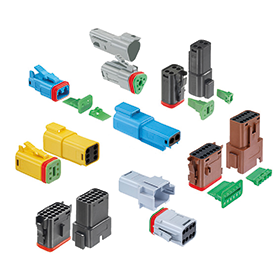 Today's complex vehicles include more connectors than ever, which brings a higher risk of failure as one compromised seal on a single connector can result in the failure of an entire system. To address the reliability needs of its customers operating commercial vehicle applications in harsh environments, TE Connectivity has expanded its robust Industrial and Commercial Transportation (ICT) connector portfolio to include the DT-XT sealed connector system.
The sealed connector system features innovative, high-performance sealing technology. The advanced sealing materials and covalent bond offer increased flexibility, resulting in improved tear resistance and seal positioning for the ICT market. Additionally, a rear sealing cover protects against water ingress due to enhanced cable management. The connectors have a proven design that works with the industry's current standard tools and eliminates the need for costly redesigns. DT-XT connectors are IP69K-rated and J2030 power-wash tested.
DT-XT technology also features secure mating and unmating as the connector housing has an integrated lock that provides secure mating and electrical connection in the vehicle. Finger grips on the locking mechanism provide a ribbed surface that makes it easier to connect, disconnect and release even when fingers are wet, dirty or oily. With the range of DT-XT crimp terminals, lower insertion and withdrawal forces are possible.
TE offers the DT-XT sealed connection system in a broad range of colours and an array of custom options, enhancing 'poka-yoke' and removing the need for labelling of wires.
For more information contact Electrocomp, +27 11 458 9000, sales@electrocomp.co.za, www.electrocomp.co.za
Credit(s)
Further reading:
Compact X2 capacitors for noise suppression
25 August 2021, Electrocomp , Circuit & System Protection
A new series of very compact EPCOS X2 capacitors for noise suppression, rated for 275 V a.c. and covering a capacitance range from 33 nF to 1 µF, has been released by TDK. Depending on the capacitance 
...
Read more...
---
Micro connectors with backshells
25 August 2021, Hiconnex , Interconnection
At this year's DSEI exhibition, Nicomatic launched its new DBMM Series, a modification of the DMM 2 mm connectors to include fully integrated backshells. DBMM connectors save space, measuring only 15 mm 
...
Read more...
---
Terminal blocks for measuring transducers
25 August 2021, Phoenix Contact , Interconnection
The PTVME test-disconnect terminal blocks from Phoenix Contact are an extension to the PTV portfolio and can be used in all applications on the secondary wiring side of switching devices for transducers 
...
Read more...
---
Liquid flow sensor evaluation kits
25 August 2021, Electrocomp , Analogue, Mixed Signal, LSI
The LD20 single-use liquid flow sensor series from Sensirion is suitable for fast, precise and reliable measurements of the lowest flow rates in biomedical applications. An evaluation kit for the LD20-0600L 
...
Read more...
---
MLCCs with new low-resistance soft termination
25 August 2021, Electrocomp , Passive Components
TDK has expanded its CN series of multilayer ceramic capacitors (MLCCs) that are the first of their kind. The new products – 10 µF capacitance in 3216 size (3,2 x 1,6 x 1,6 mm) and 22 µF capacitance in 
...
Read more...
---
EMC shields for lever-actuated PCB connectors
25 August 2021, Phoenix Contact , Interconnection
Shields with enhanced EMC properties are now available for the LPC 6/LPCH 6 lever-actuated PCB connectors from Phoenix Contact. With reliable protection against electromagnetic interference, the range 
...
Read more...
---
Ultra low-pressure gauge and differential sensors
25 August 2021, Electrocomp , Analogue, Mixed Signal, LSI
The SM9000 series from TE Connectivity comprises digital, ultra low-pressure sensors utilising state-of-the-art MEMS pressure transducer technology and CMOS mixed-signal processing technology to produce 
...
Read more...
---
Circular connectors for signals, data and/or power
28 July 2021 , Interconnection
Farnell is now delivering Intercontec circular connectors from TE Connectivity – an innovative, plug-and-play connector concept that simplifies modular machine design by offering a wide range of variants 
...
Read more...
---
Modern trends are shaping new power connectors
25 August 2021 , Editor's Choice, Interconnection
While it may sound counter-intuitive to use smaller connectors, it is possible to obtain a better total current rating with connectors that use a larger number of smaller terminals.
Read more...
---
The evolution of heavy-duty connectors
25 August 2021, Phoenix Contact , Editor's Choice, Interconnection
Tomorrow's smart production demands smart components that can be assembled quickly, easily and economically to create customised solutions that can be delivered from batch sizes of one upwards.
Read more...
---