printer friendly version
Waterproof photoelectric sensors
28 July 2021
Opto-Electronics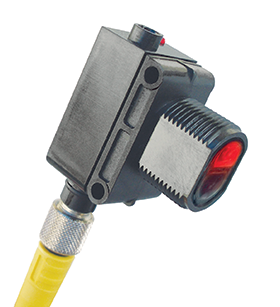 Low in cost and high in value, Mini-Eye is a full line of economical, miniature photoelectric sensors for general sensing tasks. These rugged sensors are waterproof and enclosed in high-impact plastic housings for use in hostile environments. They are also immune to indirect ambient light and strobes and are ideal for material handling, sorting, web break detection, counting, inspection, orientation and more.
Mini-Eye sensors offer a selection of through-beam, polarised retroreflective and proximity modes, Class 1 red lasers, infrared (IR) or red LED light sources and a choice of NPN or PNP output transistors. All models are available in front or 18 mm mounting, with quick disconnect or potted cables and operate in either 'Light ON' or 'Dark ON' sensing modes.
Credit(s)
Further reading:
Time-of-flight multi-zone ranging sensor
25 August 2021, EBV Electrolink , Opto-Electronics
STMicroelectronics has announced the first multi-zone FlightSense time-of-flight sensor to be offered for general-purpose applications, bringing sophisticated distance sensing to the full spectrum of 
...
Read more...
---
600 W convection cooled power supplies
25 August 2021, Vepac Electronics , Power Electronics / Power Management
Cosel announced the introduction of 600 W free-air convection cooling power supplies in the form of the AEA600F series. With demanding applications in mind, the AEA600F is able to deliver 300% peak power 
...
Read more...
---
Power supplies and electronic loads for testing fuel cells
25 August 2021, Vepac Electronics , Test & Measurement
In response to demand for growing hydrogen fuel cell development and testing, EA Elektro-Automatik offers a series of powerful bidirectional DC power supplies and regenerative DC loads ideal for fuel 
...
Read more...
---
Fast-drying cleaning solvent
25 August 2021, Vepac Electronics , Manufacturing / Production Technology, Hardware & Services
Electrolube's ULS Ultrasolve cleaning solvent is a fast-drying solvent specially formulated for the quick and efficient cleaning of electrical equipment. It replaces CFC solvents such as 113 trichloroethane 
...
Read more...
---
Colour registration mark sensor
28 July 2021, Vepac Electronics , Opto-Electronics
SmartEye Colormark ll registration mark sensors from Tri-Tronics combine unique colour perception ability with very high-speed response. Many important features have been incorporated into the design 
...
Read more...
---
High-voltage DC-DC converter for electric vehicles
28 July 2021, Vepac Electronics , Power Electronics / Power Management
By understanding the needs of its performance-driven customers in the market of electrification of air, land and sea vehicles and systems, Crane Aerospace & Electronics engineers have designed and developed 
...
Read more...
---
LEDs for indoor lighting market
25 August 2021, Future Electronics , Opto-Electronics
Lumileds introduced its new Luxeon 2835 Commercial LEDs engineered and designed to support the growing demand for a high-volume, high-efficacy mid-power LED to serve commercial indoor lighting applications. 
...
Read more...
---
Lidar sensors for numerous use cases
25 August 2021, TRX Electronics , Opto-Electronics
Mouser Electronics has signed a global distribution agreement with LightWare LiDAR, a manufacturer of light detection and ranging (lidar) technology. According to the agreement, Mouser will offer customers 
...
Read more...
---
Touchscreen display for tough environments
25 August 2021, Vepac Electronics , Opto-Electronics
Topcon Positioning Group announced a pre-series release of its new OPUS B-Series display available for the developer, systems integrator and manufacturer market for user-interface design and implementation 
...
Read more...
---
LCD modules with per-pixel memory
25 August 2021, iCorp Technologies , Opto-Electronics
Multi-Inno's range of 'memory' LCD modules feature a 1-bit embedded memory in each pixel, which results in minimal power usage from the display's single supply, even while updating images. A lightweight 
...
Read more...
---