printer friendly version
Development boards for MCU-powered embedded systems
23 June 2021
DSP, Micros & Memory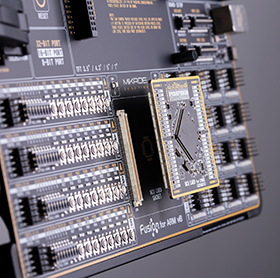 MikroElektronika has launched SiBRAIN, a standard for add-on development boards that facilitates the simple installation and exchanging of a microcontroller (MCU) on a development board equipped with the SiBRAIN socket. SiBRAIN enables embedded designers to try out different MCUs in a prototype system without having to invest in expensive hardware or learn new tools. Currently, the SiBRAIN cards are available to support MCUs from major manufacturers including Microchip Technology, STMicroelectronics, NXP Semiconductors and Texas Instruments, with others to follow.
Nebojsa Matic, CEO of MikroElektronika, commented: "Because there is no universal standardisation, for every different microcontroller there is a specific set of operating instructions, new tools to learn, new boards and licences to buy and new processes to adopt. The SiBRAIN card and socket standard is a game changer, saving months of wasted development time and money, and providing enormous design flexibility."
SiBRAIN uses the same 'plug-and-play' concept that underpins MikroElektronika's Click board product range. Depending on the MCU type, its pin count and the number of required external components, there are different SiBRAIN add-on boards. Each board is a self-contained unit, allowing the development system to operate on a logic level without having to facilitate the specific requirements of many different MCUs. This gives designers a free hand in the choice of MCU, regardless of the pin count or pin compatibility. Most importantly, this approach enables designers to swap SiBRAIN MCU cards easily during the development phase, without any additional hardware.
Each SiBRAIN card is equipped with two high-speed, 168-pin mezzanine connectors (one male and one female) with the standard SiBRAIN socket pin-out. Cards can easily be installed on any development board with the SiBRAIN socket, and the smart design eliminates the possibility of incorrect orientation and placement. Already, MikroElektronika offers more than 100 SiBRAIN boards covering popular MCU families such as STM32, PIC32, TIVA, MSP432, Kinetis and many more.
Credit(s)
Further reading:
IoT dev board for mobile applications
25 August 2021, Dizzy Enterprises , Telecoms, Datacoms, Wireless, IoT
MikroElektronika has launched LTE IoT 8 Click – a member of its 1000-strong Click family of peripheral development boards – targeting designers of low-power LTE-M and NB-IoT connectivity solutions in 
...
Read more...
---
MCU evaluation and development kits
25 August 2021, RS Components (SA) , DSP, Micros & Memory
RS Components announced availability of a new range of evaluation and development kits for Infineon Technologies' AURIX family of microcontrollers (MC), which are based on the manufacturer's 32-bit TriCore 
...
Read more...
---
Low-power DDR4X memory IC
25 August 2021, Brabek , DSP, Micros & Memory
Alliance Memory has expanded its offering of high-speed CMOS mobile low-power SDRAMs with a new LPDDR4X device featuring on-chip ECC. Offering an extension to the company's fourth-generation LPDDR4 SDRAMs, 
...
Read more...
---
MCUs for real-time control, analytics and networking
28 July 2021 , DSP, Micros & Memory
Brand new from Texas Instruments (TI) comes a high-performance microcontroller (MCU) portfolio that advances real-time control, networking and analytics applications at the edge. With new Sitara AM2x 
...
Read more...
---
Development board for PIC microcontrollers
28 July 2021, Dizzy Enterprises , Computer/Embedded Technology
MikroElektronika has launched Fusion for PIC v8, offering universal support for PIC, dsPIC, PIC24 and PIC32 microcontrollers on one board. Fusion development boards are ideal for rapid prototyping and 
...
Read more...
---
Cloud tools ecosystem for PIC and AVR microcontrollers
23 June 2021, EBV Electrolink , DSP, Micros & Memory
Microcontroller (MCU) design is being simplified with the new MPLAB cloud tools ecosystem available for PIC and AVR devices from Microchip Technology. The free, all-in-one cloud platform combines easy, 
...
Read more...
---
16-bit general-purpose microcontroller
26 May 2021, Hi-Q Electronics , DSP, Micros & Memory
Renesas Electronics has launched and begun mass production of its 16-bit general-purpose RL78/G23 microcontroller (MCU), further strengthening its RL78 family of 8-bit and 16-bit MCUs for a broad range 
...
Read more...
---
Feature updates for Proteus design software
31 March 2021, Dizzy Enterprises , Design Automation
Proteus 8.12 expands on its high-speed design feature offering by adding support for pass-through components on length-matched differential pairs. Pass-through components are those which are included 
...
Read more...
---
32-bit MCU for IoT edge applications
28 April 2021, NuVision Electronics , DSP, Micros & Memory
Silicon Labs announced the launch of the EFM32PG22 (PG22) 32-bit microcontroller (MCU), a low-cost, high-performance solution with an optimised combination of energy efficiency, performance and security. 
...
Read more...
---
MCUs for low-power industrial and IoT applications
31 March 2021, Hi-Q Electronics , DSP, Micros & Memory
Renesas Electronics has expanded its RA4 Series microcontrollers (MCUs) with 12 new RA4M2 Group parts. The new devices deliver an exceptional combination of very low power consumption, high performance 
...
Read more...
---