printer friendly version
Amphenol advanced sensors on offer from RS Components
28 July 2021
Analogue, Mixed Signal, LSI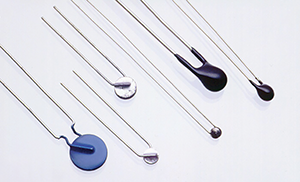 RS Components has announced availability of an extensive selection of advanced sensors used by monitoring systems for many different applications in the industrial, healthcare and transportation sectors.
Designed and manufactured by Amphenol Advanced Sensors, the portfolio includes temperature, gas, moisture and pressure sensing devices such as a wide range of carbon dioxide sensing modules and humidity sensors.
The maker's Thermometrics brand comprises a comprehensive selection of temperature measurement devices, ranging from chips to value-added assemblies and for temperatures from -196°C up to +1150°C.
A second brand is Telaire, which has been at the forefront of CO2 sensor technology for more than 25 years and holds a fistful of key patents in CO2 sensing, including the ABC Logic automatic calibration algorithm. The range has also expanded over the years to include air quality sensors such as dust (PM2.5 and PM10) and relative humidity (RH) devices. These products are widely deployed in commercial and residential building ventilation systems as well as controlling air quality in cars and other automobiles.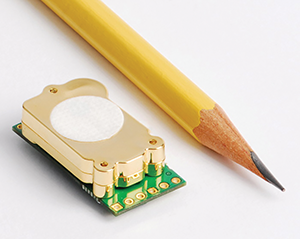 Just one example of many from the Telaire range is the new T3022 series, which has been designed specifically for low-cost CO2 sensing. It comes with protection to IP65, features the maker's non-dispersive infrared (NDIR) measuring technology and enables easy installation with a 5 V input and an I2C digital output.
Additionally, the NovaSensor line includes high-performance, yet highly cost-effective, pressure measurement devices that are highly regarded across the industry for accuracy, reliability and size. The line's MEMS-based devices include surface-mount, hybrid and media-isolated types, which are available in uncalibrated to fully calibrated versions as well as amplified analog- and digital-output types.
Credit(s)
Further reading:
Self-learning AI sensor for fitness tracking
TRX Electronics Analogue, Mixed Signal, LSI
The Bosch BHI260AP is ideal for always-on sensor applications like wrist wearables, hearables, smartphones, AR/VR headsets and controller device.
Read more...
---
Sensor nodes for reliable air quality data
TRX Electronics Analogue, Mixed Signal, LSI
The advanced sensors offer easy integration, fully calibrated outputs with a digital interface, and optimal measurement of vital air quality parameters.
Read more...
---
High-resolution magnetic position sensor
TRX Electronics Analogue, Mixed Signal, LSI
Featuring a 14-bit sensor array and analog front-end, the sensor uses a differential measurement method to compensate for external stray magnetic fields.
Read more...
---
RS to showcase IoT and Food Safe products at NAMPO Harvest Day
RS Components (SA) News
Following a two-year hiatus, this year's event will take place over five days as opposed to four, to accommodate Covid-19 restrictions.
Read more...
---
Absolute pressure sensor
Altron Arrow Analogue, Mixed Signal, LSI
The sensing element, which detects absolute pressure, consists of a suspended membrane manufactured using a special process developed by STMicroelectronics.
Read more...
---
2- and 4-output fanout clock buffers
Altron Arrow Analogue, Mixed Signal, LSI
Both devices support 2,5/3,3 V power supplies with separate input and output supply voltages for level shifting.
Read more...
---
Tiny CO2 sensor employs photoacoustic spectroscopy
TRX Electronics Analogue, Mixed Signal, LSI
The device uses a high-sensitivity MEMS microphone to detect the pressure change generated by CO
2
molecules within the sensor cavity.
Read more...
---
Rad-hard DAC for next-gen satellites
Altron Arrow Analogue, Mixed Signal, LSI
The STMicroelectronics RHRDAC121 radiation-hardened digital-to-analog converter (DAC) operates down to 2,5 V for use in modern, low-power system designs that older 3,3 V parts cannot support. Consuming 
...
Read more...
---
What can sport teach us about MRO procurement?
RS Components (SA) News
Just like triathlon transitions, if you don't respect the details and aren't supportive about making manufacturing flexible, as a supplier you aren't contributing to your customers' success.
Read more...
---
Avnet Silica gains access to Octavo's advanced SiP technology
Avnet Silica Analogue, Mixed Signal, LSI
Avnet Silica has added advanced SiP (system-in-package) technology to its portfolio via a distribution agreement with Octavo Systems, a leading provider of innovative high-quality SiP solutions. The 
...
Read more...
---