printer friendly version
Amphenol advanced sensors on offer from RS Components
28 July 2021 Analogue, Mixed Signal, LSI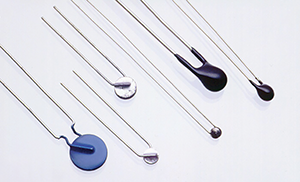 RS Components has announced availability of an extensive selection of advanced sensors used by monitoring systems for many different applications in the industrial, healthcare and transportation sectors.
Designed and manufactured by Amphenol Advanced Sensors, the portfolio includes temperature, gas, moisture and pressure sensing devices such as a wide range of carbon dioxide sensing modules and humidity sensors.
The maker's Thermometrics brand comprises a comprehensive selection of temperature measurement devices, ranging from chips to value-added assemblies and for temperatures from -196°C up to +1150°C.
A second brand is Telaire, which has been at the forefront of CO2 sensor technology for more than 25 years and holds a fistful of key patents in CO2 sensing, including the ABC Logic automatic calibration algorithm. The range has also expanded over the years to include air quality sensors such as dust (PM2.5 and PM10) and relative humidity (RH) devices. These products are widely deployed in commercial and residential building ventilation systems as well as controlling air quality in cars and other automobiles.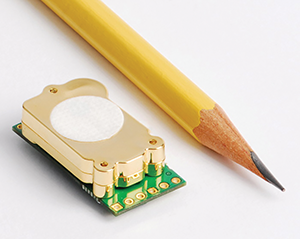 Just one example of many from the Telaire range is the new T3022 series, which has been designed specifically for low-cost CO2 sensing. It comes with protection to IP65, features the maker's non-dispersive infrared (NDIR) measuring technology and enables easy installation with a 5 V input and an I2C digital output.
Additionally, the NovaSensor line includes high-performance, yet highly cost-effective, pressure measurement devices that are highly regarded across the industry for accuracy, reliability and size. The line's MEMS-based devices include surface-mount, hybrid and media-isolated types, which are available in uncalibrated to fully calibrated versions as well as amplified analog- and digital-output types.
Credit(s)
Further reading:
Machine learning capable motion sensors
23 June 2021, Altron Arrow , Analogue, Mixed Signal, LSI
Qeexo, the developer of the Qeexo AutoML automated machine learning (ML) platform that accelerates the development of tinyML models for the edge and STMicroelectronics announced the availability of ST's 
...
Read more...
---
Microphone for noise cancelling applications
26 May 2021, Altron Arrow , Analogue, Mixed Signal, LSI
The MP23ABS1 from STMicroelectronics is a compact, low-power microphone built with a capacitive sensing element and an IC interface. The sensing element, capable of detecting acoustic waves, is manufactured 
...
Read more...
---
Extended ST offering from RS
23 June 2021, RS Components (SA) , News
The scope of the supply chain agreement between RS Components and STMicroelectronics has been significantly extended. This new phase in the relationship between the two companies will result in a substantial 
...
Read more...
---
Microprocessor supervisory circuit
23 June 2021, iCorp Technologies , Analogue, Mixed Signal, LSI
The SGM708 microprocessor supervisory circuit reduces the complexity and number of components required to monitor power supply and microprocessor activity. It significantly improves system reliability 
...
Read more...
---
RS launches wiring and connectivity portfolio
23 June 2021, RS Components (SA) , Interconnection
Read more...
---
Angle sensor with integrated wake-up angle detection
23 June 2021, NuVision Electronics , Analogue, Mixed Signal, LSI
The MA782 detects the absolute angular position of a permanent magnet (typically a diametrically magnetised cylinder on a rotating shaft). With its power-cycling ability, the Monolithic Power Systems 
...
Read more...
---
Cable and network tester supporting PoE
23 June 2021, RS Components (SA) , Test & Measurement
RS Components is now stocking LinkIQ Cable+Network, a brand-new advanced Fluke cable and network tester ideal for installers and maintenance technicians. A highly cost-effective and time-saving unit, 
...
Read more...
---
Dual-channel digital isolator
26 May 2021, Future Electronics , Analogue, Mixed Signal, LSI
STMicroelectronics has begun volume production of the STISO621 dual-channel digital isolator, launching a new series of high-performance ICs for industrial applications and general optocoupler replacement.  
...
Read more...
---
Temperature and humidity sensors for cold chains
26 May 2021, Electrocomp , Analogue, Mixed Signal, LSI
New calibrated and ISO 17025-certified temperature, and humidity and temperature sensors have been announced by Sensirion.These sensors enable customers to achieve cost-efficient GDP (good distribution 
...
Read more...
---
Company profile: RS Components SA
26 May 2021, RS Components (SA) , News
The history of RS Components is a long and storied one, having been founded in London in 1937 by J.H. Waring and P.M. Sebestyen under the name Radiospares. In those early days, the company was run out 
...
Read more...
---