printer friendly version
Customisable local voice control at the edge
28 July 2021 Computer/Embedded Technology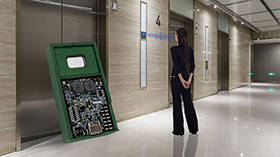 NXP's EdgeReady solution portfolio now includes a turnkey hardware and software solution that enables developers to add versatile local voice control with customisable commands to the industrial and IoT edge. The voice control solution includes a speech modelling tool based on phoneme technology that enables developers to generate more than 100 custom commands and multiple wake words. The solution supports more than 40 different languages and dialects and enables voice-capable devices to handle up to four languages simultaneously.
The NXP EdgeReady solution can significantly lower cost and development time to add local voice control to devices across the home and workplace, from smart home devices and appliances, to vending machines and elevators. Until now, the cost and effort required to collect crowd-sourced audio speech data has made local voice control prohibitive for developers with limited budgets. With the NXP EdgeReady solution, developers can use a PC-based tool to create custom speech models at no additional cost.
Based on i.MX RT crossover microcontrollers (MCUs), the NXP EdgeReady solution includes a BOM cost-optimised hardware reference design and pre-integrated, production-ready software designed for effortless evaluation, fast time to market and minimal development risk. Running entirely at the network edge, local voice control eliminates the privacy, security and latency concerns associated with cloud-based voice assistants.
The i.MX RT106S MCU is available for multi-language designs and for single-language designs, the voice control solution is available on the pin-compatible i.MX RT105S. The SLN-LOCAL2-IOT development kit is also available
For more information contact Future Electronics, +27 21 421 8292, marian.ledgerwood@futureelectronics.com, www.futureelectronics.com
Credit(s)
Further reading:
Dual-channel digital isolator
26 May 2021, Future Electronics , Analogue, Mixed Signal, LSI
STMicroelectronics has begun volume production of the STISO621 dual-channel digital isolator, launching a new series of high-performance ICs for industrial applications and general optocoupler replacement.  
...
Read more...
---
Carrier card for COM Express and I/O modules
26 May 2021, Rugged Interconnect Technologies , Computer/Embedded Technology
Acromag's ACEX4040 carrier card facilitates the quick combination of a COM Express Type 10 CPU module with a mix of I/O modules for custom computing applications. With its rugged design and compact Mini-ITX 
...
Read more...
---
Automotive magnetic position sensor
26 May 2021, Future Electronics , Analogue, Mixed Signal, LSI
By offering accurate, contactless angle measurements in demanding automotive applications such as high-speed motors, the new AS5116 magnetic rotary position sensor from ams enables automotive manufacturers 
...
Read more...
---
MOSFET drivers with high current or high voltage
26 May 2021, Future Electronics , Power Electronics / Power Management
Modern industrial automation solutions, energy systems and professional equipment are often extremely specialised devices that require high safety and design flexibility for switching elements like semiconductor 
...
Read more...
---
Security tool for mission-critical FPGAs
23 June 2021, Future Electronics , Programmable Logic
Mission-critical and other high-assurance systems deployed worldwide are under rapidly evolving threats from cybercriminals who attempt to extract Critical Program Information (CPI) via the FPGAs that 
...
Read more...
---
Lattice releases new version of sensAI
23 June 2021, Future Electronics , Programmable Logic, Design Automation
New enhancements have been made to Lattice Semiconductor's award-winning sensAI solution stack for accelerating AI/ML (artificial intelligence/machine learning) application development on low-power Lattice 
...
Read more...
---
Synchronous regulators simplify high-efficiency power conversion
28 April 2021, Future Electronics , Power Electronics / Power Management
STMicroelectronics has introduced L6981 synchronous step-down regulators, extending the family of high-efficiency converters that simplify power supply design by integrating power elements, feedback circuitry 
...
Read more...
---
Multi-Hall-array sensor for high-precision current sensing
28 April 2021, Future Electronics , Analogue, Mixed Signal, LSI
TDK has expanded its Micronas Hall-effect sensor portfolio with the CUR 4000 sensor. Developed for highly accurate current measurements in automotive and industrial applications, it offers non-intrusive, 
...
Read more...
---
AI platform for mass-market embedded/edge deployments
31 March 2021, RF Design , Computer/Embedded Technology
NVIDIA's Jetson TX2 NX delivers the next step in AI performance for entry-level embedded and edge products. It provides up to 2,5 times the performance of Jetson Nano and shares form factor and pin compatibility 
...
Read more...
---
Machine learning core repository on GitHub
28 April 2021 , Computer/Embedded Technology
Artificial intelligence is notoriously difficult because it relies on data science. Additionally, creating the right algorithm, such as a decision tree, and setting it up, can also be tricky. Unfortunately, 
...
Read more...
---