printer friendly version
Qi 1.3 wireless charging reference design
28 July 2021 Power Electronics / Power Management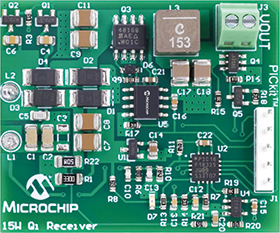 The Wireless Power Consortium (WPC) recently released the Qi 1.3 specification that requires authentication for improved safety when transmitting up to 15 W of power between a transmitter and a receiver.
To meet the requirements of the specification, Microchip Technology announced a new Qi 1.3 wireless charging reference design, providing developers of wireless charging systems for automotive and consumer applications with the necessary tools and support for the seamless integration and certification of new-generation product designs.
For wireless charging system developers launching certified Qi 1.3 transmitters under tight timelines, this three-coil reference design provides a head start for product development. The reference design fully integrates secure storage subsystem software with the wireless power microcontroller (MCU) and is a flexible solution, enabling custom topologies and foreign object detection (FOD) implementation.
As a regular member in the Wireless Power Consortium (WPC), which sets global standards for wireless charging of mobile devices, Microchip provided expertise during development of the Qi 1.3 specification. Qi 1.3 is a significant update from Qi 1.2.4 and mandates hardware-based authentication between transmitter and receiver devices for power transfer above 5 W. By adhering to the new authentication standard, designers can ensure devices receiving 15 W are receiving it from a Qi-certified, authenticated transmitter to ensure safety.
Included in Microchip's reference design solution for wireless charging systems are all required elements: Qi controller, Qi application software, provisioned authentication controller that is a WPC-approved secure storage subsystem, and crypto software libraries that execute on the Qi controller. The reference design includes complete schematics, bill of materials, software and design guidelines. Microchip is partnering with Avnet to make evaluation boards for the Qi reference design available to qualified customers around the world.
To support its Qi 1.3 wireless power solution, Microchip provides the dsPIC33C family of devices to run the Qi application software and the ECC608/TA100 secure storage subsystem provisioned by Microchip as a licensed WPC manufacturing certificate authority. As a total system solution, this reference design also incorporates MIC4605 and MCP14700 gate drivers, MCP16331 and MCP1725 regulators, an MCP6C02 current sense device, an ATA6563 CAN transceiver and an
Credit(s)
Further reading:
750 W, 1/16th-brick buck converters
23 June 2021, Accutronics , Power Electronics / Power Management
TDK-Lambda's new 750 W rated i7A non-isolated DC-DC converters are capable of operating from an input voltage of 18 V to 32 V, and deliver an output voltage that can be adjusted from 3,3 V to 18 V with 
...
Read more...
---
Secure solution for Qi-certified wireless chargers
23 June 2021, Altron Arrow , Power Electronics / Power Management
STMicroelectronics is protecting wireless charging of small devices and mobiles with a convenient solution for authenticating certified Qi chargers. Wireless charging, enabled on an increasing variety 
...
Read more...
---
Triple-channel benchtop power supply
26 May 2021, Conical Technologies , Power Electronics / Power Management
The IT6300 series is a programmable, triple-channel DC power supply family manufactured by Itech. Each output has an independent voltage and current setting from zero up to the maximum rated output. The 
...
Read more...
---
Convection cooled open-frame power supplies
26 May 2021, Vepac Electronics , Power Electronics / Power Management
A new range of open-frame 80 W power supplies recently launched by XP Power offers a compact and low-cost solution for a wide range of lighting, display, industrial and technology applications. The low-cost 
...
Read more...
---
Synchronous step-down power module
26 May 2021, NuVision Electronics , Power Electronics / Power Management
The MPM3650C from Monolithic Power Systems is a fully integrated, high-frequency, synchronous, rectified step-down power module with an internal inductor. It offers a highly compact solution to achieve 
...
Read more...
---
Remote controllable inverter
23 June 2021, Vepac Electronics , Power Electronics / Power Management
Read more...
---
Digitally controlled PSU for test setups
23 June 2021, Conical Technologies , Power Electronics / Power Management
Now available from ITech is the IT6721 DC power supply boasting high power ratio, wide voltage and current utilisation and a broad range of applications. The IT7621 is completely digitally controlled 
...
Read more...
---
Choosing the right approach for power supply selection and design
23 June 2021 , Editor's Choice, Power Electronics / Power Management
Close analysis of the requirements will reveal which point along the curve, from fully off-the-shelf to fully custom, best meets the needs of the application.
Read more...
---
PMIC with ultra-low quiescent current
23 June 2021, RF Design , Power Electronics / Power Management
Read more...
---
Avnet uses CalcuQuote API to improve customer experience
23 June 2021, Avnet Abacus, Avnet Silica , News
Avnet EMEA and CalcuQuote have engaged in connecting Avnet via API to Calcuquote's procurement services platform for customers. CalcuQuote optimises electronic components quoting and sourcing by taking 
...
Read more...
---