printer friendly version
Regulatory test solution for devices in unlicensed wireless bands
23 June 2021
Test & Measurement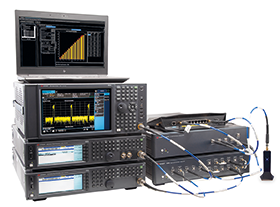 Keysight Technologies announced the new Keysight IOT0047A regulatory test solution, which enables customers to accelerate the certification of wireless devices that use the unlicenced bands at 2,4 and 5 GHz and achieve time-to-market goals.
Wireless connectivity plays an important role in a hyperconnected IoT world and every wireless device is subjected to comprehensive regulatory testing before it can enter the market. Wireless technologies are evolving rapidly to meet demanding IoT application needs. Regulatory standards by the European Telecommunications Standards Institute (ETSI) and the Federal Communications Commission (FCC) in the USA, for example, are updated regularly to ensure that wireless spectra are used efficiently without interruptions. However, regulatory testing can be complex, time consuming and costly, directly impacting project schedules and time to market for new products.
To address these challenges, the IOT0047A enables customers to stay ahead of the competition with support for the latest regulatory standards with Wi-Fi 6E-ready hardware. It also allows them to futureproof their investment thanks to flexible software that is continuously updated according to the latest ETSI and FCC standard releases.
Increased throughput and asset utilisation can be achieved with this system which can easily scale into separate test stations and can be used in parallel to address different standards and test cases. Its expandability means that the system can be upgraded as needs evolve, by adding additional channels, software capabilities or standards coverage.
Turnaround time can be reduced and process efficiency improved with purpose-built test automation software that simplifies and automates the testing cycle, from test configurations to report generation.
Credit(s)
Further reading:
Power supplies and electronic loads for testing fuel cells
25 August 2021, Vepac Electronics , Test & Measurement
In response to demand for growing hydrogen fuel cell development and testing, EA Elektro-Automatik offers a series of powerful bidirectional DC power supplies and regenerative DC loads ideal for fuel 
...
Read more...
---
Lead-acid battery tester provides audio guidance
25 August 2021, Measuretest , Test & Measurement
Nowadays, adoption of renewable energy has surged as businesses work to realise a sustainable society and demand for lead-acid batteries for use in energy storage applications is expected to continue 
...
Read more...
---
Battery simulation test solution
25 August 2021, Conical Technologies , Test & Measurement
With the development of battery technology, battery weight and energy density are being further improved while their cost is reducing, making batteries widely used in new energy vehicles, photovoltaic 
...
Read more...
---
Keysight and Qualcomm demo 10 Gbps 5G connection
25 August 2021, Concilium Technologies , Telecoms, Datacoms, Wireless, IoT
Keysight Technologies recently demonstrated a 10 gigabit per second (Gbps) data connection using 5G new radio dual connectivity (NR-DC), an industry-first milestone achieved in close collaboration with 
...
Read more...
---
OTA measurement solution for Wi-Fi 6E verification
25 August 2021, Coral-i Solutions , Test & Measurement
Communications test and measurement supplier, Anritsu and Bluetest, a specialist in reverberation chamber technology for OTA (over-the-air) testing of wireless devices and small antennas, have combined 
...
Read more...
---
Sensor node for all-in-one air quality sensing
28 July 2021, Electrocomp , Test & Measurement
For applications like air purifiers, air conditioners, HVAC/ventilation systems and air quality monitors, Sensirion's SEN55 environmental node is an all-in-one sensor solution for the accurate measurement 
...
Read more...
---
6 GHz band WLAN support added to connectivity test set
28 July 2021, Coral-i Solutions , Test & Measurement
Anritsu recently added a new option to extend the functions of its MT8862A wireless connectivity test set by supporting evaluation of IEEE 802.11ax 6 GHz band WLAN TRX characteristics. Following FCC 
...
Read more...
---
12 x 12 handover test system
28 July 2021, RF Design , Test & Measurement
The Model 10282 from API Weinschel is a 12 x 12 handover test system that operates from 0,8 to 3 GHz. It is constructed as a full fan-out network, meaning there is a non-blocked RF path between each input 
...
Read more...
---
USB/Ethernet smart power sensors
23 June 2021, Conical Technologies , Test & Measurement
The Mini-Circuits PWR-8P-RC is a compact sensor-head that turns any PC into a high-performance power meter for peak and average measurements of CW and pulse-modulated signals. The sensor has an 80 dB 
...
Read more...
---
Regenerative grid simulator
28 July 2021, Conical Technologies , Test & Measurement
Itech Electronics has introduced the latest addition to its already expansive range of products, the IT7900 programmable regenerative grid simulator and 4-quadrant AC source. The IT7900, which is 
...
Read more...
---