printer friendly version
Readout ICs for digital X-ray FPDs
28 July 2021
Analogue, Mixed Signal, LSI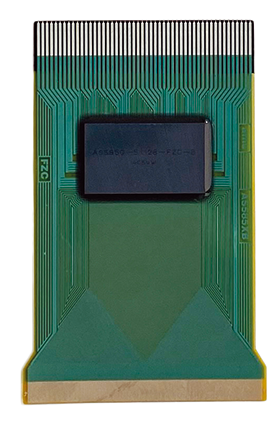 ams added new products to its family of readout ICs for digital X-ray flat panel detectors (FPDs), providing new flexible connector options which are easier for customers to assemble into their products at lower cost.
The new AS585xB digital readout ICs are 16-bit, 256-channel charge-to-digital converters notable for their very low noise, enabling the generation of clear and detailed images when used in static and dynamic digital X-ray scanners, digital radiography, mammography, fluoroscopy, and interventional imaging, as well as in industrial systems for non-destructive testing (NDT).
The AS585xB series is available in three product variants. The AS5850B is optimised for low noise and high speed, enabling an FPD to achieve high image quality in dynamic or high-speed imaging applications. The AS5852B is optimised for low-power operation to enable portable and battery-powered imaging equipment to acquire high-quality images while extending battery run-time. The new AS5851B offers a balance between power and speed optimisations.
All three versions of the AS585xB series share a common footprint and pin-out, so FPD manufacturers can easily build a family of products for different customer requirements or market segments with a single board design and host system interface.
For more information contact Future Electronics, +27 21 421 8292, marian.ledgerwood@futureelectronics.com, www.futureelectronics.com
Credit(s)
Further reading:
Liquid flow sensor evaluation kits
25 August 2021, Electrocomp , Analogue, Mixed Signal, LSI
The LD20 single-use liquid flow sensor series from Sensirion is suitable for fast, precise and reliable measurements of the lowest flow rates in biomedical applications. An evaluation kit for the LD20-0600L 
...
Read more...
---
Ultra low-pressure gauge and differential sensors
25 August 2021, Electrocomp , Analogue, Mixed Signal, LSI
The SM9000 series from TE Connectivity comprises digital, ultra low-pressure sensors utilising state-of-the-art MEMS pressure transducer technology and CMOS mixed-signal processing technology to produce 
...
Read more...
---
Ethernet PHYs for industrial networking
25 August 2021, Future Electronics , Telecoms, Datacoms, Wireless, IoT
Smart manufacturing is driving efficiencies in automation as digital networks increasingly connect machines, production line equipment and robotics. Operation technology (OT) and information technology 
...
Read more...
---
LEDs for indoor lighting market
25 August 2021, Future Electronics , Opto-Electronics
Lumileds introduced its new Luxeon 2835 Commercial LEDs engineered and designed to support the growing demand for a high-volume, high-efficacy mid-power LED to serve commercial indoor lighting applications. 
...
Read more...
---
Chip-scale atomic clock for military and industrial systems
25 August 2021, Comtest , Analogue, Mixed Signal, LSI
Advanced military platforms, ocean-bottom survey systems and remote sensing applications all require precise timing for mission success. Chip-scale atomic clocks (CSACs) ensure stable and accurate timing 
...
Read more...
---
Broadband mixed-signal front-ends
28 July 2021, TRX Electronics , Analogue, Mixed Signal, LSI
Analog Devices' AD9081 and AD9082 mixed-signal front-ends (MxFE) are now available for shipping from Mouser Electronics. These two versatile RF converter platforms combine high-performance analog and 
...
Read more...
---
High-speed SAR ADCs
23 June 2021 , Analogue, Mixed Signal, LSI
Texas Instruments has expanded its portfolio of high-speed data converters with a broad new family of successive-approximation register (SAR) analog-to-digital converters (ADCs) that enable high-precision 
...
Read more...
---
Machine learning capable motion sensors
23 June 2021, Altron Arrow , Analogue, Mixed Signal, LSI
Qeexo, the developer of the Qeexo AutoML automated machine learning (ML) platform that accelerates the development of tinyML models for the edge and STMicroelectronics announced the availability of ST's 
...
Read more...
---
Microchip achieves JEDEC qualification for rad-tolerant FPGA
28 July 2021, Future Electronics , Programmable Logic
Developers of small-satellite constellations and other systems used in 'New Space' missions must deliver both high reliability and radiation protection while meeting stringent cost and scheduling requirements. 
...
Read more...
---
Amphenol advanced sensors on offer from RS Components
28 July 2021, RS Components (SA) , Analogue, Mixed Signal, LSI
RS Components has announced availability of an extensive selection of advanced sensors used by monitoring systems for many different applications in the industrial, healthcare and transportation sectors. 
...
Read more...
---