printer friendly version
Stand a chance to win a prize by answering this quiz
28 July 2021
News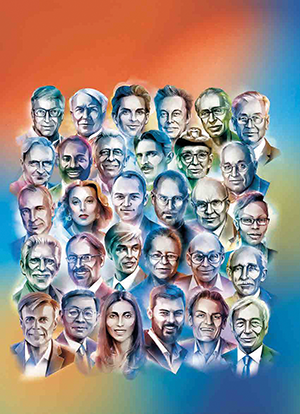 EBV Elektronik is offering readers of its award-winning knowledge magazine 'The Quintessence' the chance to win smart technology prizes as part of the latest edition themed 'Passion for Technology'.
In this issue, the magazine shines a light on people who live and breathe technology and explores why creative thinkers, particularly in the field of semiconductor development, will play a crucial part in inspiring and propelling sustainable solutions in areas such as alternative energy generation, urban mobility and digitalisation in healthcare. The magazine also features some of the pioneers whose passion for modern technology has resulted in inventions and research that will continue to have a lasting impact on our world.
These trailblazing inventors and high-tech entrepreneurs are the subject of the 'Passion for Technology Heroes' quiz. Anyone who answers the six related multiple-choice questions correctly will be placed in a prize draw to win a smart 'ScanWatch' or 'Body Cardio' scale from Withings, or a 'Model F' smart lamp from Luke Roberts. To enter, simply go to www.ebv.com/TQPassionHeroes.
The Quintessence regularly reports on the latest applications, trends and technologies from the world of electronics. Each issue addresses a different application area for modern electronics – from digital drive technology to artificial intelligence. The magazine has already received many awards, most recently the European Excellence Award. It is published in English and German across EMEA, has a circulation of 10 000 and can be ordered free of charge as a print edition or as an eBook at www.ebv.com/tq. It is also available as a smartphone app called 'TQ by EBV' in the Apple and Android app stores.
For more information contact EBV Electrolink, +27 21 402 1940, capetown@ebv.com, www.ebv.com
Credit(s)
Further reading:
RFiber adds high-reliability supplier to its stable
25 August 2021, RFiber Solutions , News
RFiber Solutions has expanded its portfolio by establishing a distribution channel for X-REL Semiconductor's offering into the South African market. RFiber says it is optimistic about the solutions 
...
Read more...
---
Rugged silicon carbide power devices
25 August 2021, EBV Electrolink , Power Electronics / Power Management
Today's energy-efficient electric charging systems powering commercial vehicle propulsion, as well as auxiliary power systems, solar inverters, solid-state transformers and other transportation and industrial 
...
Read more...
---
New GlobalFoundries fab to be built in Singapore
28 July 2021 , News
GlobalFoundries (GF) is expanding its global manufacturing footprint with the construction of a new semiconductor fabrication plant (fab) on its Singapore campus.  The global demand for semiconductor 
...
Read more...
---
Avnet celebrates 20 years of 'speedboat' business model
28 July 2021, Avnet Abacus, Avnet Silica , News
Avnet EMEA, the regional business organisation of Avnet Inc., is celebrating the 20th anniversary of its 'speedboat' model, which is the term used by Avnet to describe how its individual distribution 
...
Read more...
---
Electronics News Digest
25 August 2021 , News
South Africa
Defence technology company, Denel, has outlined an extensive restructuring plan to become a sustainable and profitable business within the next five years. Part of this plan includes reducing 
...
Read more...
---
Events
25 August 2021 , News
Nepcon Vietnam
15-17 September 2021 Hanoi, Vietnam Covers SMT, testing technologies, equipment and supporting industries for electronics manufacturing. The event will bring together technologies and 
...
Read more...
---
EBV helps bring long-life tracker to market
25 August 2021, EBV Electrolink , Telecoms, Datacoms, Wireless, IoT
General Mechatronics, a Budapest-based company, enlisted the support of EBV Elektronik to devise an award-winning smart sensor device designed for use in asset tracking systems and applications.  
...
Read more...
---
iCorp Technologies – 'We don't sell components, we provide solutions'
25 August 2021, iCorp Technologies , News
"In a year, around 1 trillion electronic chips are made and for every person on the planet, there are 128 chips produced. An ever-increasing demand for a connected world has led to an increase in demand, 
...
Read more...
---
Totem pole PFC controller
25 August 2021, EBV Electrolink , Power Electronics / Power Management
A new addition has been made to ON Semiconductor's solution set for ultra-high density offline power supplies in the form of the NCP1680, a dedicated critical conduction mode totem pole PFC controller. 
...
Read more...
---
Task group set up to advance TSN interoperability
25 August 2021 , Telecoms, Datacoms, Wireless, IoT, News
Avnu Alliance, the industry consortium driving open, standards-based deterministic networking, announced a new initiative to drive alignment on TSN (time sensitive networking) interoperability in the 
...
Read more...
---