printer friendly version
Touch-safe appliance power connectors
25 August 2021
Interconnection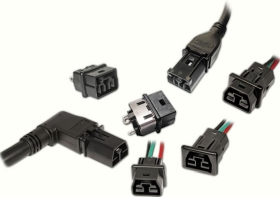 Saf-D-Grid builds on the proven contact technology used in Anderson Power Products' (APP) SB and Powerpole connectors by offering features required in 380-400 V d.c. power distribution systems.
APP developed the Saf-D-Grid connector system as a safe appliance power connector for server, telecommunication and other devices up to 600 V d.c. The plug and receptacle provide for the direct connection of AC and DC electronic devices to a DC micro-grid powered by renewable-energy or high-efficiency DC sources. The connector meets international safety requirements for hazardous, low-voltage applications including UL 950 and IEC60950.
The Saf-D-Grid is size-compatible with the IEC 320C13 and C14 connection system, and is UL rated for current interrupt of up to 400 V d.c. and 30 A load. Saf-D-Grid also enables greater power density by allowing up to 30 A and 600 V (disconnect) DC or AC within the same space of the IEC320 C13 and C14 system that is typically limited to 10 A and 250 V a.c. This allows the use of Saf-D-Grid in AC systems that require more power by increasing the wattage capability within the existing connector space.
Features include:
• Make-first/break-last connection – provides the safety of an earthing path before engagement of the power contacts.
• Integral latch – connectors cannot be accidentally unmated, preventing unwanted power loss to critical equipment.
• Hot-plug rated – the connectors are rated for current interruption for both electronic (capacitive) and electrical (resistive) loads.
• Touch-safe/short protection – minimises the risk of personal contact with a hazardous voltage. Passes UL and IEC finger probe (plug and receptacle) and 3 mm probe tests (receptacle).
• Arcing protection – housings contain the arc if connectors are mated or unmated while under load, minimising risk to personnel.
Credit(s)
Further reading:
High-reliability power connector with 8,5 mm pitch
Avnet Abacus Interconnection
Allowing designers to specify high current and high quality for maximum power in extreme conditions, the Kona connector from Harwin features tough, resilient housings to protect connections from physical 
...
Read more...
---
Host of updates rolled out to Samtec's website
Spectrum Concepts Interconnection
Samtec added a slew of updates and new features to its website (www.samtec.com) in October, as several projects wrapped up and were pushed live to the site. These included a new design for its 'tech specs' 
...
Read more...
---
27 GHz SMA interconnect products
TRX Electronics Interconnection
Mouser Electronics is now stocking EP-SMA 27 GHz connectors, adaptors and cable assemblies from TE Connectivity. The portfolio provides engineers with increased bandwidth, power and performance that are 
...
Read more...
---
Ruggedised precision VNA test cables
Hiconnex Interconnection
The TestPro VNA series provides customers with a reliable, ruggedised solution for lab and production vector network analyser (VNA) testing. With options for 50 GHz and 67 GHz, these cables offer cost-leading 
...
Read more...
---
Adaptor sleeves for heavy-duty connectors
Phoenix Contact Interconnection
HC-CES adaptor sleeves from Phoenix Contact enable the easy and time-saving connection of a large range of conductors in the company's Heavycon heavy-duty connector series. The new adaptors replace 
...
Read more...
---
Ultra-miniature coaxial connectors
Otto Marketing Interconnection
Hirose Electric has released its X.FL coaxial wire-to-board and board-to-board series. The ultra-miniature wire-to-board versions offer a low profile of 0,94 mm combined with high performance to meet 
...
Read more...
---
Circular industrial Ethernet connectors
RS Components (SA) Interconnection
RS Components has announced availability of a complete series of circular connectors manufactured by Conec Elektronische Bauelemente, part of the Amphenol Group.    Featuring 0,8&nbps;mm diameter contact pins, 
...
Read more...
---
Additional pin counts for MicroSpeed connectors
Actum Group Interconnection
ERNI expanded its MicroSpeed product family in the signal area to include variants with the additional pin counts of 26, 32 and 44. Unshielded connectors were also added to the power supply group.  
...
Read more...
---
Non-silicone thermal interface material
Vepac Electronics Manufacturing / Production Technology, Hardware & Services
HTC Heat Transfer Compound from Electrolube is a non-silicone thermal interface material recommended where the efficient and reliable thermal coupling of electrical and electronic components is required, 
...
Read more...
---
DC/DC converter for forklift trucks
Vepac Electronics Power Electronics / Power Management
The DC/DC converters of the series PCMDS550-FT from MTM Power are tailor-made to meet the requirements in forklift truck technology. Highest quality and safety are of particular importance when using 
...
Read more...
---