printer friendly version
Touch-safe appliance power connectors
25 August 2021
Interconnection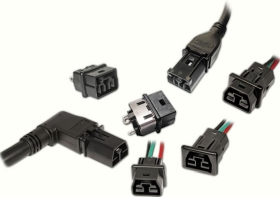 Saf-D-Grid builds on the proven contact technology used in Anderson Power Products' (APP) SB and Powerpole connectors by offering features required in 380-400 V d.c. power distribution systems.
APP developed the Saf-D-Grid connector system as a safe appliance power connector for server, telecommunication and other devices up to 600 V d.c. The plug and receptacle provide for the direct connection of AC and DC electronic devices to a DC micro-grid powered by renewable-energy or high-efficiency DC sources. The connector meets international safety requirements for hazardous, low-voltage applications including UL 950 and IEC60950.
The Saf-D-Grid is size-compatible with the IEC 320C13 and C14 connection system, and is UL rated for current interrupt of up to 400 V d.c. and 30 A load. Saf-D-Grid also enables greater power density by allowing up to 30 A and 600 V (disconnect) DC or AC within the same space of the IEC320 C13 and C14 system that is typically limited to 10 A and 250 V a.c. This allows the use of Saf-D-Grid in AC systems that require more power by increasing the wattage capability within the existing connector space.
Features include:
• Make-first/break-last connection – provides the safety of an earthing path before engagement of the power contacts.
• Integral latch – connectors cannot be accidentally unmated, preventing unwanted power loss to critical equipment.
• Hot-plug rated – the connectors are rated for current interruption for both electronic (capacitive) and electrical (resistive) loads.
• Touch-safe/short protection – minimises the risk of personal contact with a hazardous voltage. Passes UL and IEC finger probe (plug and receptacle) and 3 mm probe tests (receptacle).
• Arcing protection – housings contain the arc if connectors are mated or unmated while under load, minimising risk to personnel.
Credit(s)
Further reading:
Interconnect system with 1,0 mm centreline
27 October 2021, TRX Electronics , Interconnection
Mouser Electronics is now stocking the AMPMODU 1,0 mm centreline interconnect system from TE Connectivity (TE). This interconnect system offers an 85% space saving on the board when compared to the 
...
Read more...
---
Air-insulated HV power supplies
27 October 2021, Vepac Electronics , Power Electronics / Power Management
XP Glassman's OQ Series of high-voltage AC/DC power supplies are sophisticated 8 kW or 16 kW open-stack units with extremely low ripple and noise. The air-insulated, fast-response supplies exhibit tight 
...
Read more...
---
Connector search spits out mated connector set in seconds
27 October 2021, Spectrum Concepts , Interconnection
Samtec has a multitude of ways to stack two or more boards together, thanks to a manufacturing process that allows it to position the plastic body on the terminal pin in increments of 0,13 mm on standard 
...
Read more...
---
Multi-coax quick-turn microwave connectors
27 October 2021, Conical Technologies , Interconnection
Chinese RF and microwave connector, cable and adaptor manufacturer, Anoison, announced the release of the latest addition to its selection of RF and microwave products with the release of the PA-5 range 
...
Read more...
---
Interconnect solutions for solar energy systems
27 October 2021, Hiconnex , Interconnection
Souriau is the chosen interconnect provider for some of the largest concentrated solar power (CSP) and photovoltaics (PV) projects in the world and is currently collaborating with new technology designs 
...
Read more...
---
True RMS digital multimeter
27 October 2021, Vepac Electronics , Test & Measurement
The new PeakTech 2025 A offers a multitude of measurement functions for electrical variables for industry, trade, training, hobbyist and laboratory users. Of particular note is the integrated data interface, 
...
Read more...
---
Terminal blocks with lateral push-in connection
27 October 2021, Phoenix Contact , Interconnection
The PTV terminal blocks with lateral conductor connection from Phoenix Contact ensure clear wiring without bending radii. As a result, it is also easier to affix and read the connection and conductor 
...
Read more...
---
Installation considerations for open-frame and U-channel power supplies
27 October 2021, Vepac Electronics , Power Electronics / Power Management
Datasheets for open-frame and U-channel power supplies commonly identify the key safety components and their maximum temperature ratings, which vary depending on the class of insulation system employed.
Read more...
---
No need for custom enclosures thanks to rugged subrack system
29 September 2021, Vepac Electronics , Enclosures, Racks, Cabinets & Panel Products
The KM6-HD subrack range from Verotec meets the requirements of IEEE 1101.10 and 11, which expand on IEC60297 to add functionality required for modern industrial computing applications. This includes 
...
Read more...
---
Micro connectors with backshells
25 August 2021, Hiconnex , Interconnection
At this year's DSEI exhibition, Nicomatic launched its new DBMM Series, a modification of the DMM 2 mm connectors to include fully integrated backshells. DBMM connectors save space, measuring only 15 mm 
...
Read more...
---