printer friendly version
Farnell launches 'The Innovation Experts' podcast series
25 August 2021
News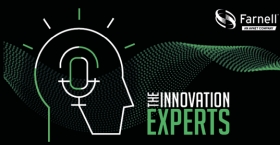 The podcast series features interviews with experts from the world's leading test and measurement equipment suppliers including Tektronix, Keysight Technologies, Rohde & Schwarz, Pico Technology, Hioki and Fluke, to understand how they are helping customers drive innovation across a wide variety of real-world applications. The podcasts provide valuable insights for buyers and design, development and systems engineers as well as amateur test enthusiasts wanting to stay up to date with the latest trends, challenges, products, tools and applications.
"Changes in technology and rapid modernisation are placing greater demands on test and measurement equipment manufacturers – and they have responded by utilising new technological advances in industrial automation and control technology combined with the integration of connected devices through IoT and IIoT to bring to market the most cutting-edge and innovative products," said James McGregor, global head of Test & Tools at Farnell.
"Engineers are now measuring, testing, analysing, recording and displaying data on almost every application in the world around us, from factory automation, medical applications and transportation through to checking defects in high-performance and power-efficient consumer products. Test equipment – and test engineers – have never been more important in driving technological innovation around the world."
With new episodes released every two weeks, The Innovation Experts podcast will cover topics including how test and measurement equipment enables innovation at tiny start-ups right through to large blue-chip organisations, how cutting-edge test tools support innovative battery design for electric vehicles and much more.
The debut episode of the series focuses on how Pico Technology's PC-based oscilloscopes and RF testing products have enabled hybrid working and new ways of remote learning throughout the Covid-19 pandemic. Mike Purday, business development manager from Pico Technology, joins Farnell's global head of technical marketing and electrical engineer, Cliff Ortmeyer, to discuss the capabilities and impact of using low-cost PC-based scopes through to high-performance products for a range of innovative – and unexpected – applications, from tattoo removal to monitoring the temperature of penguin eggs.
Ortmeyer, who hosts The Innovation Experts, said: "With this podcast, we wanted to hear from the experts right on the cutting edge of technological innovation in the test space. Over the course of the series, I speak with leaders from some of the largest test and measurement equipment manufacturers around the globe to find out how they deliver innovative solutions and empower their customers to build an exciting future. I'm delighted to have spoken to influential experts in this industry and we hope the test and measurement community will find their insights helpful and interesting."
Responding to the growth of test and measurement globally, Farnell has invested significantly over the last 12 months to build a comprehensive portfolio which includes the latest solutions from world leading suppliers. Farnell's in-stock range of test and tool products includes oscilloscopes, power supplies, signal generators and digital multimeters, as well as soldering products, hand tools and 3D printers. Free technical support is available to customers 24/5 from Farnell's in-house test and measurement specialists, as well as access to online resources, data sheets, application notes, videos and webinars.
The Innovation Experts is freely available from major podcast providers including Spotify, Apple Music, Alexa and more.
The first episode, featuring Pico Technology, is available now on Farnell's new Technical Resources Hub ( https://uk.farnell.com/technical-resources)
Further reading:
RFiber adds high-reliability supplier to its stable
25 August 2021, RFiber Solutions , News
RFiber Solutions has expanded its portfolio by establishing a distribution channel for X-REL Semiconductor's offering into the South African market. RFiber says it is optimistic about the solutions 
...
Read more...
---
New GlobalFoundries fab to be built in Singapore
28 July 2021 , News
GlobalFoundries (GF) is expanding its global manufacturing footprint with the construction of a new semiconductor fabrication plant (fab) on its Singapore campus.  The global demand for semiconductor 
...
Read more...
---
Avnet celebrates 20 years of 'speedboat' business model
28 July 2021, Avnet Abacus, Avnet Silica , News
Avnet EMEA, the regional business organisation of Avnet Inc., is celebrating the 20th anniversary of its 'speedboat' model, which is the term used by Avnet to describe how its individual distribution 
...
Read more...
---
Electronics News Digest
25 August 2021 , News
South Africa
Defence technology company, Denel, has outlined an extensive restructuring plan to become a sustainable and profitable business within the next five years. Part of this plan includes reducing 
...
Read more...
---
Events
25 August 2021 , News
Nepcon Vietnam
15-17 September 2021 Hanoi, Vietnam Covers SMT, testing technologies, equipment and supporting industries for electronics manufacturing. The event will bring together technologies and 
...
Read more...
---
iCorp Technologies – 'We don't sell components, we provide solutions'
25 August 2021, iCorp Technologies , News
"In a year, around 1 trillion electronic chips are made and for every person on the planet, there are 128 chips produced. An ever-increasing demand for a connected world has led to an increase in demand, 
...
Read more...
---
Task group set up to advance TSN interoperability
25 August 2021 , Telecoms, Datacoms, Wireless, IoT, News
Avnu Alliance, the industry consortium driving open, standards-based deterministic networking, announced a new initiative to drive alignment on TSN (time sensitive networking) interoperability in the 
...
Read more...
---
From the Editor's desk: Turning off the 2G taps
25 August 2021, Technews Publishing , News
Update: Following the publication of this article, specifically the part about Cell C, the company reached out to set the record straight on its strategy around the decommissioning of its RAN (radio area 
...
Read more...
---
Company profile: Membrane Switch Technologies
25 August 2021, Membrane Switch Technologies , News
Membrane Switch Technologies' (MST) origins date back to 1983 when Technor/Molex started manufacturing membrane switches in South Africa. Molex was the second largest connector manufacturer in the world 
...
Read more...
---
Research collaboration strengthened between CSIR and UNDP
25 August 2021 , News
The Council for Scientific and Industrial Research (CSIR) and the United Nations Development Programme (UNDP) have committed to strengthening research, development and innovation (RDI) into the fourth 
...
Read more...
---