printer friendly version
Circular connectors for signals, data and/or power
28 July 2021
Interconnection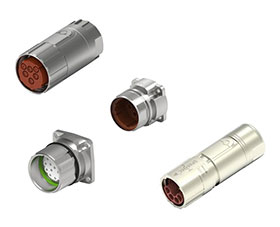 Farnell is now delivering Intercontec circular connectors from TE Connectivity – an innovative, plug-and-play connector concept that simplifies modular machine design by offering a wide range of variants including power, signal or data – or all options combined – in one connector, providing a customised solution for specific applications. Applications include drive systems, robotics, automation, packaging, aerospace, food and textile industries.
The connectors feature an innovative 1/8 quick locking system and offer simple, fast and reliable installation into control panels without the need for special tools. Intercontec's innovative crown clamp allows the EMC shielding mesh to remain uncut. The design enables technicians to easily replace any defective parts without specialised training, minimising potential downtime.
TE Intercontec products are sealed to IP 66/67 when mated, feature a temperature range from -20°C to 130°C and are rated for 500 mating cycles.
The range of Intercontec connectors now available from Farnell include:
•Speedtec 940 power connectors deliver consistent power to drive motors, spindle drives and servo motors, managing high speeds and start-stop stresses with ease. The 6-pin connectors handle voltages up to 630 V and currents up to 200 A in the toughest of environments.
•Speedtec 623 signal connectors are an ideal solution for signal transmission in motor control and for monitoring the functions of complex machines. The 17-pin connector is rated at 125 V (AC/DC) and 7 A. Quick-release and industry-standard M23 threaded versions are available in flange or right-angle mounting.
•Speedtec 723 hybrid (power and signal) 10-pin M23 connectors offer a number of configurations for custom applications and feature a separate shielded data element. Meeting requirements for higher electric strength, the connector may be daisy-chained for non-centrally controlled servo motors up to 850 V d.c. This super-hybrid connector can handle 30 A and a wire cross section up to 4 mm².
For more information visit https://export.farnell.com
Further reading:
High-reliability power connector with 8,5 mm pitch
Avnet Abacus Interconnection
Allowing designers to specify high current and high quality for maximum power in extreme conditions, the Kona connector from Harwin features tough, resilient housings to protect connections from physical 
...
Read more...
---
Host of updates rolled out to Samtec's website
Spectrum Concepts Interconnection
Samtec added a slew of updates and new features to its website (www.samtec.com) in October, as several projects wrapped up and were pushed live to the site. These included a new design for its 'tech specs' 
...
Read more...
---
27 GHz SMA interconnect products
TRX Electronics Interconnection
Mouser Electronics is now stocking EP-SMA 27 GHz connectors, adaptors and cable assemblies from TE Connectivity. The portfolio provides engineers with increased bandwidth, power and performance that are 
...
Read more...
---
Ruggedised precision VNA test cables
Hiconnex Interconnection
The TestPro VNA series provides customers with a reliable, ruggedised solution for lab and production vector network analyser (VNA) testing. With options for 50 GHz and 67 GHz, these cables offer cost-leading 
...
Read more...
---
Adaptor sleeves for heavy-duty connectors
Phoenix Contact Interconnection
HC-CES adaptor sleeves from Phoenix Contact enable the easy and time-saving connection of a large range of conductors in the company's Heavycon heavy-duty connector series. The new adaptors replace 
...
Read more...
---
Ultra-miniature coaxial connectors
Otto Marketing Interconnection
Hirose Electric has released its X.FL coaxial wire-to-board and board-to-board series. The ultra-miniature wire-to-board versions offer a low profile of 0,94 mm combined with high performance to meet 
...
Read more...
---
Circular industrial Ethernet connectors
RS Components (SA) Interconnection
RS Components has announced availability of a complete series of circular connectors manufactured by Conec Elektronische Bauelemente, part of the Amphenol Group.    Featuring 0,8&nbps;mm diameter contact pins, 
...
Read more...
---
Additional pin counts for MicroSpeed connectors
Actum Group Interconnection
ERNI expanded its MicroSpeed product family in the signal area to include variants with the additional pin counts of 26, 32 and 44. Unshielded connectors were also added to the power supply group.  
...
Read more...
---
Interconnect system with 1,0 mm centreline
TRX Electronics Interconnection
Mouser Electronics is now stocking the AMPMODU 1,0 mm centreline interconnect system from TE Connectivity (TE). This interconnect system offers an 85% space saving on the board when compared to the 
...
Read more...
---
Connector search spits out mated connector set in seconds
Spectrum Concepts Interconnection
Samtec has a multitude of ways to stack two or more boards together, thanks to a manufacturing process that allows it to position the plastic body on the terminal pin in increments of 0,13 mm on standard 
...
Read more...
---