printer friendly version
Circular connectors for signals, data and/or power
28 July 2021
Interconnection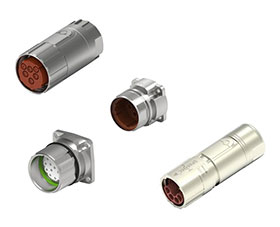 Farnell is now delivering Intercontec circular connectors from TE Connectivity – an innovative, plug-and-play connector concept that simplifies modular machine design by offering a wide range of variants including power, signal or data – or all options combined – in one connector, providing a customised solution for specific applications. Applications include drive systems, robotics, automation, packaging, aerospace, food and textile industries.
The connectors feature an innovative 1/8 quick locking system and offer simple, fast and reliable installation into control panels without the need for special tools. Intercontec's innovative crown clamp allows the EMC shielding mesh to remain uncut. The design enables technicians to easily replace any defective parts without specialised training, minimising potential downtime.
TE Intercontec products are sealed to IP 66/67 when mated, feature a temperature range from -20°C to 130°C and are rated for 500 mating cycles.
The range of Intercontec connectors now available from Farnell include:
•Speedtec 940 power connectors deliver consistent power to drive motors, spindle drives and servo motors, managing high speeds and start-stop stresses with ease. The 6-pin connectors handle voltages up to 630 V and currents up to 200 A in the toughest of environments.
•Speedtec 623 signal connectors are an ideal solution for signal transmission in motor control and for monitoring the functions of complex machines. The 17-pin connector is rated at 125 V (AC/DC) and 7 A. Quick-release and industry-standard M23 threaded versions are available in flange or right-angle mounting.
•Speedtec 723 hybrid (power and signal) 10-pin M23 connectors offer a number of configurations for custom applications and feature a separate shielded data element. Meeting requirements for higher electric strength, the connector may be daisy-chained for non-centrally controlled servo motors up to 850 V d.c. This super-hybrid connector can handle 30 A and a wire cross section up to 4 mm².
For more information visit https://export.farnell.com
Further reading:
Interconnect system with 1,0 mm centreline
27 October 2021, TRX Electronics , Interconnection
Mouser Electronics is now stocking the AMPMODU 1,0 mm centreline interconnect system from TE Connectivity (TE). This interconnect system offers an 85% space saving on the board when compared to the 
...
Read more...
---
Connector search spits out mated connector set in seconds
27 October 2021, Spectrum Concepts , Interconnection
Samtec has a multitude of ways to stack two or more boards together, thanks to a manufacturing process that allows it to position the plastic body on the terminal pin in increments of 0,13 mm on standard 
...
Read more...
---
Multi-coax quick-turn microwave connectors
27 October 2021, Conical Technologies , Interconnection
Chinese RF and microwave connector, cable and adaptor manufacturer, Anoison, announced the release of the latest addition to its selection of RF and microwave products with the release of the PA-5 range 
...
Read more...
---
Interconnect solutions for solar energy systems
27 October 2021, Hiconnex , Interconnection
Souriau is the chosen interconnect provider for some of the largest concentrated solar power (CSP) and photovoltaics (PV) projects in the world and is currently collaborating with new technology designs 
...
Read more...
---
Terminal blocks with lateral push-in connection
27 October 2021, Phoenix Contact , Interconnection
The PTV terminal blocks with lateral conductor connection from Phoenix Contact ensure clear wiring without bending radii. As a result, it is also easier to affix and read the connection and conductor 
...
Read more...
---
Micro connectors with backshells
25 August 2021, Hiconnex , Interconnection
At this year's DSEI exhibition, Nicomatic launched its new DBMM Series, a modification of the DMM 2 mm connectors to include fully integrated backshells. DBMM connectors save space, measuring only 15 mm 
...
Read more...
---
Terminal blocks for measuring transducers
25 August 2021, Phoenix Contact , Interconnection
The PTVME test-disconnect terminal blocks from Phoenix Contact are an extension to the PTV portfolio and can be used in all applications on the secondary wiring side of switching devices for transducers 
...
Read more...
---
Meeting the demands placed on connectors in automotive electronics
29 September 2021, TRX Electronics , Interconnection
A few decades ago, cars were purely mechanical machines, sophisticated in terms of their moving parts but simple in their electronics. This is no longer true.
Read more...
---
Millimetre-wave interconnect considerations
29 September 2021, RF Design , Interconnection
There has been a general trend of radio and sensing applications shifting to higher frequencies, either to avoid interference due to the growing use of RF and microwave spectrum or to take advantage of 
...
Read more...
---
Charging sockets with LED indicators and temperature measurement
29 September 2021, Phoenix Contact , Interconnection
The new generation of type-2 Charx connect charging sockets from Phoenix Contact offers AC home charger and charging station manufacturers and users simplified installation and maintenance, enhanced safety 
...
Read more...
---